This post is written by a guest contributor, Roslin Dwivedi.
Author's Bio: After enjoying her ex-pat life in Seychelles, Roslin is now figuring out her life in the Bahamas. She is a mom to a naughty toddler boy and wife to a handsome Indian husband. She writes stories of her vacation and travel blog that features travel tips and itineraries. Roslin believes travel makes you broad-minded and open-hearted towards every living. And she loves traveling and exploring new places. You can follow her on Instagram. All the photos in this article have been provided by her.
We all would love to be in any new place where we could blend in with the local culture and people. As tourists, we enjoy seeing the unique attractions of that place, but experiencing these as natives of the area, definitely feels more fulfilling. Getting along with the locals, absorbing their culture, making our minds more open towards this new intangible treasure is incredible. By saying that, I recall my time when we first moved to Seychelles. It was very different from the culture and traditions we have back home.
But the Seychellois culture is not only friendly, but it is also very open to foreigners or tourists. By the way, they call themselves Seychellois, just like we call Indian people Indian, the same way Seychelles people are called Seychellois (French/Creole word).
There are three main languages spoken in the country: English, French, and their native language which is Creole.
Having lived in Seychelles for five long years, I am revealing a few points so you can enjoy the island like a local and feel like you belong there:
1. Travel in a local bus
I get it! You are on vacation, and you want to have a convenient holiday. But you will get to know the locals if you hop on a mode of public transport. Their struggles and the beauty of traveling in local buses are not bad. You will see how things move in Seychelles when you travel on local transport. Plus, you will experience one of the best roller coasters on the country's winding roads. I am joking! Just make sure you don't have motion sickness.
2. Buy liquor from the general/convenience store
You will find these small supermarkets run by South Indians all across the island. But most of them are Seychellois as their forefathers came and settled in Seychelles. Since Seychelles does not have plenty of single liquor shops, Travelling to the liquor shops in town is not easy. These supermarkets bring you some extensive liquors in the area. People buy their beers, chips, snacks, etc., from these shops along the coast.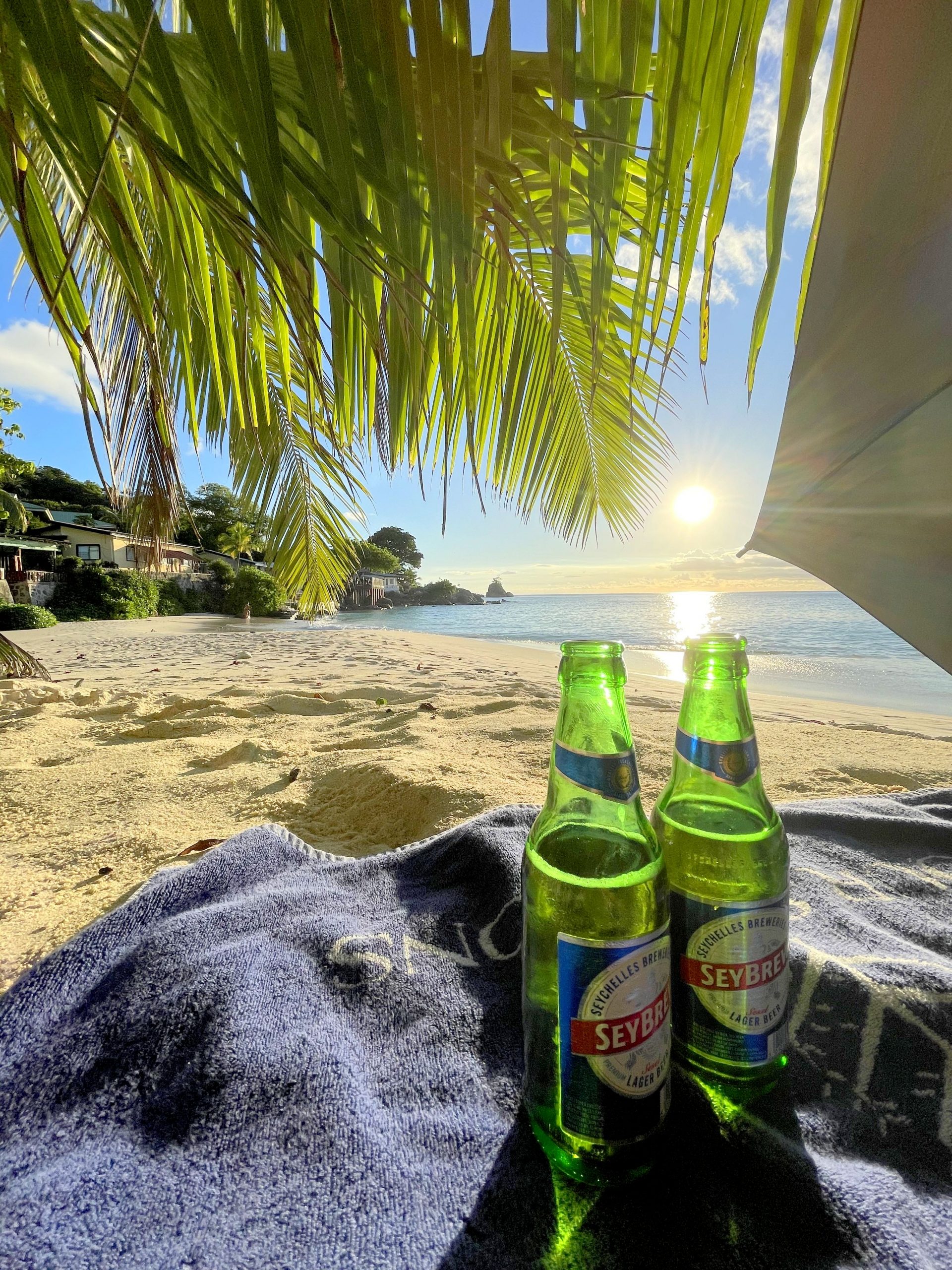 3. Take the Seybrew and head towards the ocean
Following the above point, I suggest trying Seybrew beer and Takamaka rum. Locally produced alcoholic beverages. Seybrew is a light beer, and Takamaka has many flavors and strengths. So pick up some cold Seybrews, and you're guaranteed a fabulous day at the beach.
4. Eat the local food from any restaurant
Creole cuisine is the name of local food. French, Indian (subcontinent), and Chinese dishes influence their food culture. So you will find biryani, steamed rice, lentils, and chicken curry in most restaurants. We ate Biryani most of our days in Seychelles.
Fun Fact: I learned to make Biryani while living there. Chicken curry and rice are some of the most selling dishes at the takeaways. Finding Chinese is also not difficult. Seychellois fish and chicken preparations are unbeatable. In the restaurants, you also get a pumpkin, papaya, or mango salad with very delicious preparations of fresh fish, octopus, and shrimp.
5. Buy the takeaway and enjoy your getaway
It is not a big deal that you eat from the takeaways. But coming from India, we were never used to having a full meal from a takeaway regularly. After coming to Seychelles, we saved on restaurants most of the time, got ourselves takeaway rice with local curries and salads, drove to the calm looking ocean facing open patch, and ate over there in our open beachfront restaurant. Sounds nice, right! There are a few takeaways in Victoria that offer square pizzas and shawarmas. Before here, I had not seen square pizzas anywhere.
6. Drive to a different beach each time and enjoy the water over there
One of the best things about Seychelles is the shallow beaches. You will find most of the beaches have shallow water. So the non-swimmers can also have some beach fun. The beaches in Seychelles are public, so you can even try going to a resort and enjoy their services, usually with an additional fee.
7. Make yourself a souvenir
Who doesn't like to walk on the beach and pick up those white corals or seashells? You can take those and write Seychelles, or I love Seychelles on it and Voila! There you have the cheapest but adorable souvenir from the country.
8. Go hiking
Locals love to hike in Seychelles now and then whenever they are off. You can get some of the most beautiful views by walking to these mountains. Seychelles is rich in beauty. Hiking to these mountains, you will never be disappointed. On almost every trail, you will end up reaching an incredible view. We celebrated my husband's birthday by hiking on one of the small mountains since he doesn't like it, but we did it anyway, and he loved the view of the dark blue ocean, splashing waves washing sand away and crashing to the granite rocks. So bring those sports shoes and get some treats for your eyes. After the hike, you will only appreciate the efforts and make some thrilling stories to tell your friends back home.
PS: Please go hiking only on clear days or pick the right trail. We made this mistake and reached the destination but were surrounded by clouds and no view. Hiking is also not recommended on rainy days as the trails get slippery.
9. Take a walking tour around your vacation villa
Walking on the up and down roads is the best exercise you will do on your vacation. Walking gets us more detailed area sightings than the tour guide's story. Walking around your hotel would get you to understand the local houses, their yards, and probably what they like to grow. The flowers, the plants, locally produced fruits, and vegetables are excellent.
10. Finally, you must try some local tropical fruits of the Seychelles
Avocado and Soursop are what people grow in their backyards! From January to April, you get a lot of avocados. Sometimes you don't have to buy it. People around you, probable locals with whom you may make friends on your holiday, could bring you some homegrown Avocados!
I can't stop bragging about avocados that are here in Seychelles! It's creamy and buttery. God! We had so many Avocados there. Smashed on toasts, smoothies, pasta, etc. You can see trees full of giant Avocados during January and April. I am so happy to share this with you that I used to be mouth watered when I saw those trees full of Avocados.
Soursop is another delicious fruit Seychelles has. Soursop is a big version of custard apple. And you can find it at any small shops you will find on the roadsides.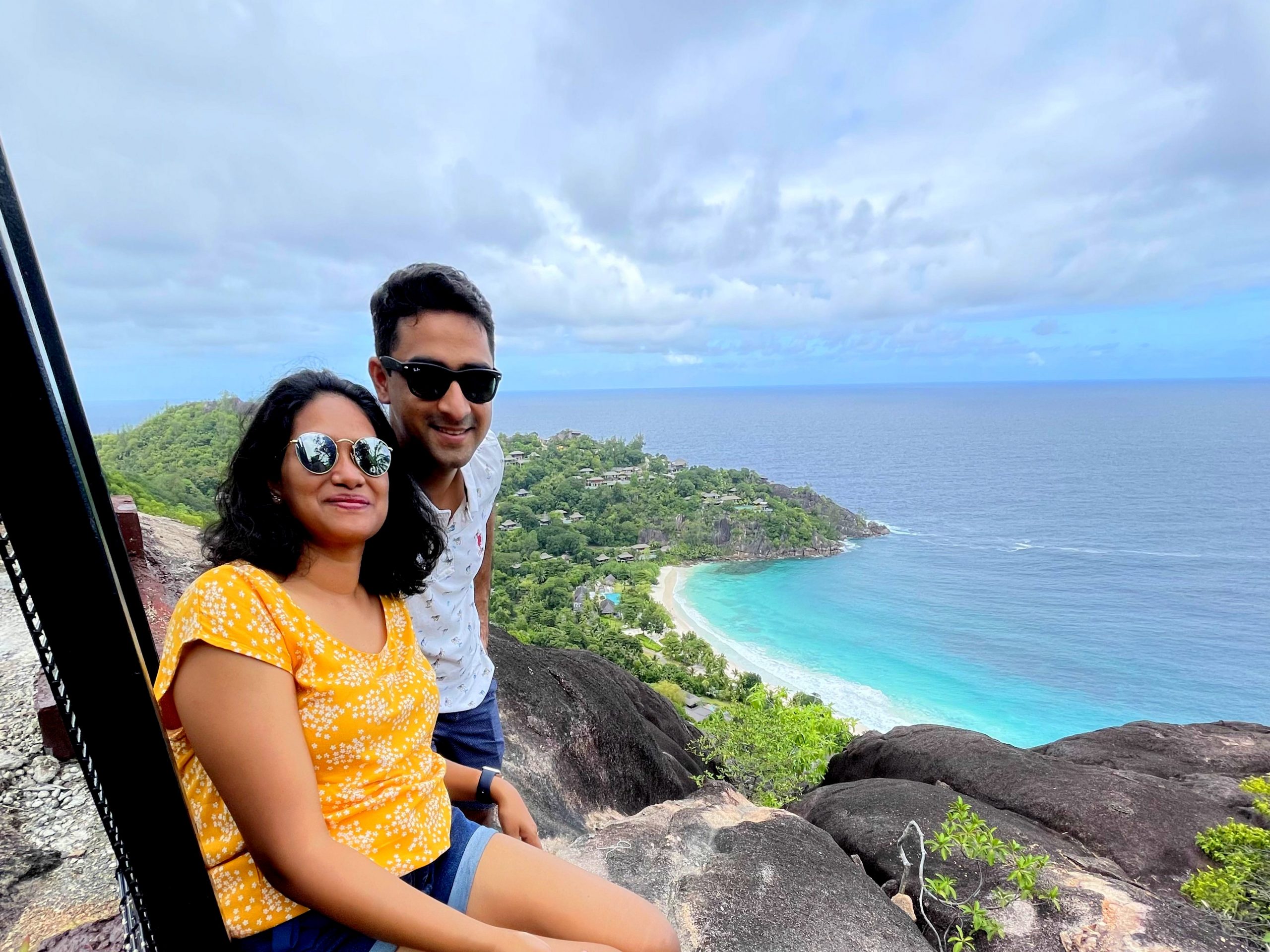 So there you have a few things to do in Seychelles like a local. I have not mentioned about island hopping, but locals also like to go from one island to another in Seychelles to take a short vacation in their own country. So you can also make some plans and visit these islands too and soak in their pristine beauty!