It was back in May 2020 when I was actually supposed to travel to Sri Lanka with a bunch of friends, but then the pandemic happened! We had planned a lot – where all to do, where to stay, what to eat, everything – until it all came to a pause. And finally in December 2021, to kick start my 30s, I decided to take a solo trip and explore this country that has been there on my bucket list since forever, and this time, I didn't plan anything! I decided to simply land up in Colombo, and go with the flow. Well, to be honest, I ended up having the most perfect (nearly!) trip and experienced some of the best things that the country has to offer. In a span of 16 days, I witnessed the hustle and bustle of Colombo, the gorgeous caves of Dambulla, the cultural richness of Kandy, the pristine tea-estates of Nuwara Eliya, the postcard-perfect lanes of Galle, the mesmerizing beaches of Unawatuna and tuk-tuked for more than 700 km across the country!
In this blog post, I thought to take you around and show you the 15 best experiences that I've had during my trip (and make sure to add them to your Sri Lanka travel checklist).
1. Hiking up the Pidurangala Rock instead of Sigiriya
If you wish to avoid the traffic of humans pushing their way through to the climb Sigiriya Rock Fortress, all you need to do is drive a little further and climb the Pidurangala Rock instead. It's one of my fondest memories from the trip – watching the sunrise from the top of a massive rock, witnessing the unsurpassed views around me! It's a 45 minutes hike from the roads to the top, but the last bit gets a bit challenging when I had to crawl on the rock – but it was all worth the effort. Needless to say, I was treated to a spectacular view of Sigiriya Rock at a distance. This hike is not that popular yet, but I would highly recommend it.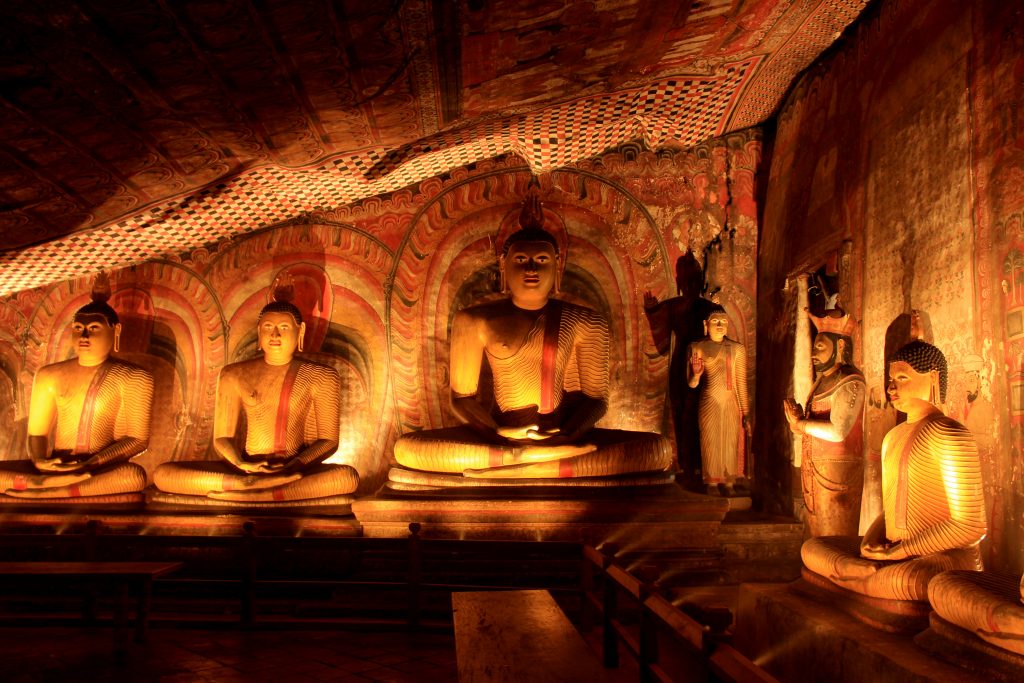 2. Walk into the ancient caves in Dambulla
Located at a distance of about 20 KM from Sigiriya, on the way to Kandy, lies the ancient rock caves of Dambulla. This sacred spot is the largest cave complex in the whole of Sri Lanka and is also the most well preserved. It is a UNESCO world heritage site and consists of five separate caves; each with different statues located within. Walking inside, I had goosebumps seeing the artwork at this pilgrimage site which has been there for over 2,000 years. These caves have over 150 Buddha statues located within, and numerous murals to admire.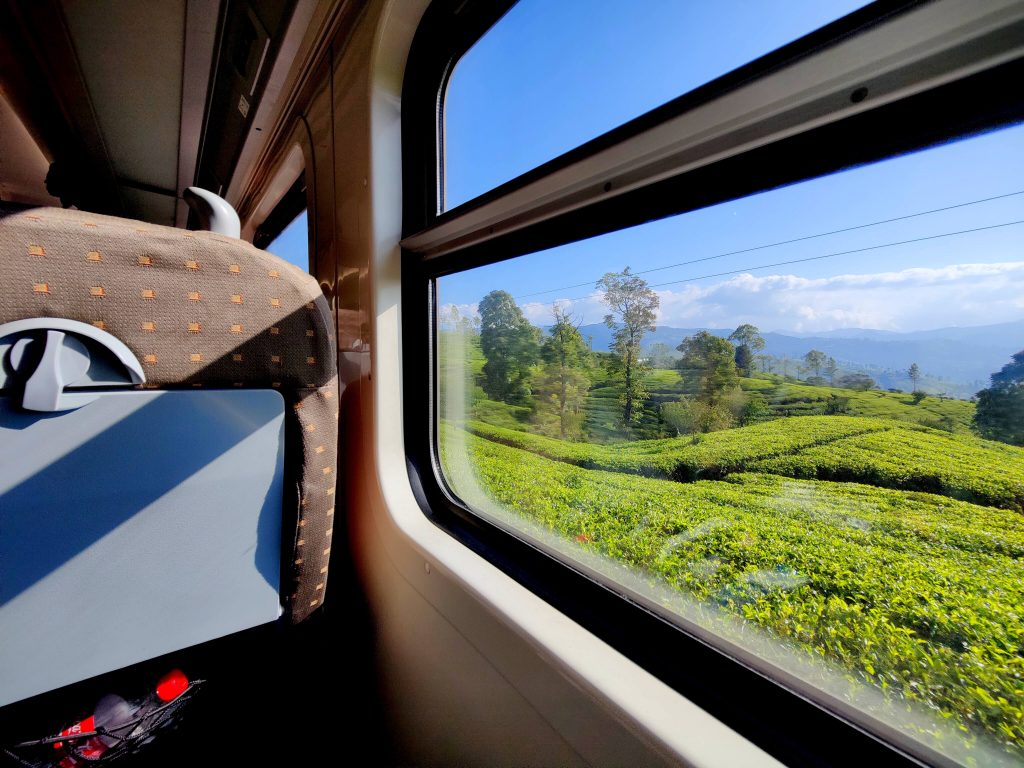 3. Take a train from Nuwara Eliya to Ella
The train journeys in Sri Lanka have been super hyped to be extremely scenic and 'Oh so surreal' – and in no way could I miss it while I was there! While the most popular route is from Kandy to Ella (which takes about 7 to 8 hours), I decided to opt for the shorter journey and was literally awed by the breathtaking views of lush green hills, pristine valleys, gorgeous waterfalls, postcard-perfect towns, numerous tunnels, and dense jungles.
The train ride from Nuwara Eliya to Ella powers down through Sri Lanka's southern hill country, crossing the tea plantations before it winds up and disappears into the clouds, weaving in and out of the many mountain tunnels as it finally descends to Ella.
It's indeed spectacular and definitely the most beautiful train ride in Sri Lanka, if not in the world!
4. Stop by the Nine Arches Bridge
If you are planning a future trip to this beautiful country, then undoubtedly the Nine Arches Bridge has to be there on your itinerary! This bridge is one of the best places to visit in Sri Lanka, and there are so many different viewpoints you can get to see it from. The bridge is located in the mountain town of Ella and is surrounded by lush green forest and tea plantations. The Nine arches bridge stands at an impressive 30m high and is located between Ella train station and Demodara train station. Trains head over this bridge at varied times throughout the day, and they give you a great opportunity to take the most amazing photographs.
If you are unsure of the train times, check with your hostel/ Airbnb host. There are plenty of places to explore around the bridge whilst you wait, and there is even a cafe located nearby!
5. Spot the leopards at Yala National Park
They say, sighting a leopard is a matter of luck – well, seems that I turned out to be lucky! Covering a huge area of scrubland, light forest, grassy plains, and brackish lagoons, Yala National Park is indeed very rich in wildlife and you're virtually certain to encounter elephants, crocodiles, buffaloes, and monkeys. But you never know when a leopard might just appear to surprise you!
This gorgeous beast walked out of the bush quite gracefully and crossed the road giving a fierce glance to the vehicles that had gathered around. Oh, what a sight it was!
Fact Check: Yala National Park in Sri Lanka has the highest population density of leopards in the world.
6. Soak in the cultural vibes at Kandy
The last capital of the ancient kings of Sri Lanka, and a popular getaway for colonial administrators looking to escape the heat, Kandy is a quaint town where the old meets the new – tucked beside a lake in the country's central highlands. From the gorgeous Temple of the Sacred Tooth Relic to the White Buddha Statue overlooking the whole town, the narrow lanes with incredible souvenir shops, and the beautiful dance show at the Kandy Lake Club – the place left me drooling for more!
7. Go for whale watching in Mirissa
December is the time when the dolphins and the whales can be spotted in this part of the Indian Ocean – and what a sight it is! My host at the hostel booked a spot for me, assuring that the chance of seeing one of these incredible creatures is as high as 90%. However, it's important to remember that these are wild animals and although your chances are high, sightings aren't guaranteed. But luck favored me yet again, and I spotted around 8 whales (including a mother with its baby) and for a second, it felt like everything I've seen in David Attenborough's show – 'Our Planet' – tuned to reality!
8. Spend a day at a Turtle Hatchery & Conservation Center
My vacation turned out to be really meaningful when I got to spend a day at one of the Turtle hatcheries near Unawatuna and learned how the sea turtles are facing many threats in Sri Lanka including illegal poaching of eggs, habitat destruction, and getting caught in fishing nets. There are a number of sanctuaries that have come into place in the country to protect these incredible creatures, and a majority of them have incredible facilities that care for and rehabilitate turtles, with the aim of releasing them back into the wild. I met some volunteers who had traveled from various parts of the world, and were a part of the Turtle Conservation Program in Sri Lanka.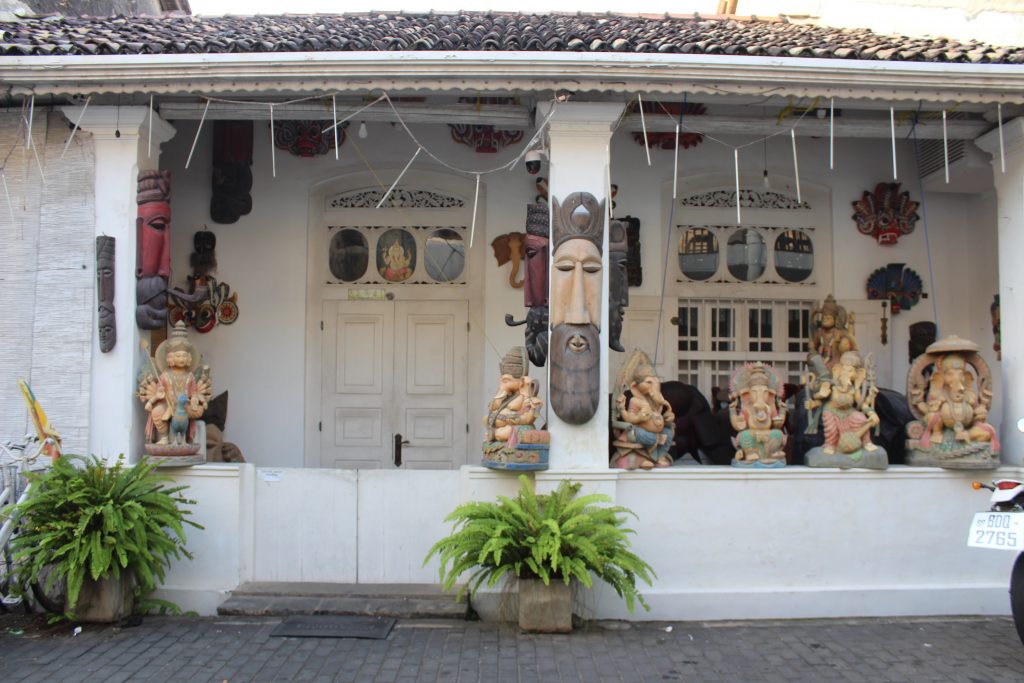 9. Feel the vibes at Galle Fort
When I told my Airbnb host at Mirissa that my next stop was Galle, he fondly said, "You'll be driving through the traffic of Sri Lanka, and suddenly, you'll find yourself in Europe!" I laughed as we talked, and then I was in Galle Fort, completely awestruck. The old town of Galle was once used as a trading port for spices and other goods for over 200 years. However, today, the fort has been transformed into a place of history, romance, and beauty where travelers are warmly welcomed to dive headfirst into the exotic stories and be a part of this UNESCO heritage site. Hopping around the fort on a sun-soaked afternoon was an adventure in itself, but if you ask me, the postcard shopping and good food compensated for all the exhaustion!
10. Ride a tuk-tuk across towns
It's no joke, 'coz a tuk-tuk can literally take you anywhere in Sri Lanka – ANYWHERE! Coming in various eye-catching colors, these charming tuk-tuks are a great way to travel across the country – and are extremely affordable too. In fact, riding tuk-tuks in Sri Lanka are a great way to connect with the locals, drink in the beautiful views, and truly absorb the Lankan culture.
11. Get that 'gram-worthy shot at Coconut Tree Hill
I had seen several photos of this place before I actually ended up there one morning – and the views were as good as I had thought them to be! Coconut Tree Hill is one of Sri Lanka's most popular Insta-worthy destinations. It is an outcropping of palm trees at the edge of the water, just past Mirissa beach. This location is stunning, and it's the ideal spot for watching the sunset (or sunrise if you're an early riser). It's a short hike from the main road, and once you're there, you can sit and relax, while sipping on a King Coconut!
12. Eat at the Ministry Of Crab in Colombo
It's definitely one of the most popular restaurants in the country, tucked inside the Dutch Hospital Complex in Colombo – and trust me when I say this, it's just not about the food but the whole ambiance of the place that'll make you fall in love! Known to be one of Asia's Top 50 Restaurants, this place is known for the variety of crabs they serve, tossed in a sauce of your choice. And their Coconut Crème Brûlée is to die for – so do save some space for desserts!
13. Encounter the wild elephants at Minneriya National Park
When in Sri Lanka, it's hard to miss the elephants! But the most popular safaris happen here at Minneriya, which is home to nearly 300 elephants. Though I could just spot a couple of them, it is said that during the drier months of June and September, massive herd of elephants gather around the ancient Minneriya water tank, in order to quench their thirst and drink during the dry season. It is the largest, recurring gathering of Asian elephants across the world and for that reason is one of the best places to visit in Sri Lanka.
14. Buy postcards from Stick No Bills
For a postcard hoarder, this was nothing less than paradise! Walking into this store inside Galle Fort, my heart leaped in joy and I started picking up postcards with beautiful illustrations depicting the best of Sri Lanka. The poster galley of this shop refers to the luxurious bygone days of Sri Lanka and the travel spirit sustained in this country. From the ancient maps of Ceylon to the remastering tea and travel posters from the 1800s – there's everything out here! Hands down, this is the best postcard shop I've ever been to and I ended up buying a bunch – after all, words can change the world, they said.
15. Spend a night at the Grand Oriental Hotel in Colombo
Overlooking the Colombo harbor, this heritage hotel dates back to 1837 and has hosted eminent people like Anton Chekhov and Joze Rizal. When I booked my stay here, I barely had any idea about the incredible history of this place – and it turned out to be one of the oldest hotels in the country which also served as an Army Hostel back in the days. The room I stayed in was gorgeous, with a view of the city – but the restaurant, known as Harbour Room, did have a breathtaking view!
This country has something for everyone – no matter whether you enjoy wildlife & photography, or just wish to relax by the beaches, or feel like diving deep into some adventure. If you wish to see the true beauty and vivid culture of Sri Lanka, ditch the cliched tourist spots and engage in these unique experiences in Sri Lanka, and I promise you won't be disappointed!