The Kenyan capital, Nairobi, is a place where everyone collides into a magnificent experience that will take a lifetime to forget. From its vibrant cultural life to its unlikely national park, excellent food joints to breathtaking trails of history – Nairobi is a melting pot of attractions that can draw even the most adventurous of tourists to its bustling heart.
While we were all set to spend #30DaysInAfrica and serve at a Children's Home in the district of Kikuyu, our journey began from Nairobi. We had 48 hours in the city, before we kickstarted our volunteering endeavor followed by the game drives in Maasai Mara & Amboseli. Needless to say, we utilized the time effectively and ticked off some of the best things to do in Nairobi.
We flew directly from IGIA, New Delhi, to Jomo Kenyatta International Airport, Nairobi. Beating the jet lag, we just dropped our luggage at the AirBnB, asked our host about what we can do for the day, booked an Uber and set out!
Here's all that we did in just 48 hours in Nairobi!
Head off to the David Sheldrick Elephant & Rhino Orphanage!
Open from 11 AM to 12 Noon every day for all, David Sheldrick Wildlife Trust would let you meet the baby elephants and rhinos, rescued from different national parks in Kenya, and you can watch them play in the mud and slurp milk from the supersized feeding bottles. Most of the little calves living here have lost their mothers due to poaching and human-wildlife conflicts, and they are rescued and rehabilitated here, under great care. Occupying a plot within Nairobi National Park, this orphanage was set up back in 1977 by David Sheldrick and his wife, Daphne Sheldrick, and the best thing is that you can adopt a baby here, for just $50 annually! Well, the money goes towards feeding and sheltering the elephant whom you adopt, and there are guides who'll tell you in details about the elephants, and you'll be updated about your elephant over emails on a regular basis (so cool!).
And in case you adopt one, you'll get special permission to visit you little ele at 5'O clock in the evening, before he/she goes off to sleep!
Before we had gone there to see the elephants, we had no idea about the adoption, but the moment we saw Kiasa (a 2-year-old ele, rescued from Tsavo East National Park), we knew that we are adopting her! Yeah, now we are fostering one elephant – and we are super happy about it!
P.S – The general entry fee is 500 Kenyan Shillings per person and it's totally worth a visit.
Feed the Giraffes as you get closer to them!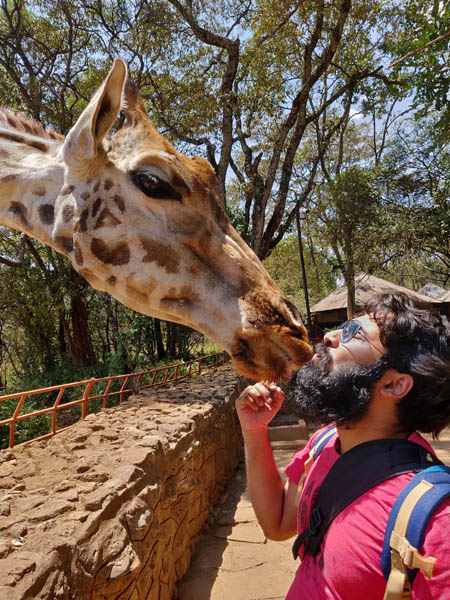 Well, you must have seen thousands of pictures on Instagram of the Giraffe Manor, where people feed the giraffes from the windows of this huge castle, but that might just make a hole in your pocket! However, there's a cheaper, yet equally delightful option for you, and trust us when we say this, you'll just love it.
The Giraffe Center, which is just adjacent to the Manor, is managed by the African Fund for Endangered Wildlife and houses rare species of Rothschild Giraffes.
You can feed the tall buddies here with a tasty grub of pellet-shaped biscuits. You might get to kiss them and feel the giraffe breath as well! It'll be an incredible experience to see these animals from such closer proximity.
P.S – The Giraffe Center is open from 9 Am to 5 PM, and the entry fee is 1000 Kenyan Shillings (approx 10 USD) per person. There's a small cafe where you can enjoy a quick snack, as you watch others feeding the giraffes, and also, a souvenir shop, in case you wish to pick up something to take back home!
Spend a night in this old-school double-decker bus!​
Oh yeah, you totally heard us saying this – if you're in Nairobi, there's no way that you can miss staying in this rustic bus that's parked at a quaint neighborhood of Kibo Lane, Karen. Away from the chaos and cacophony of the capital city, this place is definitely for those who are craving to 'live out of the box' and experience the goodness of sleeping on a double-decker bus, while gazing at the starlit sky through the huge window panes!
The Brandy Bus, as it's popularly called, will surely make you high with its utmost beauty! Having a tiny kitchen with all basic amenities (including a microwave, gas cooker, utensils, and even some cooking basics) and a well-equipped bathroom (with geyser for hot water), and two gorgeous bedrooms on the upper deck, The Brandy Bus is the perfect place to unwind, relax, and soak in the freshness of nature. There's a dining space right next to the bus, where you can enjoy a candle-light dinner or your morning cup of coffee.
And…of course, the location is just too perfect, 'coz it's about 20 minutes from the David Sheldrick Elephant & Rhino Orphanage, 20 minutes from Nairobi National Park, and just about 10 minutes from the Giraffe Center. Also, the Karen Blixen Museum is about 5 minutes drive, and there are some amazing restaurants nearby (head off to Tamambo for a delightful dinner!).
P.S – You can book The Brandy Bus through AirBnB and Karen, the host, is an amazing lady who'll share all the details with you about how to reach the location. From the Jomo Kenyatta Airport, you can take an Uber that would cost you about 1200 Kenyan Shillings (approx 12 USD).
Enjoy an early dinner at Tamambo!
Like we've already mentioned, this is definitely one food joint that you can't skip (especially if you are a meat lover!). Located in the Karen Blixen Coffee Gardens (verrrrrry close to The Brandy Bus), this restaurant has a natural sitting arrangement amidst the greenery and their menu has some delicious roasts and grills! Your tastebuds will be on a joyride, as you sip on the local Tusker beer, and gorge on the Beef Steaks and BBQ Pork Chops! (Already hungry?) They would also serve you a complimentary basket of freshly baked slices of bread and homemade butter – and you'll walk out with a happy heart and filled tummy!
P.S – If you're staying at The Brandy Bus, then you'll just pay about 200 Kenyan Shillings (approx 2 USD) to reach Tamambo, and a dinner for 2 would cost you about 3000 Kenyan Shillings (Approx 30 USD).
———————————————-
That's how we wrapped up our first day in Nairobi and while we headed back to our cozy stay, we were already looking forward to the next day!
Spot the lions at the Nairobi National Park!
While the best suggestion that I can offer you is to go for the early morning safari that starts at 6'O clock, which one needs to book it in advance. We didn't do the bookings beforehand, hence we had to go for the 11 AM game drive, which apparently isn't a good time to spot the animals (as the sun gets to the center and the heat waves become intolerable, most animals tend to hide behind the bushes). Our AirBnB host wasn't quite happy with the fact that we were going for this particular one, and she warned us that we might return back without spotting much!
But, nothing of that sort happened! In fact, we were so incredibly blessed that we spotted even the rarest ones – like the black rhinos and the secretary bird! Our guide, Haroun, was an expert and he would trace the animals from a distance. His knowledge about the flora & fauna of the region mesmerized me, and we were super happy when he showed us a pack of lions – the Kingfisher pack – as they have been named!
It was a sight to behold!
Never before did I imagine that we'll get to spot a pack of lions with the skyscrapers in the backdrop! As uncanny as it might sound, that's the beauty of Nairobi National Park – "The World's only Wildlife Capital" – or, to put it differently, the only capital city in the world where a national park with carnivores can be found within the city's borders!
Known to be the oldest national park in East Africa, NNP is the home to a wide variety of wildlife including the endangered black rhino, lions, leopards, cheetahs, hyenas, buffaloes, giraffes and a diverse birdlife with over 400 species recorded. We opted for 3 hours game drive and time passed by the wink of an eye, as we traversed through the dusty trails in search of the animals.
[Here's a complete photo album, compiling the best captures from Nairobi National Park.]
Satiate your love for exotic meat at Carnivore Restaurant!
We believe that the name says it all! One-of-a-kind restaurant in the world, Carnivore is located in Nairobi City and it's definitely one of the most popular eateries, not just in Kenya, but in entire Africa! From ostrich burgers to crocodile sandwiches and ox balls (oh yeah!) – you'll find it all here! The meats are grilled over coals and carved directly onto your plate – whatta treat!
There are options to choose from – you can either go for the À la carte and order the things you like, or you can go for the Unlimited Grills, which will come for a fixed price (varies on weekdays and weekends) and you'll get a soup, some salads and endless servings of all sorts of barbequed meat, from beef to lamb chops and pork ribs to ostrich, crocodile, and what not, followed by some delicious desserts!
We chose the latter, and to be honest, we were absolutely thrilled with the dining experience that we had at Carnivore! (It was such a heavy lunch, that we had to skip our dinner!)
Explore the Nairobi Railway Museum and walk around the graffiti-laden streets!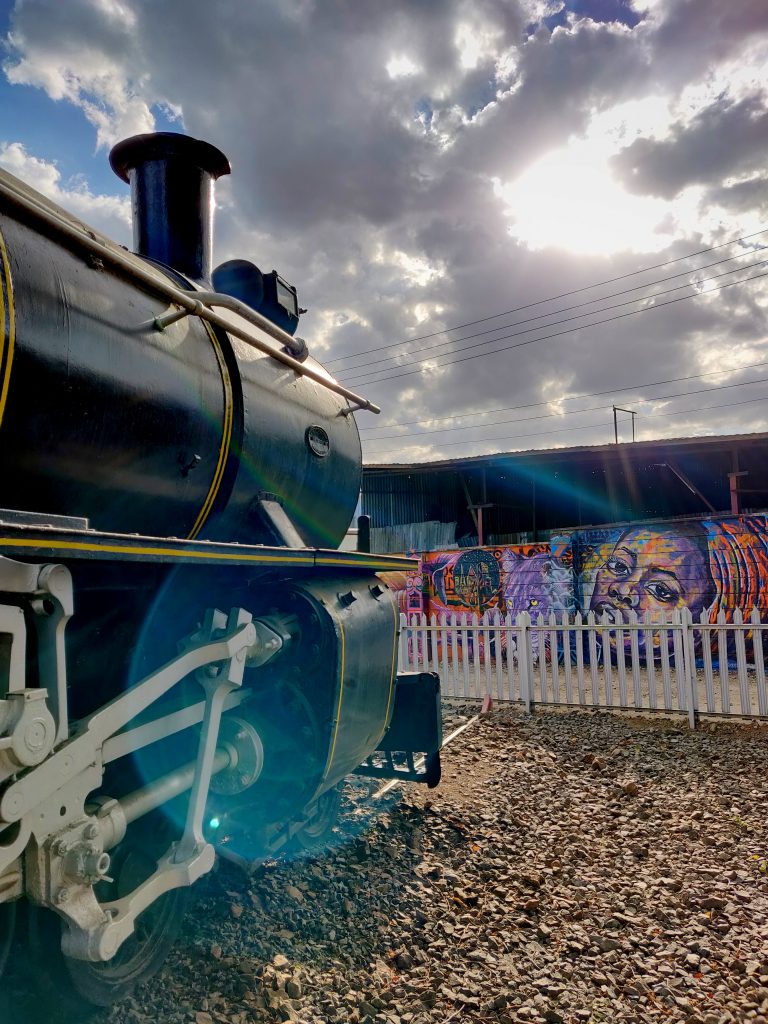 Post lunch, we decided to head off to explore the Railway Museum of Nairobi, which has an interesting collection showcasing the continent's railway history, including locomotives of the highly controversial Kenya – Uganda Railways. Located adjacent to Nairobi railway station, the museum has coached and engines from the East African Railways, and it was opened in 1971 by East African Railways and Harbours Corporation. Surprisingly, in spite of its immense historical value, this museum isn't visited by many – but it's surely worth exploring!
The museums four sections are divided into the main gallery, museum resource center, auditorium, and outdoor display area. The main gallery is where you will find company crests of the railways of East Africa, the most prominent being the Uganda Railways, Tanganyika Railways, Kenya Railways, and East Africa Railways. 
Other exhibits in the main gallery are original railway blueprints, construction models and smaller items such as an oil-burning headlamp, trolley bicycle, steam-operated bell, wood stove, Bombay lounge chair, tableware and a bench seat that was used by distinguished passengers, such as Theodore Roosevelt and the Prince of Wales.
In the outdoor section, you'll find Beyer-Garratt meter gauge locomotives, as well as a collection of carriages.
We had a relaxed afternoon, as we got to know more about how the railway system played an important part in East African history. And not just that, but we were awestruck to see the graffiti-laden streets leading to the museum. On the walls, colors were splashed to bring life to this part of the city – and the vibrancy took our breath away!
P.S – The museum is open on all days from 8 AM to 5 PM. The entry fee is 600 Ksh (approx 6USD) for one person.
And as dusk was setting in, we returned back to the stay, thinking of what an eventful day we've had!
From spotting the lions and zebras to binging on Swahili delicacies and peeping inside a Century-old coach – our first 48 hours in Nairobi turned out to be an interesting introductory note for the month-long journey that we were awaiting!