"A month? What are you going to do there for a month?" – Nearly every second person whom I told about my Bhutan plans, asked me this question!
A point came when I was tired of explaining, and I chose a rather simple answer – "Since I'm doing nothing here, I'll do nothing there as well".
It's actually not necessary to do something at a given point of time because doing nothing is absolutely beautiful – rather magical! And I guess I chose the right place to travel to, during my sabbatical, because not only did it soothe my senses, but also changed my way to look at life.
It's a place where no one is in a hurry!
For the first couple of days, I couldn't understand why is it like this. In India, when you order food in a restaurant, the food is served to you in 5-10 mins. If it's not served, people would keep waving their hands addressing the waiter. The first time I ordered food at a restaurant in Thimphu, it took 45 minutes to arrive! I was immensely hungry (not starving though), and hogged my food without thinking much! But this happened for the next 2-3 times as well, which caught my attention. I realized that they start the process once they receive the order, and nothing is prepared beforehand. And that's why they take at least 45 mins to an hour to serve food, at any restaurant.
But what they served, was heavenly and delicious – and the taste of datshi (Cheese and chili) still lingers in my mind and mouth.
I learned that there's no point in hurrying – you only get hyper and anxious when you are in a hurry! Rather, slowing down and enjoying every bit of the work you do would make much more sense to you, and the end result would be something more appreciable.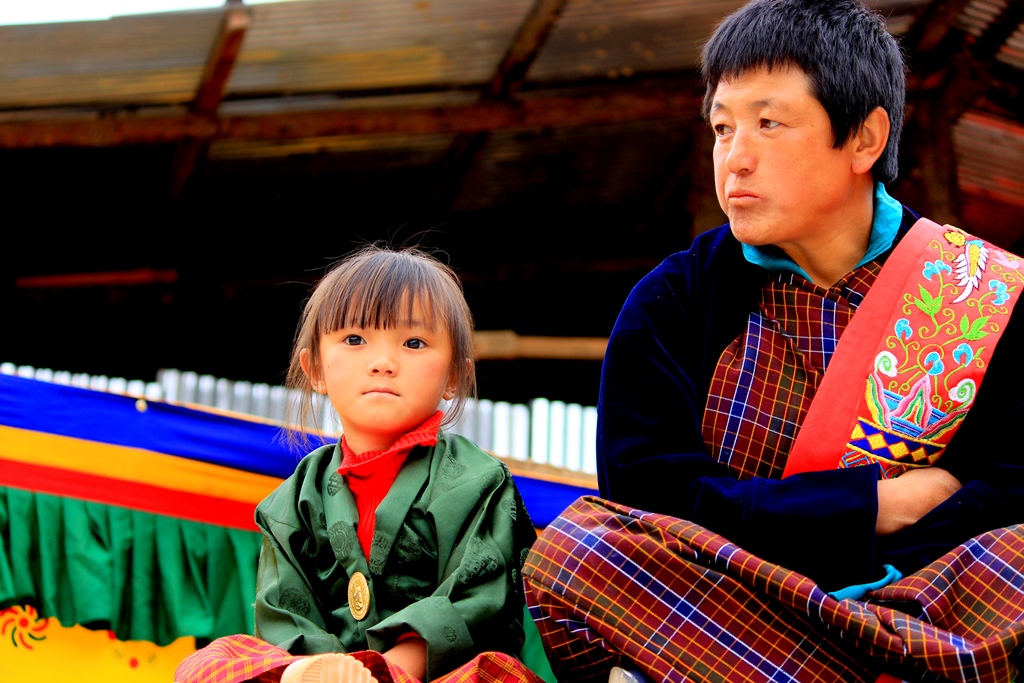 It's a place where people go out of their way to help you!
I fell in love with every person I met in Bhutan – their generosity, their warmth, and the way they embrace strangers is something to learn! Often, we hesitate to give a lift to an office colleague, if we have to take a detour – so there's no question of helping out a stranger!
I hitchhiked several times during my stay in Bhutan, and each of them dropped me at the exact destination where I wanted to go – bidding me 'goodbye' with a smile. I traveled with families, where they didn't have space to accommodate me in their car, but they readily adjusted by making the little ones sit on the lap. There was a day when it was drizzling, and the person who offered me a lift was going to someplace exactly opposite to the direction of my destination – I couldn't thank him enough!
I realized that being self-centered has done no good to anybody, and yet all we do is think about ourselves – my this, my that! But all of it will perish after a point. Instead, doing something for someone else, whom you'll probably never meet again in life, as an intense pleasure – a satisfaction that's incomparable to the satisfaction derived from tangible things.
It's a place where everyone has a smile on their face!
I can't remember a single incident where I had an encounter with someone who wasn't smiling. (Yes, there were a few monks, who were completely devoted to their chanting, and though they looked at me pointing my lens towards them, they didn't smile!) For a month, I was surrounded by people who didn't know how to frown – sounds strange, no?
Even if they knew something was wrong, they would smile – and that would actually cover the wrongs, if not erase it completely.
I realized the value of the simple gestures, and how a simple curve on the face can actually do wonders.
It's a place where people know how to keep the nation clean and beautiful!
With all due respect to the 'Swachh Bharat Abhiyaan', I'm yet to see the change in my country when it comes to littering and spitting! No matter what campaign the government runs, nothing would change until we, the people of the country, want things to change. Bhutan amused me with its cleanliness since the time I drove down from Phuentsholing to Thimphu. There are 'Use Me' bins on the highways, and in the bustling cities, and people are concerned enough to throw their waste in the bins and not here and there!
More interestingly, if you buy Happy Chips (the substitute of Lays in Bhutan) or Druk Beer cans (the substitute of Foster/Tuborg/Kingfisher) and return the packets/cans in any of the stores, you'd get money back! – What an amazing system to stop littering!
People plant trees to celebrate birthdays and anniversaries, and to prevent deforestation, there's barely any construction in Bhutan. The old Dzongs have been turned to offices, and museums and art galleries.
People don't complain about anything, because they are happy with what they have – and that, in general, solves half the problem which we otherwise face in our lives!
Bhutan, considered to be one of the happiest countries in the world, is indeed a happy place to be!