"You are going for a month? That's long enough!"
"What will you be doing there for a month?"
"Is Kenya safe to stay for so long?"
Even while I was planning the trip and several times later as well, I've been asked why I chose to spend a month in Kenya! That's a pretty relevant question actually and I do understand that the thoughts of exploring Kenya probably begin and end with game drives in Maasai Mara & spotting the BIG 5…quite obvious!
But for me, it was a little different. I've previously spent a month in Bhutan which immensely impacted me and changed my way to look at life. I guess every journey has something deeper to teach us – and probably that's what makes us responsible travelers, rather than just being tourists! Whenever we plan to visit a new country, it's not just another holiday/ vacation for us, but we try to explore as much as we can, connect to the people, take suggestions from the natives in our quest of getting a flavor of local life there. Fortunately, this time, I had the chance of volunteering at a Children's Home in Kikuyu, a suburb in Kenya. My main goal was to serve at the shelter home and spend enough time with the little ones there, but I did plan to travel as much as possible!
And TBH, trust me when I say this, even after spending a month, I've missed out A LOT that's there to be explored in Kenya!
So, here's why I chose to spend a month in Kenya and what I actually did there!
#1 We had signed up for serving at a Children's Home and volunteered for abandoned kids!
As I mentioned earlier as well, I had some real deals there! I've been associated with Volunteering Solutions for almost 3 years now. I've always been touched and motivated, seeing the volunteers from different parts of the world who traveled across time zones, just to spend some time doing something for others! In a world where most of the people are busy thinking about themselves, I was moved to see that good people do exists – who selflessly serve others, in a faraway land.
This probably was our turn to be a part of something meaningful and embark on the journey of happiness, and thanks to Volunteering Solutions that we got to work at Makimei Children's Home. We were there with a bunch of other people from Mexico, Venezuela, Spain, Columbia, and the UK – and together, we had an amazing time cooking and teaching, playing and feeding, and doing all sorts of daily chores!
It was amazing that some of our friends contributed money so that we could get some useful things for the little ones there. It's beautiful to see how magically things get connected.
We also visited a local school where one of our housemates was working, and we cooked lunch there for about 300 kids. It was the craziest experience we've ever had (with hundreds of them surrounding us and trying to love us at the same time!). That day made us realize the meaning of 'unconditional love'.
"If I have ever seen magic, it has been in Africa." – John Hemingway.
#2 Kenya isn't just about poverty and wildlife!
Let's be honest! When we think of Kenya (or any African nation for that matter), probably the first things that flash on our minds are the lions & elephants, and poor people, malnourished kids, living hard lives. While these pictures are true to an extent, these aren't all about Kenya! In fact, societal structure and the economy pattern are very similar to that of any other developing country (like India for example), where there's a chunk of people who are pretty well off, and there are others who aren't. But it's not as dull and dark as it seems!
In the capital city of Nairobi, there are several fancy (Instagram-worthy!) cafes where they serve world-class food, and those are not just for the tourists – but locals also visit such places. There are some big malls (quite similar to what you'll find in Delhi or Mumbai) where brands like Louis Vuitton, Gucci, Michael Kors, Addidas, etc have their showrooms.
I walked down beautiful graffiti-laden streets and explored the Railway Museum that has some gorgeous ancient steam engines dating back to the previous century. Uber facilities are amazing in Nairobi as well as on the outskirts; most parts of the country have a 4G network; people speak English fluently and the overall scenario isn't as bad as we think it to be while sitting at home!
In spite of saying all these, I would admit that there are portions where people do live a hard life, there is a scarcity of water and other resources – but the Kenyans are happy and compassionate people, and that's what moved us. Even with the little that they have, they know how to make good use of things. They are extremely aware of the environment, bothered about issues like global warming & climate change, and thoughtful regarding how to save their animals.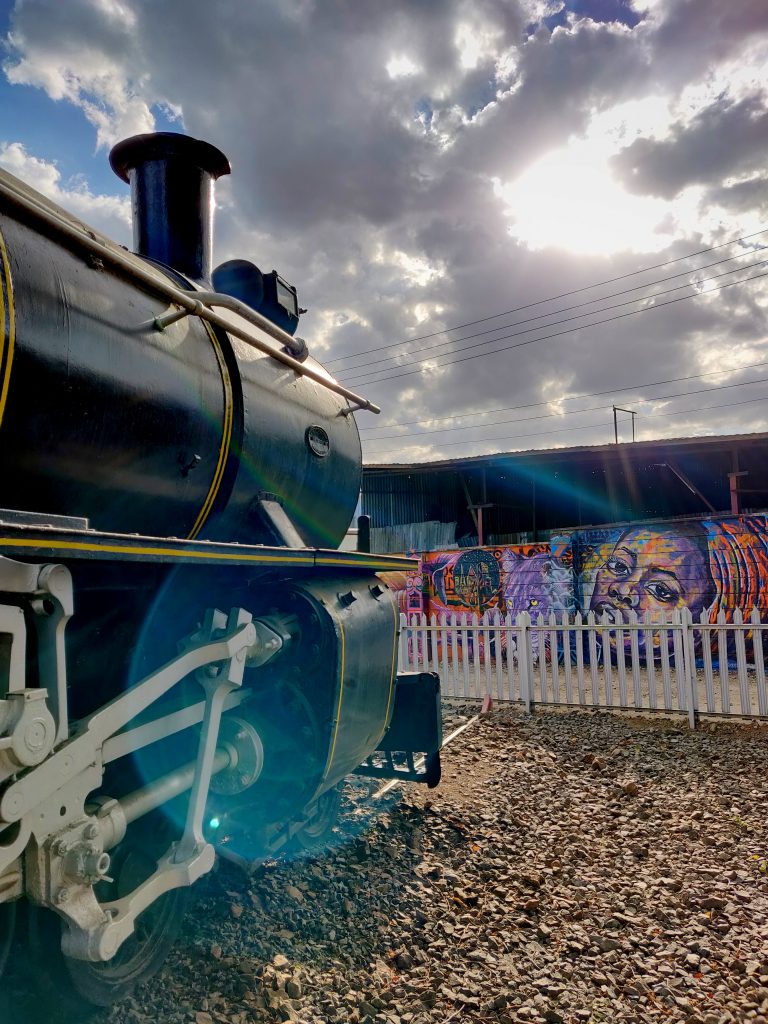 "It's really beautiful. It feels like God visits everywhere else but lives in Africa." – Will Smith.
#3 Beyond Maasai Mara, there are several other National Parks and Game Reserves!
We were surprised when we got to know that there are about 54 National Parks and Reserves in Kenya! It's mostly Maasai Mara that people tend to visit, and you'll find all popular Tour Operators selling packages surrounding that. But we'll tell you the fact – Maasai Mara, undoubtedly, is gorgeous and worth getting the tag of being the 'Safari Mecca of the World' – but one must also explore Amboseli National Park, just for the breathtaking views of Mt. Kilimanjaro, if nothing else!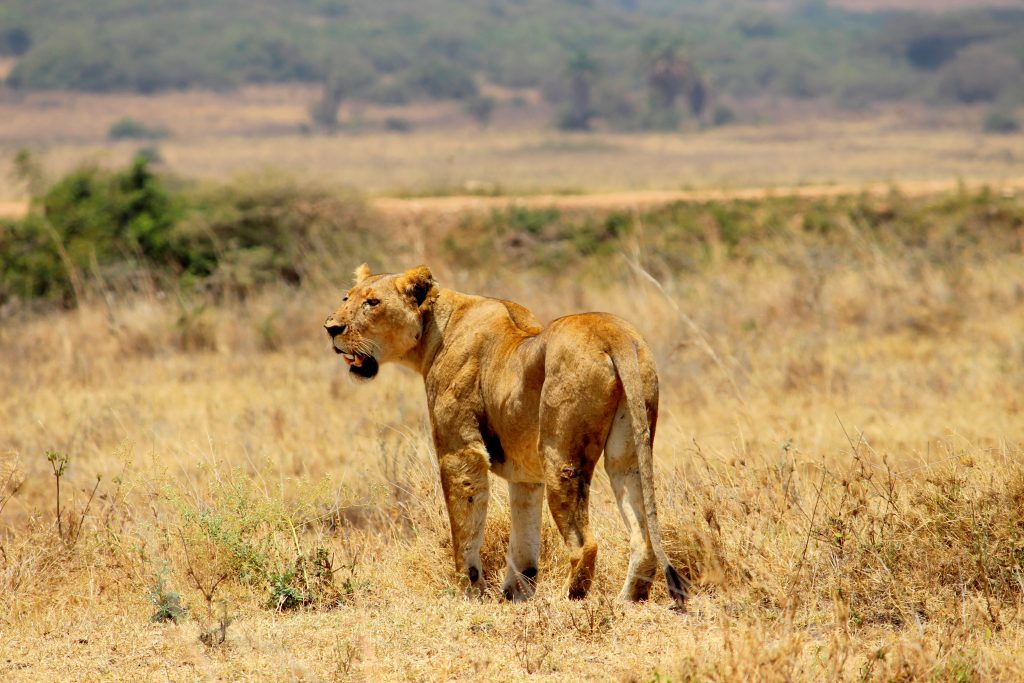 Nairobi National Park was the first of the lot, and we had an amazing experience there! In just about 3 hours, we spotted a pack of lions, black & white rhinos, hundreds of zebras, and some incredible bird species. We couldn't have asked for more!
Since we were mostly volunteering & had a busy schedule from Mondays to Fridays, we made a couple of trips over the weekends. On one weekend, we explored Lake Naivasha, Lake Oloidien & Hell's Gate National Park. The lakes are known for housing hundreds of hippos and thousands of bird species. Hell's Gate is the only National Park in Kenya that doesn't have any carnivores, and thus, walking & cycling is allowed inside. There's a beautiful gorge to hike through, with incredible geothermal activities that are rare to be seen elsewhere.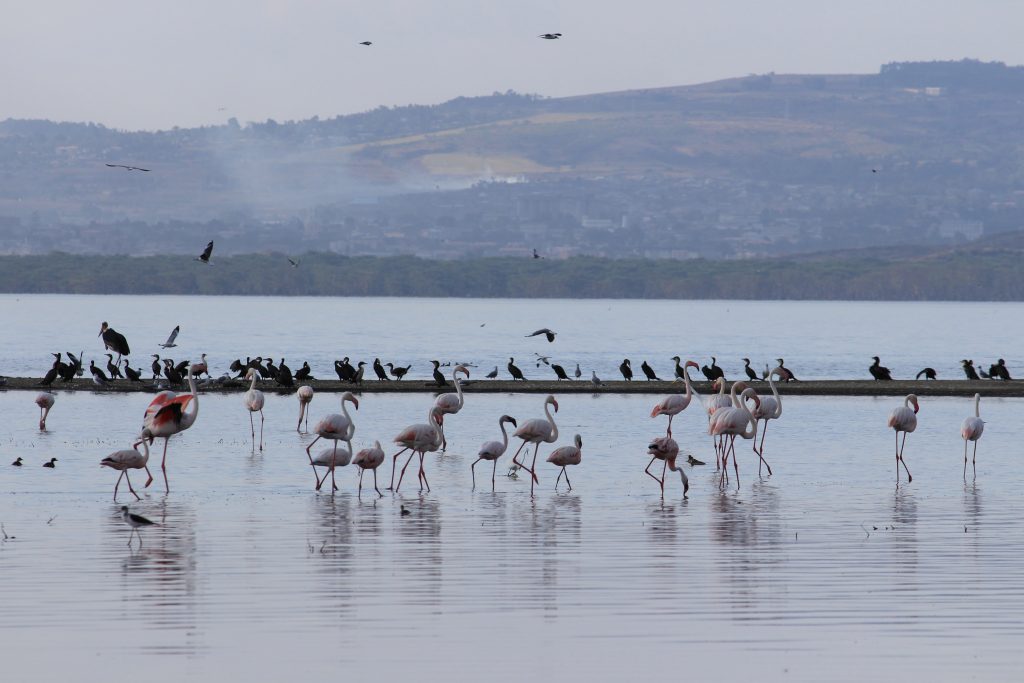 Over another weekend, we visited Lake Nakuru National Park, which is known for the white & pink flamingoes as well as the rhinos. It was amazing 'coz we had a ranger accompanying us, and we were just at a distance of about 300 meters from a rhino, by the lakeside! (It's not allowed in general to get so close to the animals unless you have permission from rangers, who are in charge of the National Parks.)
Of course, Maasai Mara, too, was on our list and we were there for 3 days, going for full day game drives and spotted everything but leopards!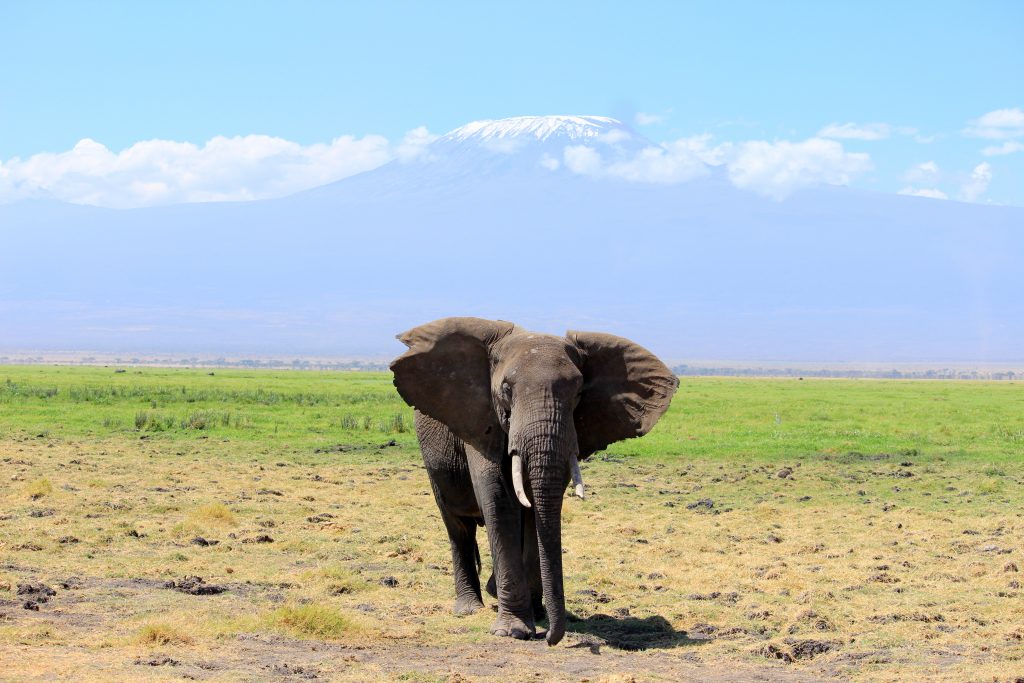 But the highlight for us was Amboseli, and we would suggest that everyone traveling to Kenya must go there! We saw thousands of elephants (NOT KIDDING) walking towards the waterholes, with the Kilimanjaro at the backdrop! No matter in which part of the park you are, you'll get the majestic views of the world's tallest free-standing mountain! We saw lions, zebras, and wildebeests together in the same vicinity, redefining the laws of nature.
It only when we were there, we realized that a month is too less to explore a country like Kenya, that's blessed with such diverse flora & fauna. Our loving guide, Paul, kept narrating stories of Samburu National Park, Mt.Meru National Park, Tsavo East & Tsavo West, etc., which he has explored over 20 years! His stories were fueling our wanderlust, as we kept thinking that probably, someday, we can return back for more adventures in the wilderness!
#4 The coastal towns of Kenya are no less beautiful, and they're often not there on a tourist's checklist!
East Africa is mostly bordered by the Indian Ocean and you'll be absolutely charmed by the coastal towns of Kenya! We just got to spend 3 days in Mombasa, and we were craving for more (sadly, we didn't have much time!). Perhaps, the Lonely Planet has described aptly, saying – "Mombasa, a melting pot of languages and cultures from all sides of the Indian Ocean, waits like an exotic dessert for travelers who make it to Kenya's coastline." We were quite in awe seeing that there were several 5-star resorts, yet the number of tourists was pretty low in the region! Mostly, there were people from Nairobi, who went there for a weekend escapade!
Mombasa, in fact, served as a Portuguese port for merchants, just as Goa! The old town and the Fort Jesus were absolutely gorgeous, but we were mostly spending our days by the white sandy beaches, soaking in the goodness and gorging on delicious seafood!
We also went for a dive and got closer to the lives under water, at Mombasa Marine Park. Both of us have dived before in India, but this surely was an out-of-the-world experience, as we got to spot thousands of fishes, and fed them too!
#5 The plan was not just to tick off Kenya from the bucket list, but to soak in the authentic vibes of the country – for which a month's time is necessary!
A gorgeous Maasai woman we met at Amboseli.
Just the other day, I was having a conversation with a friend and we were discussing how rapidly the concept of traveling is changing! Well, I love to go slow, spend time at a place rather than rushing around! I like to eat at local restaurants (mostly taking suggestions from the natives). I mainly communicate a lot with people on the streets – they may be shopkeepers or taxi drivers, Airbnb hosts or just fellow travelers on a bus/ train! These conversations help us to know a lot about the place, that we probably would never find on guidebooks or Google!
Gazing at the Kilimanjaro, with William!
I met guides like Haroun, who made sure that we spot as many lions as possible at Nairobi National Park. And there was Njogu whom we met at Hell's Gate – who said, "I'll miss you both!" – as we were bidding him goodbye! There were people like Janet, who not only hosted us at her place but also made sure that we get to have the best experiences in her city.
I made friends with William, a local Maasai guide at Amboseli. "I'm seeing this for 33 years, every day it's the same," William said, "but I'm never tired of this, never bored. Every day is different, every day, Kilimanjaro is different." He came to accompany us for a morning walk through the wilderness so that we could see the first rays of the sun, lightening the Kilimanjaro!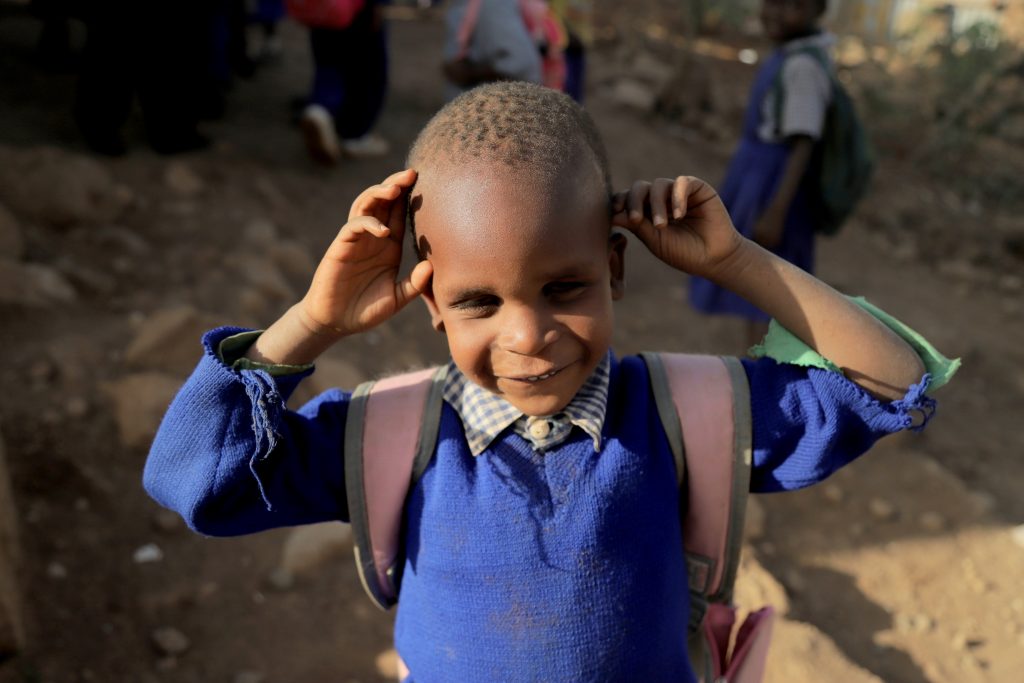 There was Mamma Grace, who hugged us tight and shed tears of happiness, for whatever little we could do for her children. And there were kids like Lucas, Emily, Uhuru, Joshua & others, who'd run to us every morning, as we opened the gates of Makimei.
"I never knew of a morning in Africa when I woke up that I was not happy." – Ernest Hemingway.
When people ask me why I was there for a month or what I've been up to, it often gets really difficult for me to put everything in words and explain with emotions. To say the least, your experience in Kenya will surely be one of the best that you've ever had (trust me when I say this!) and you'll return back home with lessons that would serve you for life!
Traveling to Kenya will help you to witness the beauty of the land where humankind first came into being, enjoy the unique geographic diversity, expose nature's different characters, and unveil things that you've never even imagined before!
There were several times when I felt that some movie was going on, and we were mere parts of it – observing how others are doing! It felt like everything was just moving on, at their own pace, and we were stuck in time!
Kenya – indeed, is like that, and you must visit this country at least once in your entire lifetime.