For a long time, Bangladesh had held a special place on my travel bucket list, all thanks to my grandmother who hailed from this land and would regale me with stories from her childhood. I had painted countless pictures of this country in my mind before I finally had the opportunity to visit it. Four years ago, a dear friend was posted in Dhaka, and it was through his connection that I got to explore the country as if I were a local.
Truth be told, Bangladesh isn't a top choice for many Indian travelers (after all, why pick Dhaka when you can head to Bangkok, right?). However, I am grateful that I've ventured to this nation – not once, or twice, but four times already, and I'm certain there's still much more to uncover! As Lonely Planet aptly portrays, 'Bangladesh is South Asia's verdant treasure – a concealed gem interlaced with rivers and a rich cultural tapestry.' From the lively hustle and bustle of Dhaka to the serene tea gardens of Sreemongol, the golden shores of Cox's Bazaar to the delectable Morog Pulau and Kacchi Biriyani – it's indeed a challenge to embrace the entirety of what Bangladesh has to offer in a single visit.
In this article, I've tried to answer the frequently asked questions that might pop up on your mind, while planning a trip to Bangladesh.
How to get a visa for Bangladesh?
It is essential for all Indian citizens to get a pre-approved visa (sticker) to travel to Bangladesh and you'll find various types of Bangladeshi visas available to cater to different travel intentions.
Here are the steps to get a visa for Bangladesh:
Choose the Type of Visa: Decide on the type of visa you need. Common categories for tourists include a Tourist Visa, a Business Visa, or a Transit Visa, depending on the purpose of your visit.
Online Application: Visit the official website of the Bangladesh High Commission in India (http://www.bdhcdelhi.org/) or the Bangladesh Visa Application Center (www.visa.gov.bd) to fill out the online visa application form. Make sure to provide accurate and complete information.
Document Preparation: Gather the necessary documents, which typically include:
A valid passport with at least six months of validity from your planned date of entry into Bangladesh.
Two recent passport-sized photographs.
A copy of your travel itinerary or flight reservation.
Proof of accommodation in Bangladesh (hotel reservation or invitation letter from a host).
A Letter of Invitation from a sponsor in Bangladesh (if applicable for business visas).
Bank statements or financial proof to demonstrate your ability to cover your expenses during the trip.
Submission of Application:
After completing the online application and paying the visa fee, submit your application and supporting documents at the nearest Bangladesh Visa Application Center (VAC) or the Bangladesh High Commission or Embassy. It's advisable to check the specific submission requirements and operating hours of the respective office.
Processing Time:
The processing time for a Bangladesh visa may vary, but it typically takes a few working days. You can choose to expedite the process by paying an additional fee for express service.
You can also check out the iVisa Official Website and apply for a visa through them, or directly get in touch with Mr. Himanshu (+91 98995 79222) who will assist you in getting the visa.
How to travel to Bangladesh from India?
Bangladesh boasts three international airports, with the largest and primary one located in the capital city, Dhaka, known as Hazrat Shahjalal International Airport. Additionally, the country is served by Shah Amanat International Airport in Chittagong and Osmani International Airport in Sylhet.
By Air:

Flight: The most common way to travel from India to Bangladesh is by air. Several Indian cities have direct flights to Dhaka, the capital of Bangladesh. You can book flights from major airports in India like Indira Gandhi International Airport (DEL) in Delhi, Chhatrapati Shivaji International Airport (BOM) in Mumbai, Netaji Subhas Chandra Bose International Airport (CCU) in Kolkata, and more. The flight duration from India to Dhaka is typically around 45 mins to 4 hours, depending on your departure city.

By Land:

Bus: While it's possible to travel overland from India to Bangladesh, the land border crossings may involve some bureaucratic procedures. The most common border crossing is between India's West Bengal state and Bangladesh. You can take a bus from Kolkata to Dhaka, which is approximately a 10-12 hour journey, including border formalities at the Benapole-Petrapole border.
Train: There are train services between Kolkata and Dhaka as well. The Maitree Express operates between Kolkata's Chitpur station and Dhaka Cantonment station. This train journey typically takes around 12-13 hours, including border crossings.

By Water:

River Cruises: If you want a unique experience, consider taking a river cruise from India to Bangladesh. There are services available from Kolkata, India, to Dhaka, Bangladesh, which provide a scenic and leisurely way to cross the border. These cruises often include stops at various points of interest along the way.
What is the best time to travel to Bangladesh?
The weather was notably hot and humid on my first trip to Dhaka in April. However, when I ventured to Sylhet and Sreemongol, I found the climate to be pleasantly different. On my second visit, which took place in February, I experienced the early signs of spring in the air.
Here's an overview of the different seasons to help you decide:
Winter (November to February): This is the most popular time to visit Bangladesh. The weather is cool and dry, making it ideal for outdoor exploration. It's a great time for cultural sightseeing, visiting the Sundarbans, and enjoying the beaches in Cox's Bazar. However, this is also the peak tourist season, so accommodations and flights may be more expensive, and popular tourist spots can be crowded.
Spring (March to May): Spring in Bangladesh can be warm and pleasant. It's a good time to explore the tea gardens in Sreemongol and enjoy outdoor activities. However, as you move towards May, temperatures can become hot and uncomfortable, especially in the central and northern regions.
Monsoon (June to October): The monsoon season in Bangladesh brings heavy rains and high humidity. While this period is not the best for tourism due to the frequent downpours, it's when the country is at its lushest and greenest. The wetlands and rivers are at their prime, and if you don't mind the rain, it can be a unique experience. Be prepared for occasional flooding and transportation disruptions.
Early Autumn (September to October): This is the transition period between the monsoon season and the dry winter. The weather becomes more pleasant, and you can enjoy a greener landscape. It's a good time to visit if you want to avoid the peak tourist season but still experience favorable weather.
However, the best time to travel to Bangladesh depends on your preferences. If you prefer comfortable weather and don't mind crowds, the winter months of November to February are your best bet. If you want a unique experience with lush landscapes and are willing to handle the occasional rain, consider the monsoon season.
What language is spoken in Bangladesh?
The official language of Bangladesh is Bengali, also known as Bangla. It is the most widely spoken language in the country and is used for communication in government, education, and everyday life. English is also spoken and understood to varying degrees, particularly in urban areas and among the educated population.
What is the currency of Bangladesh?
The currency of Bangladesh is the Bangladeshi Taka (BDT). The conversion rate usually varies, but currently, 100 Bangladeshi Taka equals 75.42 Indian Rupee (INR).
Which are the most popular places to visit in Bangladesh?
As I've already mentioned earlier, one trip to Bangladesh wouldn't be enough! However, here are some of the most popular places to visit in Bangladesh:
Dhaka:

Lalbagh Fort: This 17th-century Mughal fort is an iconic historical site. Its impressive architecture, serene gardens, and the Lalbagh Museum provide a glimpse into the city's past.
Ahsan Manzil (Pink Palace): Ahsan Manzil, often referred to as the Pink Palace, is a symbol of Dhaka. This magnificent pink palace was the former residence of the Nawab of Dhaka and now houses a museum displaying artifacts from the city's history.
Dhakeshwari Temple: A significant Hindu temple in Dhaka, it's a place of worship and architectural beauty.
Bangladesh National Museum: Located in Shahbag, the National Museum showcases an extensive collection of art, artifacts, and historical items, offering a deeper understanding of Bangladesh's culture and history.
Dhaka University Campus: Wander around the campus of Dhaka University, which features lush greenery, historic buildings, and a vibrant student atmosphere.

Chittagong (Chattogram):

Patenga Beach: A popular beach destination with a vibrant atmosphere, offering horse rides and beachside eateries.
Foy's Lake: A picturesque man-made lake with an amusement park and beautiful surroundings.
Chittagong Hill Tracts: Known for its lush landscapes, waterfalls, and indigenous communities.

Cox's Bazaar:

Cox's Bazar Beach: This famous beach stretches for approximately 120 kilometers along the Bay of Bengal, making it the world's longest natural sea beach.
Inani Beach: A less crowded alternative with coral-studded sands and gentle waves.
Himchari National Park: A place to admire waterfalls, enjoy nature walks, and spot wildlife.
St. Martin's Island: A pristine coral island offering clear waters for snorkeling and diving.

Sylhet:

Tea Gardens: Sylhet is known for its scenic tea gardens, particularly in Sreemangal, where you can take guided tours.
Jaflong: A charming border town with the Khasi hills on one side and the plains of Bangladesh on the other.
Lawachara National Park: A biodiverse park known for trekking and birdwatching.
Madhabkunda Waterfall: The tallest waterfall in Bangladesh, ideal for a nature retreat.

Sreemongol:

Lawachara National Park: A lush rainforest reserve with hiking trails and diverse flora and fauna.
Sreemangal Tea Gardens: Explore the verdant tea estates and sample exquisite local tea.
Baikka Beel Wetland Sanctuary: A haven for migratory birds and a serene place for nature enthusiasts.

Rangamati:

Kaptai Lake: Enjoy boat rides on this expansive lake amidst picturesque hills.
Hanging Bridge: A thrilling bridge offering fantastic views of the region.
Tribal Villages: Interact with indigenous communities and learn about their traditions and handicrafts.

Sundarbans:

Sundarbans Mangrove Forest: A UNESCO World Heritage Site and a sanctuary for the Bengal tiger and diverse wildlife.
Boat Tours: Explore the river channels and spot wildlife like crocodiles, deer, and various bird species.
Sajnekhali Wildlife Sanctuary: A base for exploring the Sundarbans, with a watchtower and a small museum.
Also Read: 10 Hidden Gems That You Must Explore in Bangladesh
How to travel within Bangladesh?
Traveling within the country is pretty easy, as the roads are well connected and you can take flights to different domestic airports.
Domestic Flights: There's a well-developed domestic flight network, making air travel an efficient way to cover longer distances between cities. Major airports like Dhaka, Chittagong, and Sylhet serve as hubs for domestic flights.
Buses: Buses are the primary mode of long-distance travel within Bangladesh. They are available in different classes, from air-conditioned coaches to non-AC buses. Popular routes are well-connected, and this is a budget-friendly option.
Ferries: Given Bangladesh's numerous rivers and waterways, ferries are a vital means of transportation. They connect coastal and riverine areas, and traveling by ferry can offer a unique and scenic experience.
Trains: The Bangladesh Railway network is extensive and offers a comfortable and scenic way to travel. Trains connect major cities like Dhaka, Chittagong, and Sylhet. Consider booking tickets in advance, especially for popular routes.
Rickshaws and CNGs: In urban areas, cycle rickshaws and CNG (Compressed Natural Gas) auto-rickshaws are common for short-distance travel within cities. They are an iconic and affordable mode of transportation, but make sure to bargain well!
Taxis and ride-sharing services like Uber and Pathao are available in urban areas like Dhaka. They are convenient for getting around the city and pretty affordable.
What to eat when in Bangladesh?
In Bangladesh, food is more than sustenance; it's an expression of love and culture. Each dish tells a story and invites you to savor the rich tapestry of flavors and traditions that make Bangladeshi cuisine a true culinary treasure.
Being a Bengali, my tastebuds are always on a joyride when I'm in Dhaka – and no matter whether I'm having a plateful of Kacchi Biriyani or diving into Khichuri and Begun Bhaja – my heart always fills full.
Here's what you JUST CAN'T MISS when you're in Bangladesh:
Biriyani:
Bangladeshi biriyani (popularly known as Kacchi Biriyani) is a sumptuous rice dish that's a true work of culinary art. Fragrant long-grain rice is cooked with an intricate blend of aromatic spices like cinnamon, cardamom, and cloves, lending it a fragrant depth of flavor. The centerpiece is tender pieces of meat, often mutton or beef, meticulously marinated and cooked to perfection.
Another rice dish I love is Morog Pulau (although I'm not sure if it can be categorized under biriyani or not). This dish is all about rice and succulent chicken, marinated to perfection with an array of aromatic spices, including cumin, coriander, and garam masala. The dish is often garnished with fried onions and roasted nuts, adding a delightful crunch to it.
Khichuri:
This is more like a comfort food in Bangladesh, offering a heartwarming blend of rice and lentils, skillfully seasoned with a harmonious mix of spices. The dish showcases the versatility of Bangladeshi cuisine, as it can be served in various forms, ranging from simple and soothing to elegantly spiced. The ingredients are gently simmered together to create a creamy and nourishing texture. Khichuri is often accompanied by an array of side dishes, such as fried brinjals, crispy fried fish, and an assortment of vegetables, culminating in a wholesome and satisfying meal that's as heartwarming as it is delicious.
Hilsa (or Ilish, as we call it!):
Hilsa, often referred to as the "queen of fish," is considered the national fish of Bangladesh, and it occupies a special place in the country's culinary tradition. This delectable fish is celebrated for its rich, buttery taste and slightly sweet undertone. It's frequently prepared in a piquant mustard sauce, known as "shorshe ilish," which adds a zesty and aromatic kick to the dish. The flavor of the hilsa fish perfectly complements the boldness of the mustard sauce. Personally, I'm a fan of ilish'er dim (the eggs, that you can find during monsoon) and also, ilish bhorta!
Also Read: Finding Ourselves In The 'Ilish Paradise': Day Trip To Mawa From Dhaka
Bhorta (Mashed Dishes):
It's a category of dishes that exemplify the warmth and simplicity of Bangladeshi cuisine, and it is said that 'bhorta' was a 'poor man's food', but now, it's one of the most popular items in the country! These dishes are typically made by mashing various ingredients, resulting in a medley of flavors and textures. The possibilities are endless, and bhorta can be created from ingredients like roasted brinjals, fiery green chilies, or the earthy richness of daal (lentils). These mashed creations are often seasoned with mustard oil and an array of spices, adding depth and complexity to their taste.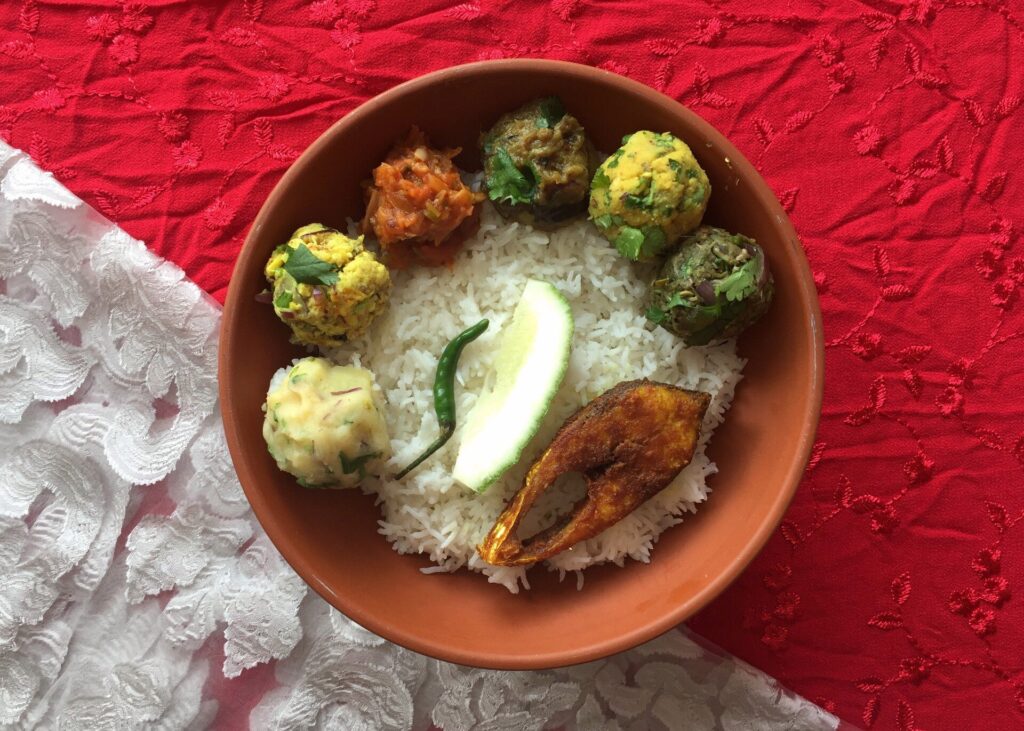 Mezban:
Mezban is a robust and spicy beef curry that captures the essence of bold Bangladeshi flavors. It showcases the art of slow cooking and stewing, resulting in tender pieces of beef infused with a tantalizing blend of spices and aromatic herbs. The dish is a beloved favorite among meat enthusiasts, and it's often enjoyed with naan or steamed rice. Mezban embodies the culinary tradition of embracing spice and heat to create a dish that's hearty, flavorful, and thoroughly satisfying.
How safe is Bangladesh for solo travelers?
As I shared my experiences in Bangladesh on Instagram, I received numerous inquiries from people curious about the safety of solo travel in the country. Honestly, my journeys as a solo woman traveler have been incredibly positive, and I've come to realize that women are generally respected in Bangladesh. However, it's worth noting that dressing modestly and considering a headscarf when visiting religious sites is a sign of respect. Additionally, if you can converse in Bangla, you'll often find it to be an added advantage that enhances your travel experience.
To say the least, my journeys to Bangladesh have been a kaleidoscope of vivid experiences and unforgettable memories. I've met some wonderful people along the way, who made me feel at home and embraced me with love. Bangladesh may not be the typical 'off-the-beaten-path' destination, and it's unfortunate that it's sometimes misunderstood by the outside world. But why not challenge those myths and discover their true beauty?
Have you been or would you consider traveling to Bangladesh?  Let me know in the comments below!