Beyond the surreal beauty of the landscapes that allures and fascinate everyone, Ladakh has an enriching history & cultural vibrancy to dive into.
The impact of Buddhism can be felt everywhere and when I was planning my trip to this gorgeous land, I had a checklist of the places that I wanted to explore – which included some of the most popular monasteries of the region as well. Needless to say, Thiksey & Hemis Monasteries topped my list, and I was quite aware of their elegance & charm. Truth to be told, they lived up to the hype, leaving me awestruck with the sheer beauty of their architecture and the peace that lingered in the air.
During my month-long endeavor in Ladakh, I also managed to explore some of the hidden gems of this region that are seldom visited by tourists.
On a sun-soaked afternoon in July, I found my way to Chemrey Monastery – a 400-year-old unexplored Buddhist monastery, where tranquility redefines itself.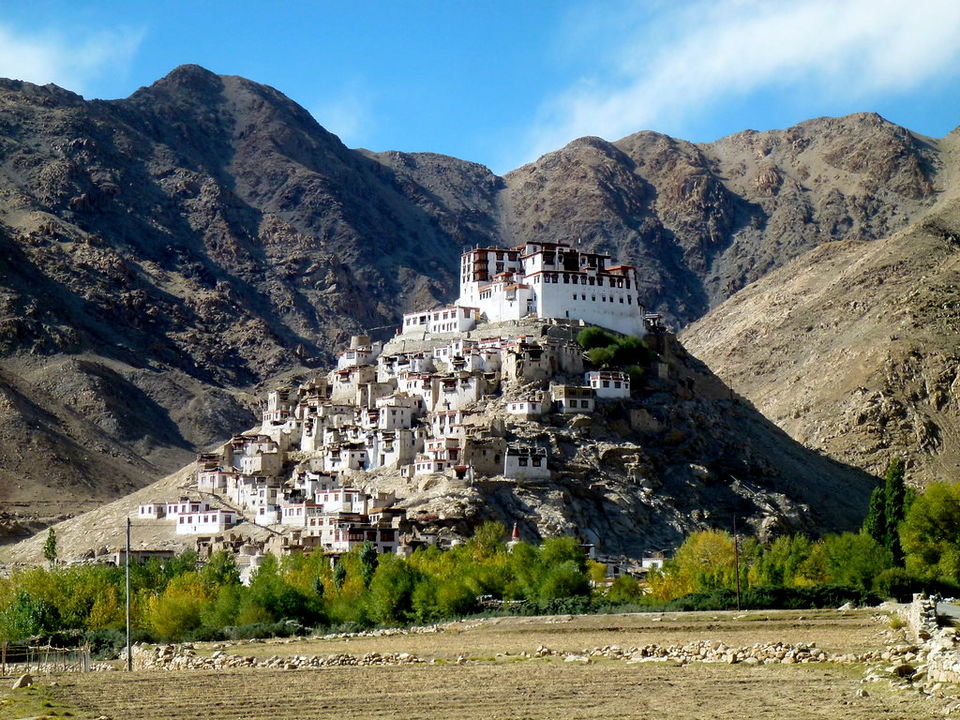 From a distance, Chemrey looks identical to Key Monastery in Spiti, with the tiny white structures sprawling over a hillock and the topsy-turvy mountain trail leading to the main monastery.
What makes Chemrey worth visiting?
The main reason to visit this monastery is surely its peaceful ambiance and the fact that you might be the only visitor stepping inside!
Founded in the year 1664 by Lama Tagsang Raschen (who's also the founder of Hemis Monastery), the monastery was dedicated to King Sengge Namgyal. Lama Raschen played an important role in spreading Tibetan Buddhism in Ladakh.
Currently run by a small group of Drukpa monks and their students, this monastery is home to some ancient Tibetan texts, a giant brass statue of Padmasambhava, a revamped Guru Lakhang, and a brand new library full of important religious texts and scripts. The fading murals of Sakyamuni, Kalchakra, Akshobhya, and the paintings of thousand Buddha are also some of its key highlights.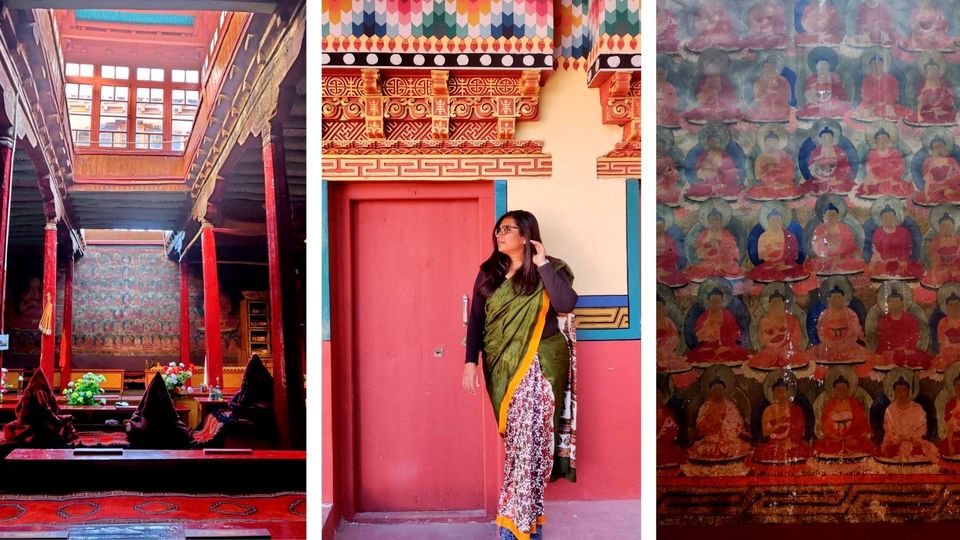 Peeping from the terrace, on one side you'd get to see the stunning view of the Shakti Village below, which is blessed with fertile agricultural lands. And on the other side, stands the rugged Himalayas that are occasionally kissed by the floating clouds!
Unlike other monasteries of Ladakh that attract the crowd, Chemrey still stands as an exception.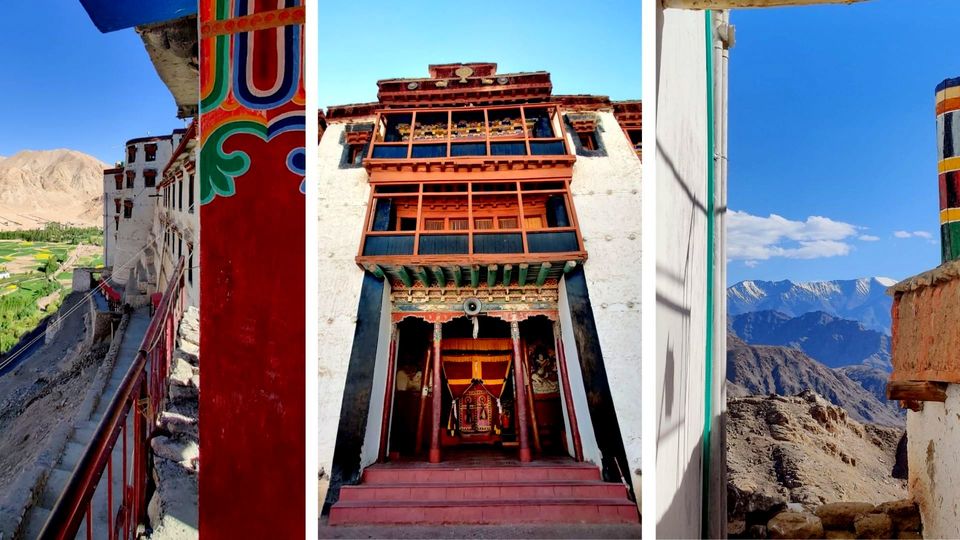 What's the best time to visit Chemrey?
Quite similar to the rest of the monasteries in Ladakh, Chemrey also remains closed during the winter months, spanning from November to April. The best time to visit would be from June to October.
If you are a photographer or a culture-enthusiast, then you can plan to visit during the Chemrey Angchok – the festival of sacred dances, which takes place during the 28th and 29th day of the ninth month of the Tibetan calendar. It would surely be an incredible experience to watch the masked dancers performing, with such a stunning backdrop!
How to reach?
Chemrey Monastery is located at a distance of about 40 km from Leh. While it can be spotted at a distance on the Kharu Chang-La highway, you'd need to take a detour on a narrow lane, through the Shakti Village, leading to this place.
Cabs are available from Leh, and it would cost around 2000 INR for a round trip. You can also club your Chemrey trip with that of Thakthok & Stagna monasteries, which is on the same route.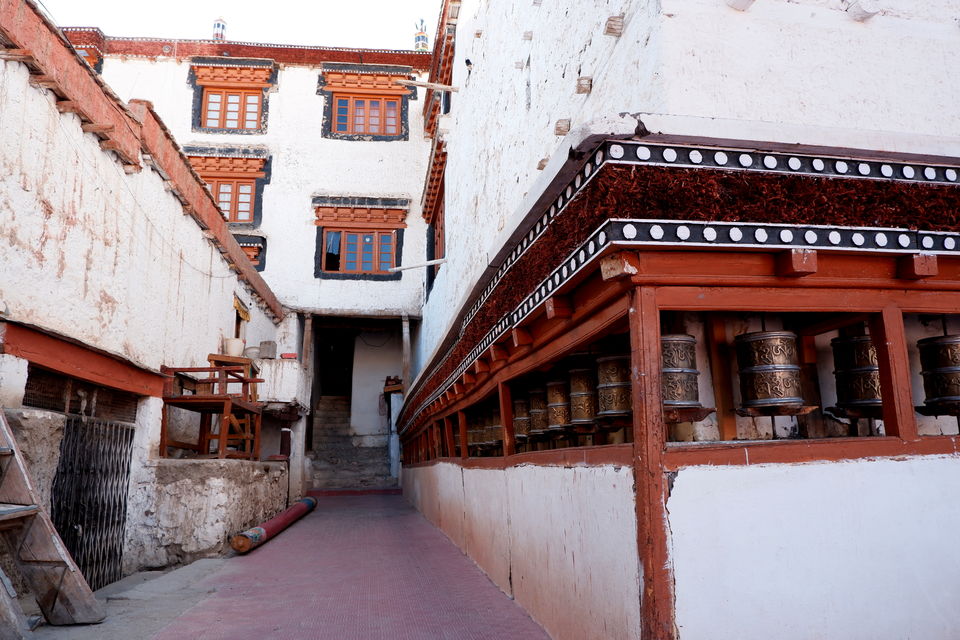 If you wish to spend some time by yourself, soaking in the silence & serenity while falling in love with the slow life of the monks, then make sure to stop by Chemrey during your next trip to Ladakh! Truth be told, it's a hidden gem in Ladakh that's yet to be explored.
---