So, my friend has this dream of going for the Everest Base Camp Trek and I'm sure he'll soon get to live that dream (*Touchwood*). Knowing myself, even though I'm good with high altitude treks but not yet confident enough to sign up for EBC. However, the desire to get a closer look at Mt.Everest is immensely tempting & dangerously infectious!
When we were planning our trip to Nepal, we got to know about this Everest Mountain Flight by Buddha Air, which not only allows you to enjoy the fantastic views of the highest mountains in the world but also helps you to soak in the beauty of pristine nature & understand the geographical terrain of Nepal.
Nothing compares to the sheer beauty of the Himalayas & one can't really ask for more, after everything that the mountains have to offer. Without contemplating much, we booked our tickets for this 'once in a lifetime' experience.
What is the 'Everest Mountain Flight' all about & how much does it cost?
While we thought that it's gonna cost a bomb and drill a hole in our pockets, we were pretty surprised to see that the tickets weren't that expensive! At just 7000 INR (approx + taxes) per person, you can soar across the breathtaking Himalayas of Nepal and capture the beguiling view of gorges, cliffs, and mountains floating in between the white smoky clouds.
Like I said previously, climbing up the mighty Himalayas isn't for all, but then, we do deserve to witness the stunning beauty of nature; raw, undiluted, and truly majestic mountains. Buddha Air provides the Everest Mountain Flight every day from Kathmandu, early in the mornings (usually at 6:00 AM), when the Himalayan views are the best. The flight time varies from 50 minutes to an hour and would mesmerize you with a glimpse of 20 of the highest peaks to the East of Nepal – starting from the Langtang Lirung Peak which is the closest peak to Kathmandu, then moving towards Sagar Matha (that's what they call Mt. Everest) in the East and finally fly to Chamlang Peak.
From there, the plane takes a turn and we got a second chance to look at the view while on our way back to Kathmandu. It seemed to be the fastest one hour of our lives (and undoubtedly, the BEST!).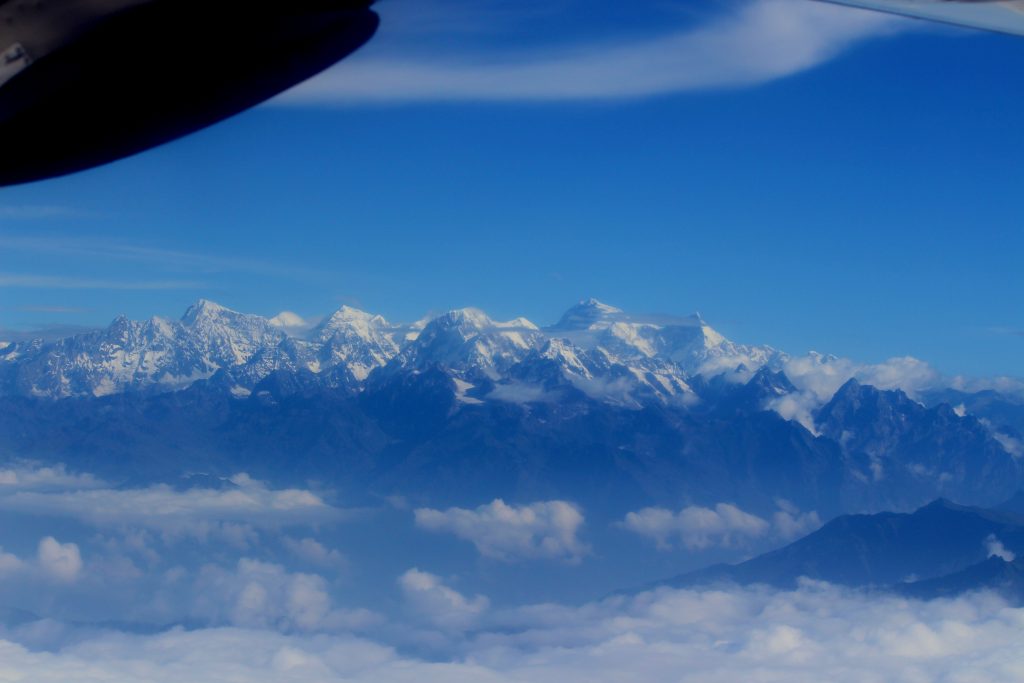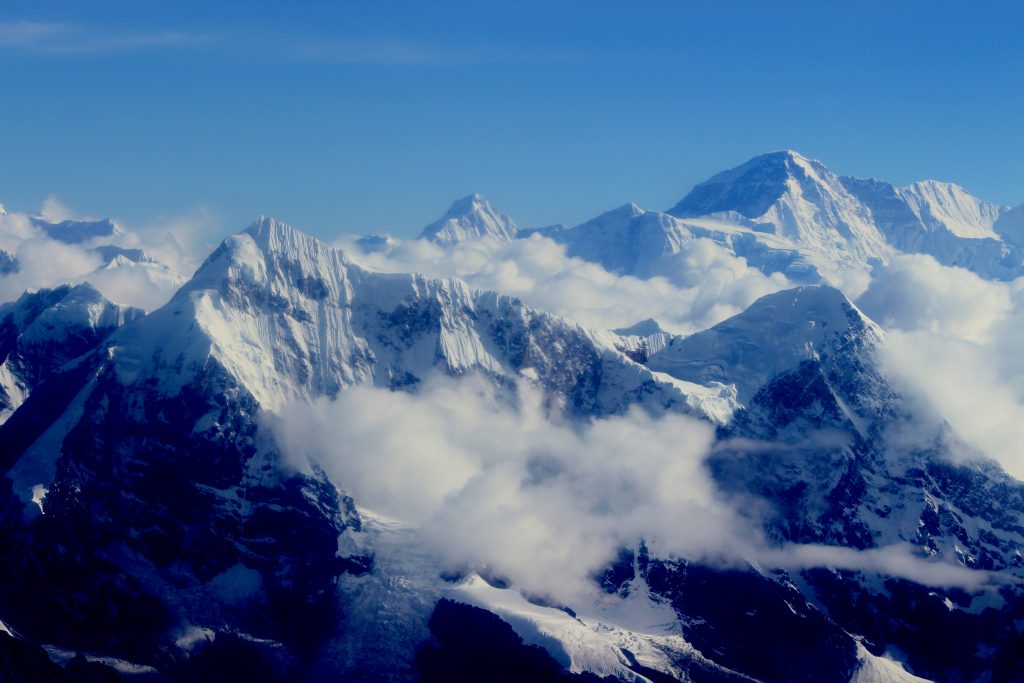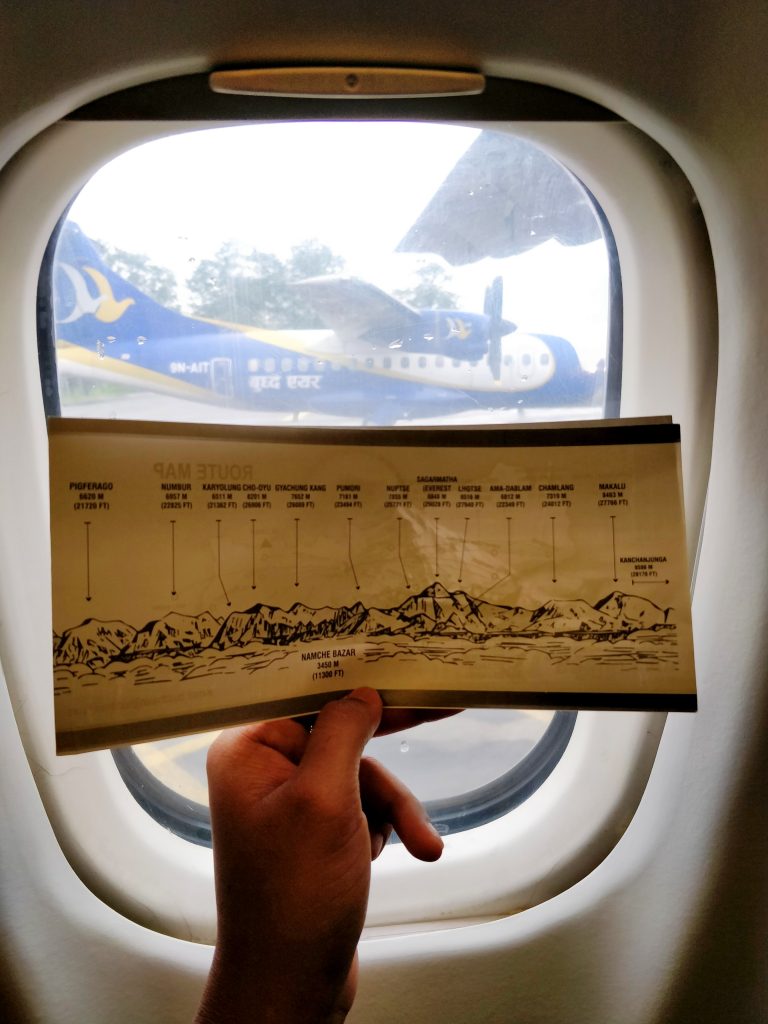 An Experience That's Priceless!
While on board, we received a 'Himalayan Peaks' map from our flight attendant. This map contained information about the different peaks which we were supposed to see during the mountain flight. There were also briefings from our flight attendants, who moved around and showed us the visible mountains.
We were literally stunned to see those larger-than-life mountains, all above 8000 meters, including Mt. Gauri Shankar, Mt. Cho-Oyu, Mt. Shisha Pangma, Mt. Pumori, Mt. Nuptse, Mt. Ama Dablam, Mt. Everest & Mt. Lhotse and more! The best part about the Everest Flight is that everyone gets a window seat 🙂
All of us inside the aircraft got excited which we saw the first glimpse of Mt.Everest and I had tears rolling down my cheeks, for I couldn't believe what I was seeing in front of my eyes!
Then, we got another surprise. The crew came and told us that we can walk inside the cockpit, one by one, to get an even closer look at the highest peak in the world! For a while, we could actually understand what it felt like, to fly on top of the world!!
The mountains were so close that at times, it seemed that I could actually stretch out my hands and touch them!
To quote Frank Smythe, "There is something about the Himalayas not possessed by the Alps, something unseen and unknown, a charm that pervades every hour spent among them, a mystery intriguing and disturbing. Confronted by them, a man loses his grasp of ordinary things, perceiving himself as immortal, an entity capable of outdistancing all changes, all decay, all life, all death."
Small, that's how we felt.
In front of this wonderful display of nature, we felt so tiny & unimportant, and yet so wonderfully free!
I truly wished that the journey lasted for a little longer, but as they say, all good things come to an end. As we returned back to the chaos of Kathmandu, the views of the snow-capped mountains and the clouds kissing them kept lingering on my mind, with a feeling of calmness and tranquility, which lasted for some time.
To appreciate & commemorate our 'Once In A Lifetime Experience', Buddha Air gifted a personalized Everest Experience Certificate to each passenger after the completion of the flight 🙂