So, we had a week's time to explore Nagaland. Since it was the month of December, we couldn't have skipped the Hornbill Festival in any way, and after soaking in the cultural vibes of the Naga tribes, our next plan was to head out for Dzukou Valley! Located in the borders of Nagaland and Manipur, just behind the Japhu Peak, Dzukou Valley sits high amongst the clouds, at an altitude of 2,452 meters above sea level. With thousands of green hillocks appearing as an undulating carpet, Dzukou can be termed as 'The Hidden Heaven' of Northeast!
There are several folklores about how this valley derived its name – Dzukou. According to some, the word 'Dzüko' was originally derived from the Viswema dialect and it means 'soulless & dull'. People believe that ages ago, when their ancestors were looking for a place to settle down and harvest crops, they reached this valley and figured out that in spite of being breathtakingly beautiful, the adverse climate and unfavorable terrain would never support cultivation – thus, it was named so. However, a more popular belief is that Dzüko derives its meaning from the Angami word, which translates to 'cold water', referring to the ice-cold stream that flows through the valley.
No matter how it got its name and whatever myths are attached to it, one who has been here, at least for once, can never forget this valley, with its rugged beauty of an exhilarating green carpet & the mysticism that lingers in the air.
Everything You Need To Know About The Dzukou Valley Trek:
How To Reach?
One has to reach Kohima, the capital of Nagaland. From there, shared/private cabs are available, that can drop you at any of the starting points, depending on the trek route/trail you choose to explore.
Dzukou Valley can be approached via two routes:
1) The shorter, steeper, and more difficult route is through Jakhama Village (20 KM from Kohima) and usually preferred by most of the travelers, who are more keen to finish the trek in a day.
2) The longer route, which involves relatively easier ascends and descends is through Viswema Village (25 KM from Kohima), and it's best suited for those who wish to go slow, soaking in the beauty and freshness and spend a night in the valley.
We chose the latter; more so, because we had plans to spend two nights in the valley! 🙂 We had booked the trek with India Trails, one of the most trusted organizations in Northeast and our local guide, Abhi, accompanied us throughout the journey.
When Is The Best Time For The Trek?
The best time to do the trek is from the end of June till September, and August seems to be the peak season when trekkers from all over the world come to explore this magical land. The valley turns to be the most beautiful during these three months, with all its flowers in bloom, dotting the landscapes with countless hues. However, there are certain disadvantages of trekking in monsoon, as the trails are slippery and there's usually a heavy downpour during the day, posing problem for trekkers.
December & January are also considered to be a good time, as the weather gets cold and there's almost no rain. But of course, you won't get to see the Dzukou lilies if you come at this time. We did the trek in December, and to say the least, we absolutely loved it!
Is It A Good Option For First-Timers?
Let me be honest. Although Dzukou Valley Trek is considered to be an easy trek, the first part of the journey can be a little difficult for some people, if they are not used to walking at all, or have a problem climbing up a steep staircase. Other than that, it's a comfortable hike through the valley, and it was the first trek for our friends, Navonil & Antara. They did take their own sweet time but completed it without any hassle.
What Are The Accommodation Options?
There are 2 Trekker's Hut where you can spend the night, and you can easily book it after reaching the valley. They provide you with mats and blankets. You can carry your own sleeping bags, if you want to. It's very basic accommodation; there are toilets but you'll have to carry your water (from the river) as well as a running kitchen, where you can make Maggi etc. Otherwise, you can also ask for a meal (mostly rice, daal and sabzi) for an added cost. They also provide woods, in case you wish to lit a fire as it gets really cold at night. If you choose to go for the trek with a guide/ travel agent, they organize everything (porter, stay, food, bonfire) for you.
Important Things To Know Before You Plan To Go For Dzukou Valley Trek:
All Indian travelers need to collect "Inner Line Permit" from any Nagaland House found in major cities like New Delhi, Guwahati, Shillong or Kolkata. Without the ILP, you'll not be able to do the trek. (Cost of ILP is 50 INR for one person)

Foreign visitors are to register themselves at any local Foreigners Registration Officer (FRO) within 24 hours of their arrival.

Kohima doesn't have a railway station or airport. So you'll have to fly down to Dimapur (Nagaland) or Guwahati (Assam) from where you travel to Kohima by road. Hence, you need to plan your trip accordingly.

Avoid starting your journey on a Sunday, as Nagaland is a Christian state, no or fewer taxis are found on the day.

Although it's always good to go for the trek with a guide, it can also be done independently. The Dzukou Valley trek route is pretty well-defined and all amenities (tents, mats, sleeping bags & food) are available once you reach the Trekker's Hut. But make sure you're not planning it at the peak season, otherwise, there might be a space crunch.

Dzukou is still one such place that has been carefully protected from the menace of plastic pollution. So we'd urge you to carry your trash bags and bring back all your plastic waste, not leaving anything back in the valley.
Our Journey To Dzukou Valley & How We Spend Two Amazing Days Amidst The Wilderness:
The car dropped us at the base and Abhi got walking sticks for each of us. We had already divided the luggage amongst ourselves, so that easier to walk. Crossing a narrow stretch of rocky terrain, we had to step into the lush jungles. There was a board saying 'Way To Dzokou', marking the starting point of the trek. There's a steep winding climb with stairs made out of stone slabs, cut in a whimsical manner. We started our climb at around 11'O clock in the morning and took the trek quite lightly! However, walking up the staircase is the hardest and most challenging part of the entire trek.
We stopped for a couple of times on the way, sometimes to catch our breath & have a sip of water or to click photographs and it took us about 2 hours to cross that stretch of nearly 1200 odd steps (approx). Finally, we reached a point which marked the beginning of the valley. It was mesmerizing to see the floating clouds and for a moment, I felt as if someone has painted the valley with varied shades of green. The topography changed abruptly and the trail from here was pretty smooth, leading us through a narrow trail amidst the tall grasses growing on all sides.
It seemed that the trek path has been carved out of the sloping hills and thus, it moves along the natural curve. All along the route, the unconventional landscape kept enchanting us. Charred black tree trunks and branches dotted the gorgeous slopes, forming the perfect juxtaposition between the green hills and the blooming flowers.
As we walked down the trail, Abhi told us that in the month of July/August, the valley turns purple as the Dzukou lilies bloom! As I tried to visualize, I wondered how can this place be more beautiful than what it already was. It took us another couple of hours until we finally reached the Trekker's Hut, amidst nature's lap. Since the winter months are a good time to do this trek (and Hornbill Festival had just got over), there were quite a few people who had also set up camps around that area.
It was around 3′ O clock in the afternoon, but the freezing wind nearly numbed our senses. Being exhausted and extremely hungry, we grabbed out mats & sleeping bags, making ourselves comfortable inside the hut and binged on Cup Noodles & chai. Later, we went and sat outside, talking about how unreal the place looked like as the colors of dusk filled the sky, and the valley was slowly covered with a veil of mist.
Post sunset, there's nothing much to do. There's no electricity, but thanks to Abhi, we had a candle to add some lights in our corner of the hut. As the temperature dropped steadily, we got inside our sleeping bags and listened to stories (thanks to RD & Antara), played games and laughed over lame jokes, until dinner was served at around 8′ O clock. We couldn't be happier after having that rice & daal, and finally called it a day.
The next morning, when we woke up, the dewdrops on the leaves had frozen! The valley looked gorgeous as the clouds paved the way for the sunrays to sneak in. Having chai and breakfast, we went out for a small hike to the telephone tower (about 40 mins from the campsite), as some of us had to make calls at home. 
Getting back to the hut, we relaxed for some time as Navonil got his sketchbook to draw the valley. Later, we headed out to explore the valley, the caves, and the Dzukou river. (If you choose to go for a day hike, you'd surely miss out a lot that this valley has in store! So at least plan for 2 days, if not 3) As we happily hopped down the valley, the grandeur of the landscape left us in awe and we could feel the peace of silence in our nerves. Climbing up a rock at the edge, I & Snigdha looked down to see the river flowing through a gorge, as Navonil & Antara kept walking, hand in hand; and RD chitchatted all the way with Abhi.
We walked for nearly 2 hours and finally, reached the river. Crossing it, we walked a bit ahead and found a small cave. The sun was shining bright, and while the boys climbed up the cave, I lied down on the grass for a quick nap! Abhi filled our bottles with the chilled river water; we munched on the snacks we had carried and clicked photographs to our heart's content!
With happy hearts, we returned back to the campsite and were dying for some tea, as it was already getting cold. Like the previous day, we enjoyed the sunset sitting on those wooden benches outside the huts and discussed how beautiful our day has been! Sometimes, we don't really have words to express certain emotions, but when you get to live precious moments together, it's easier to share the good vibes amongst ourselves.
The evening passed by the wink of an eye, playing games and talking about good old college days. Dinner was served on time and finally, it was time to squeeze ourselves inside the sleeping bags! (I remember that night, I woke up at 2'O clock to pee and since the toilets are about 20 steps away from the hut & there's no light, I had to drag RD out in the cold. Once I was done with my business and was literally shivering in the cold, RD wanted to go and see the valley, 'coz he felt that the moonlight was making it look magical. I didn't have the guts to walk even an extra step, so we went back to our cozy corners!)
The next morning, we woke up early, packed our stuff and post-breakfast, we started our journey back to Vishema. The walk back is always easier, I don't know why! And surprisingly, it takes lesser time too. Bidding 'Goodbye' to Dzukou, we climbed down the stone steps and finally got back to the base, where the car was waiting for us.
In those 2 days, we indeed found ourselves in a wonderland, away from the chaos & cacophony of everyday life. It was time to set out for our next destination – Khonoma!
"The company of people you choose to trek with, makes all the difference!"
I couldn't have agreed more with this saying! Indeed, going on this trip with my friends from college was the best decision ever. And even RD agrees on the note that trekking to Dzukou Valley can be very exhausting and it is the spirit of the gang that determines the kind of time you will have there. We are glad that Snigdha, Navonil & Antara decided to tag along with us, the moment we had pitched the plan to them! Here's what they have to say:
Snigdha
"When Riya & Riju told me about this place called Dzukou Valley, I checked out some photographs on Google and it looked breathtakingly beautiful. But sometimes, when you reach the place it might not be how you imagined it to be like!
This time when I reached there and saw the place, I realized that it was beyond my imagination! How beautiful and tranquil a place can be.
Dzukou Valley is a place where daal & rice will make you happier than any luxurious meal; where you will realize how all your material things are smaller than our inner contentment; how blessed we are to have a life back in the cities where we have everything that we ask for and so on.
In those two days in the valley surrounded by the waves of lavish green, we truly found a piece of heaven on Earth. And this stay made me connect more with my friends and to my own self, as there was no mobile network to keep me busy otherwise!!"
Antara
"It was the first trek of my life, through the narrow trails of the Dzukou Valley in Nagaland. Armed with the best company of adventure-loving friends, this trek has been able to create some incredibly beautiful memories that I would cherish forever.
Winning over a flight of approximately 1200 steep stone stairs that took us to the viewpoint; and then just as you cross over a little hillside, you are thrown into a completely different world. Inhabited only by plants and shrubs of different species, the entire valley looks like a lush green carpet, gently undulating and stretching to the horizon.
As we walked down the valley, the sunbeams spread across the landscape, transforming the scenery into an ethereal one. We stayed in a dormitory for two nights and explored the place during the daytime, assisted by our most helpful guide. I will remember the trek to the valley as an experience of a lifetime where I had quite easily lost myself in the beauty of nature, immersed in the silence of nothing but with green leaves all around."
Navonil
"At Dzukou, silence speaks so loudly that one can hear his heartbeats. It was an exceptional experience. Almost no human was there within the 5/6 mile radius, as we walked down the enchanting valley.
The long rocky road, the uphill and downhill terrains, the trek through the woods would simply overwhelm anyone. There lies a completely different world of green hills, grey clouds, and the beautiful golden sunrays, kissing the valley."
When we asked them to share their experiences, we were simply overwhelmed to see their response.
Already, the ecstatic beauty of the place has been lingering on our mind ever since we got back and after reading what our friends had to say, our hearts were filled with joy.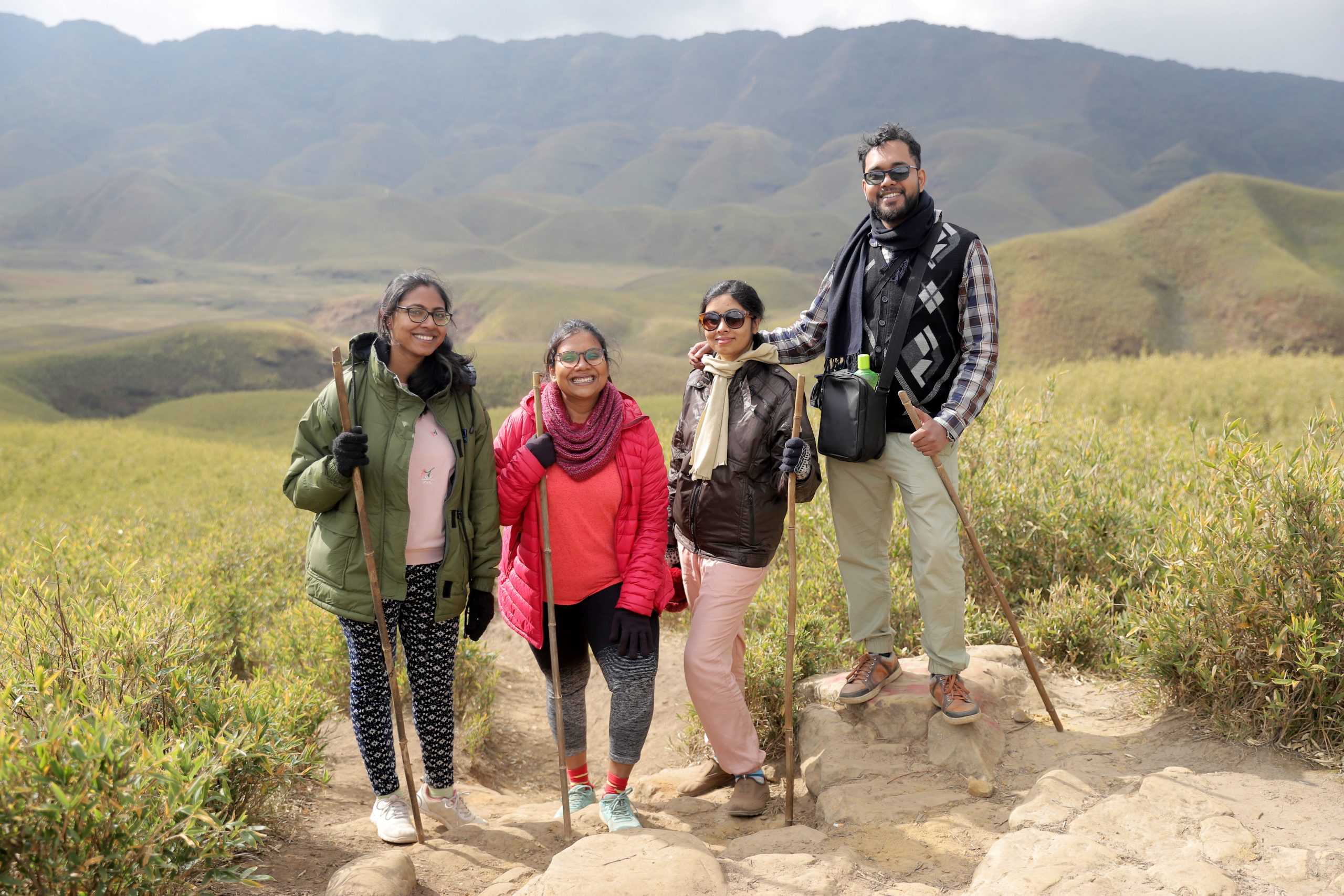 Have you been to Dzukou Valley and wanna share something that we might have missed out? Let us know in the comments below! Also, if you're planning to travel to Nagaland, make sure to add this to your checklist and escape to this wonderland 🙂 It'll be a worthy experience to cherish forever!