In today's date, if we look around us, we'll notice that people are always on their toes to break free from their regular lives and take a break, in order to spend a few days in some quaint place. Also, the concept of freelancing and 'work away' has been on a rise for the last couple of years, encouraging millennials to step out of their comfort zone and fuel their passion for traveling.
Have you ever thought how wonderful it would be, to wake up every morning in the lap of the Himalayas and sip on lemon-honey-ginger tea while living with a bunch of enthusiastic people? Not just that, but you'll also get to sit with your laptop and work while staring at the snowclad Dhauladhars. Ah well, might sound like a utopian world but that's what Karyashaala is all about!
To put it in simpler words, Karyshaala is for the new age traveler who wants to work from any part of the world with a flexible, yet proper workplace. It's a home for all such digital nomads who are seeking a space to work with all amenities and also enjoy a life 'out of the box'. Karyashaala, indeed, is creating a perfect space for the integration between work and life, encouraging the growing community of working travelers.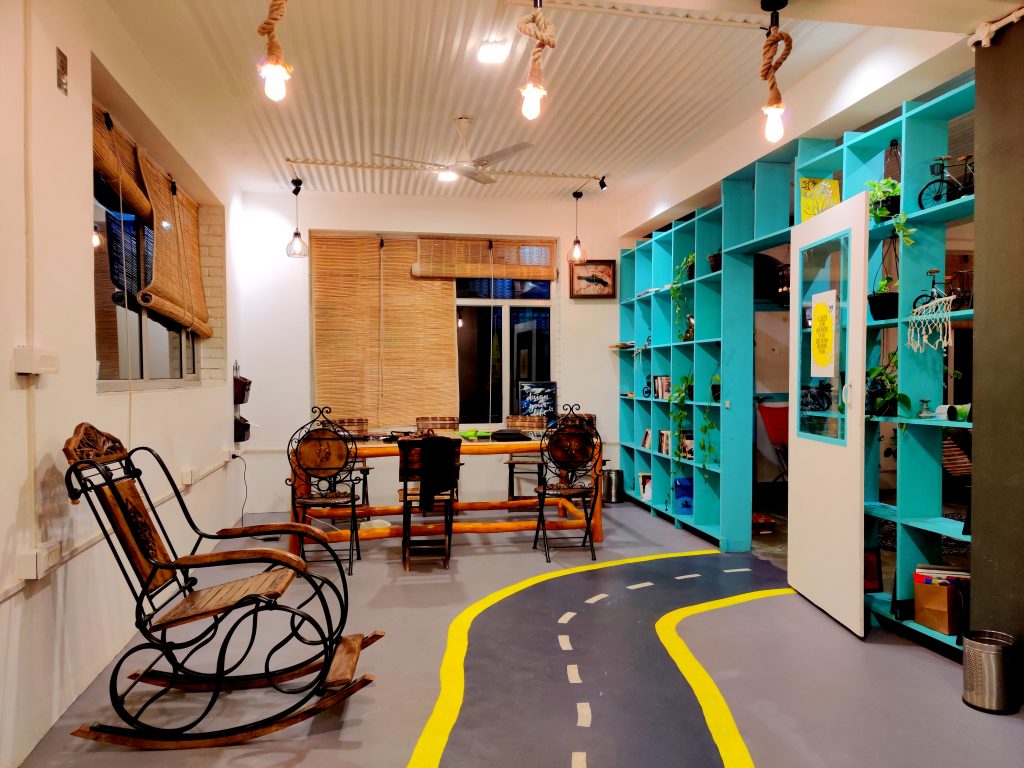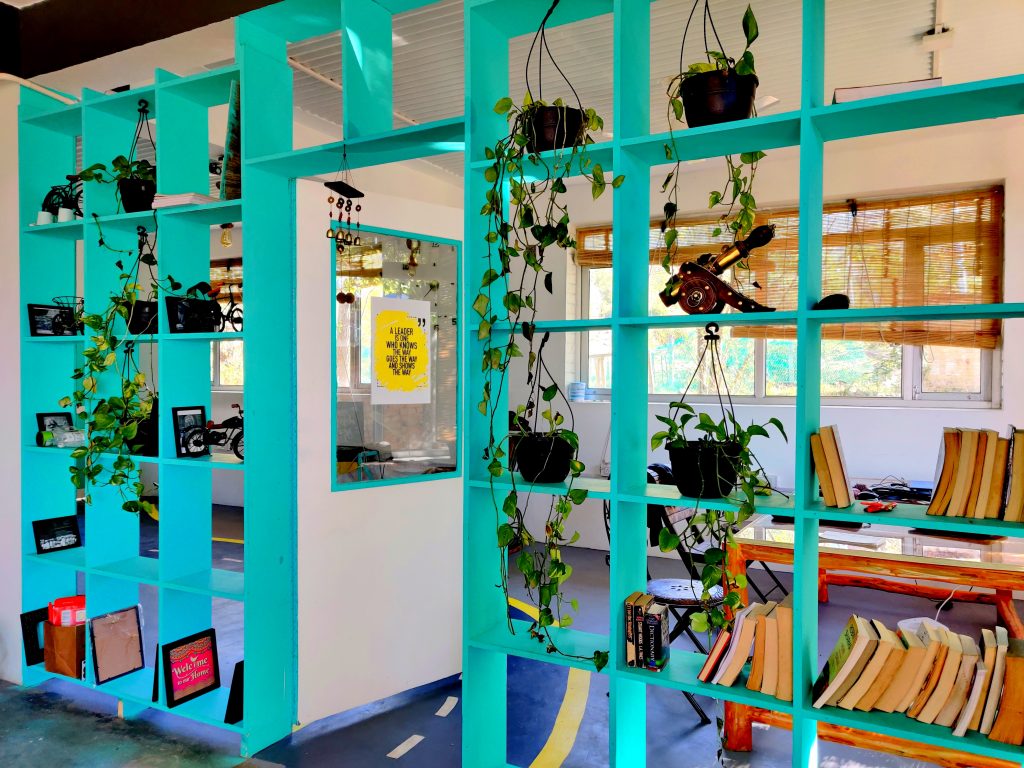 A Little More About 'Karyashaala':
Karyashaala (an initiative by the Experiential Living Project) is a co-living and co-working space nestled amidst the breathtaking mountains of Bir, Himachal Pradesh. It's an abode for freelancers, digital nomads, travelers, writers, designers, entrepreneurs who require resources, guidance, adequate setup, and infrastructure which would be suitable enough for them to work. A good enough place to tickle your wanderlust bugs, this place offers the perfect ambiance to live & work, for those nomads and entrepreneurs who are seeking a wandering life in the hills.
Other than that, even if you're just looking for a quick escapade in the mountains, a budget stay with all basic amenities and wish to meet some amazing people, be a part of interesting conversations – then this is the place for you!
While we were planning to visit Bir over a weekend, we decided to stay here for a couple of days. Well, we had an amazing time with Anisha (one of the Core Team Members of eLiving Project) as well as Agam, who had ditched his lawyer-life to spend a few days in Bir as a volunteer. We also got to meet Rahul & Manpreet, 'the enthu-preneurs' behind creating this beautiful co-working & co-living space – which is definitely gonna be the perfect escapade for digital nomads in the days to come!
Amenities Offered At 'Karyashaala':
There's a warmth that lingers in the entire premises and the moment we walked in, we felt this strange sort of happiness! It was 6′ O clock in the morning, and while you'd have to really hassle for an early check-in at other places, it was absolutely different out here. Felt like we have just come over at a friend's place, and Anisha opened the doors for us to take a quick nap after that 12 hours bus journey!
Well, sometimes little things matter much! But anyway, Karyashaala will provide you with all that you'd need and more… With a very homely, quaint and rustic environment, Karyashaala has 5 dorm rooms with bunk beds and shared bathrooms, as well as deluxe rooms with double beds, wardrobes, and private bathrooms.
You can easily book your stay through HostelWorld, AirBnB or Booking.com 🙂
There's a dedicated 20 MBPS lease line with an entire floor dedicated to a working space with WiFi, 24 X 7 power backup, printer, copier, etc – precisely, all that you need to work remotely! You can either find your place in one of the cozy corners or sit on a rocking chair with your laptop and finish your assignments. And in case you're a book-lover like us – you're gonna have a treat 'coz they have some really good books in their store!
They also have a community kitchen, where you can cook your own meals. Otherwise, you can order at the in-house cafe which operates from 8:00 AM to 10:00 PM. There's a huge outdoor-lounge overlooking the Himalayas, where you can sit and spend your entire day, soaking in the freshness! They also have a badminton court, in case you're up for a game 🙂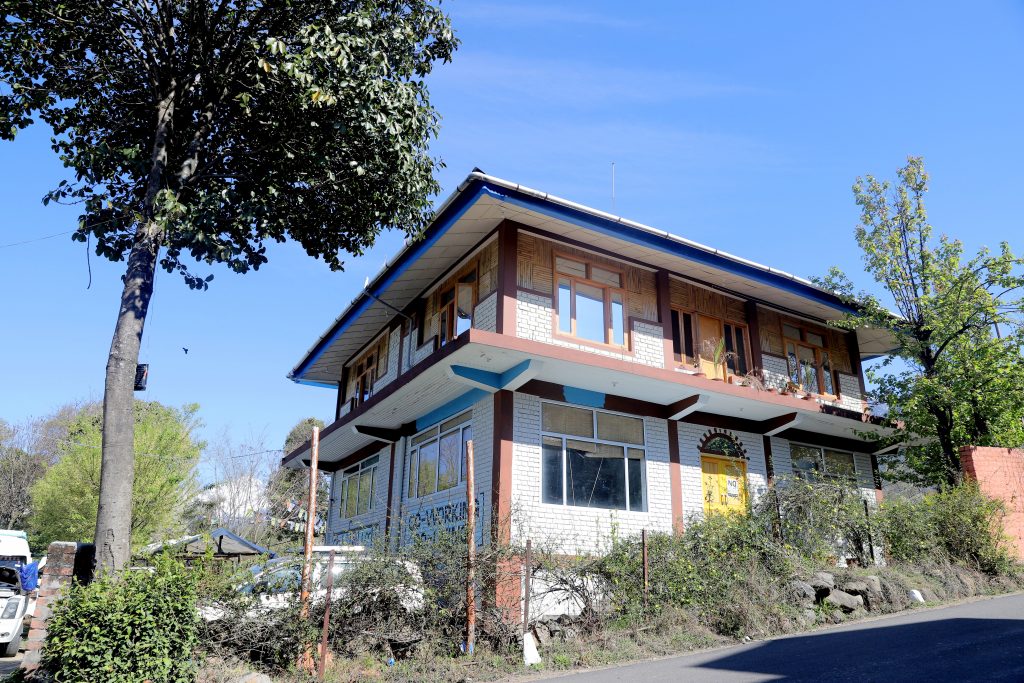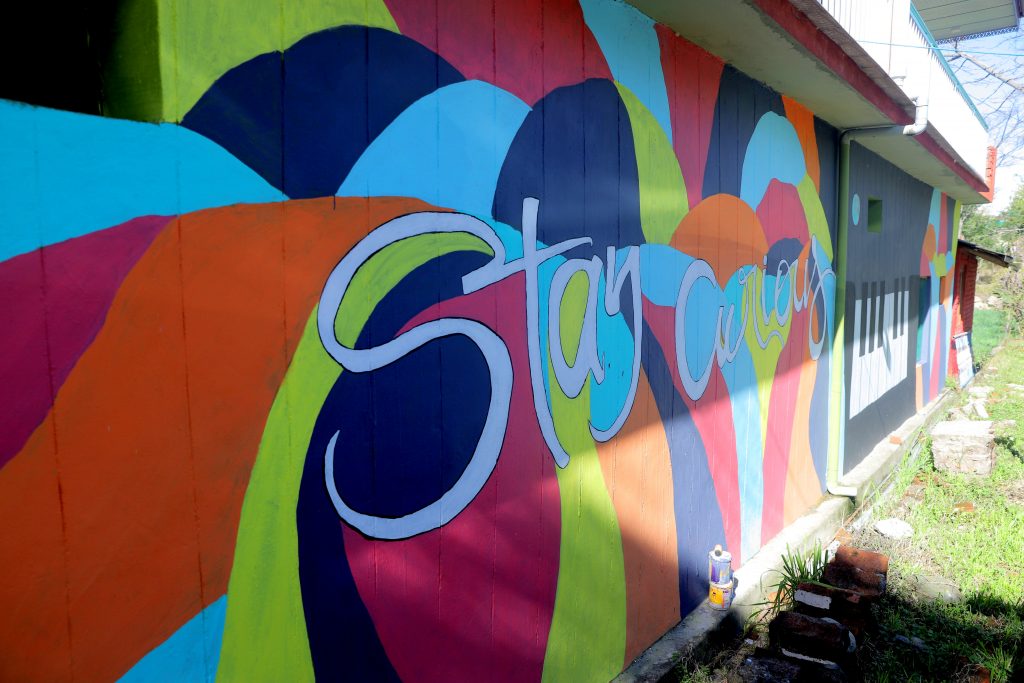 How to reach Karyashaala in Bir?
In case you're taking an HRTC (Himachal Road Transport Corporation) Bus from New Delhi, it'll drop you right in front of Karyashaala!
The property is located at a distance of around 1.4 KM from the Bir More Bus Stand and one can take a cab or get on any bus that is going towards Chaugan. Ask them to help you get down at Karyashaala.
If your drop is at the Tibetian Colony Bus Stand, then you can either walk or take a cab till Karyashaala. You can find the exact location to navigate it in Google Maps: https://goo.gl/maps/DFYoz3mfyzKp52P78
Best Things To Do In Bir:
In spite of being a small Himachali village, you will be surprised by the things that Bir has to offer. Known especially for paragliding, eco-tourism, Tibetan settlements, and spiritual studies – one is sure to find the best combination of adventure & peace in an incredible place such as this.
1. Go for paragliding – Bir Billing is known to be the Second Highest Paragliding Site in The World! Oh yeah, you read that right. The take-off site is Billing, which is at a height of 2400 meters and is around 14 km up from Bir, which is the landing site. Tickle your adventurous soul and opt for a tandem ride (costs around Rs. 2500 with a GoPro video), where you'll fly over the mountains and meadows with an experienced professional, appreciating the insane views while counting the butterflies in your tummy.
2. Soak in the silence at Sherabling Monastery – As we've already mentioned, Bir is known for its monasteries & Sherabling Monastery is one of the largest & most popular ones in Himachal. There's soothing tranquility that prevails in the air, and as we walked around the Seven Stupas, adoring the colorful prayer flags, it felt like time has taken a pause. The monastery is surrounded by beautiful forests and discovering a long-spanning philosophy is what you must expect at this place.
3. Toy Train Ride from Ahju to Joginder Nagar – Well, while people are always keen to go for a ride on the Kalka-Shimla Toy Train in Himachal, we got to know about this not-so-popular narrow-gauge train that runs from Ahju, about 2 KM from Bir, till Pathankot. Winding through tea gardens and lush meadows, you can go for a short ride till Joginder Nagar and enjoy the journey with the locals, who use this as a regular means of commuting.
4. Walk around the tea gardens – That's what we mostly did! Stepping out of Karyashaala, we used to walk up to the Tibetan Colony through the tea gardens which stretched on both sides, till the horizons. At places, there were peach & cherry trees in full bloom – adding some vibrant colors to the postcard-perfect scenery. Needless to say, we cleansed our lungs and soaked in freshness – as much as we could!
5. Hike to Gunehar Waterfalls – Tucked amidst the Gunehar Village, about 2 KM from Bir, this waterfall is a hidden paradise for nature lovers like us. It's a short hike through the rocky trails, and the crystal clear water cascading down the hillock will surely be a pure visual delight. There's a small shack selling chai & Maggi – so make sure not to miss stopping by, to have a sip while gazing at the mesmerizing views around you!
6. Visit the Deer Park Institute – Offering a plethora of nonacademic, experiential courses and workshops, it's center for the study of classical Indian wisdom traditions. We came across a poster of Deer Park Insititute in one of the cafes and got to know more about it from Agam, at Karyashaala. Although we didn't get to visit this time, we surely look forward to returning back someday and maybe, attend some soul-enriching event.
If you're interested, you can check out the Program Schedule of Deer Park Institute, here.
7. Binge at the local cafés – Bir can surely be called as 'a hub of cafés'! From the delicious smoothies of Silver Linings Café to the Nutella Crepe of June 16 Café, the Lamb Burger at Moonshine Madness Cafe & Lounge to the Himachali Thali at Parvatha – we indeed experienced a gastronomic journey in those 2 days.
Whether you're a freelancer/ digital nomad or not – you can anyway head off to Bir for an escapade and spend a couple of days in Karyashaala, wander around the tea gardens in Bir, walk alongside the monks at the Tibetan Colony, eat some good food and rejuvenate yourself. And in case you've already been to Bir and done it all – you can still think about nurturing your creative cells while mingling with some super-amazing ingenious souls!