If you've always thought that Siem Reap is all about the ruins of Angkor, we're here to tell you what else this gorgeous city has in store! From exploring the rural life to enjoying the culinary delights, rare flora and fauna as well as getting in tune with your spiritual side – there's so much that Siem Reap has to offer the travelers! We were in Siem Reap for 3 days, exploring the temple complex, but we tried our best to tick off all that was there in our bucket list!
In case you're after a taste of the "real" Cambodia, you should walk into a restaurant, cook Khmer BBQ & savor its delicious flavors, or go for a tour of the Tonle Sap fishing villages, where you can see traditional stilt architecture and talk to local fishermen who might invite you home for a very freshly caught lunch!
How to reach Siem Reap?
To reach Siem Reap, the gateway to the magnificent Angkor Wat temple complex in Cambodia, most travelers opt to fly into Siem Reap International Airport. This airport is well-connected to major cities in Southeast Asia, including Bangkok, Ho Chi Minh City, and Kuala Lumpur, among others. Once you arrive at the airport, you can easily access Siem Reap's city center, which is just a short drive away.
Siem Reap offers a blend of rich history and vibrant culture, making it a must-visit destination for those seeking to explore the ancient wonders of Angkor and immerse themselves in Cambodian traditions.
Check out the best things to do in Siem Reap, other than exploring the Angkor Wat: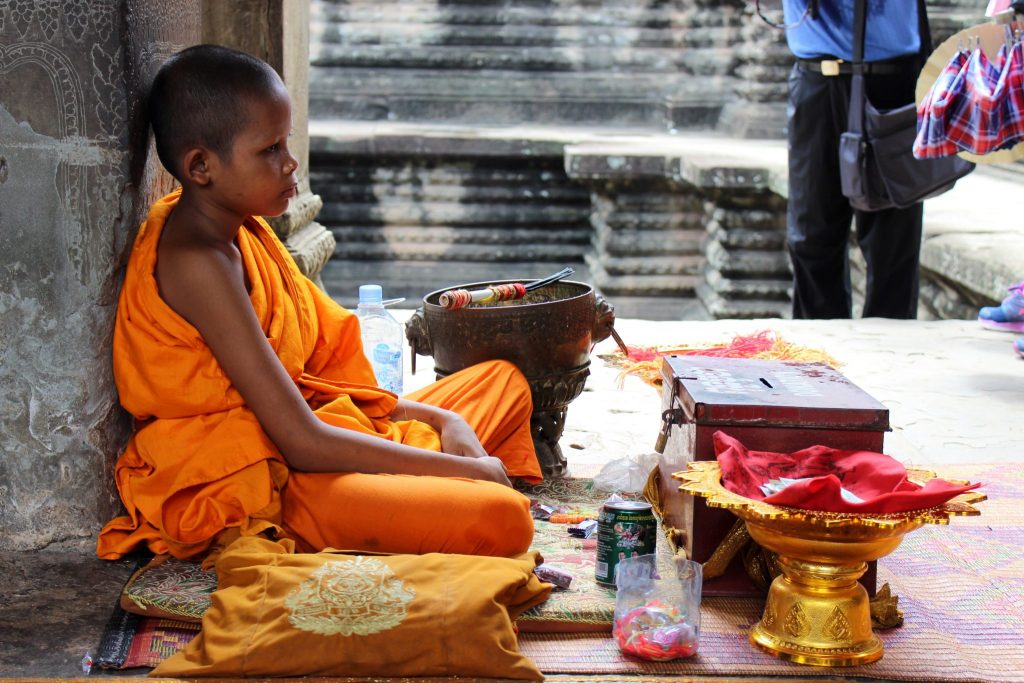 1. Enjoy living like a local in an AirBnb!
Ah, well, this might sound a bit weird – but trust us, our AirBnB experience in Siem Reap was so good that it made us crave for more! We were hosted by Phalla (our local host) and had the opportunity of staying in this gorgeous villa, where we had a huge room with an attached bathroom and a swimming pool that was right outside our room! (Not exaggerating!) Most of the year, Siem Reap is hot, dry and dusty and when you are not exploring the temples or markets, you will want to cool down! Our host had arranged for our pick up from the Siem Reap Airport and also helped us to prepare an itinerary for exploring the city. This house was located within walking distance from Pub Street & the night market – we couldn't ask for anything more!
Note: If you are planning to travel to Siem Reap, you can book a room at Phalla's place, here!
2. Experience a ride on the tuk-tuks as you explore the city!
Tuk-tuks are the local taxis, and the easiest way to get around Siem Reap. Every time we hopped out of our Airbnb, we always had Sunly, our amazing friend cum tuk-tuk driver, waiting for us! To say the least, it's a quintessentially Cambodian ride. Tuk-tuks have become an important part of Cambodian culture, and when you're there, you can't miss it in any way. If you tip the driver well and you'll have a friend for life, plus an eager tour guide who will show you the best of Siem Reap.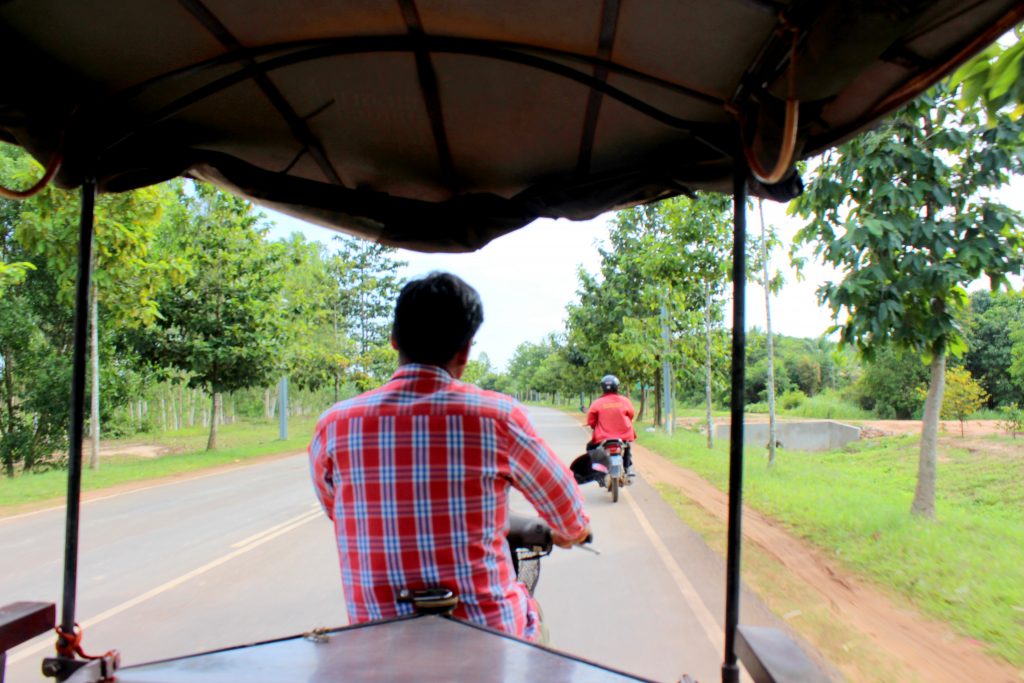 3. Hop around Pub Street & the Night Market!
Well, the scene isn't as crazy as that of Khao San Road in Bangkok, but the nightlife in Siem Reap is pretty top-notch! And nothing wraps up before midnight – so take your own sweet time, stroll around the streets, drink Angkor Beer and experience the local vibes! Start your evening at Red Piano, which is just on the corner. The French cuisine is good, but it's best known as Angelina Jolie's haunt while filming "Tomb Raider." Try her favorite cocktail – Cointreau, lime, and tonic – now named after the movie! All the street-side stalls and restaurants offer reasonably priced Western and local food. Two of the most popular clubs in Pub Street are Angkor What? and Temple Club – but if you're like us, willing to ditch the madness of the crowd, you might just skip them! The Angkor Night Market, which is just on the next alley, has some beautiful shops selling handmade goodies, paintings, items of clothing, bags, and souvenirs!
4. Get a foot massage & fish pedicure at the best prices!
Of course, you can't just miss this! After the long day, exploring the ruins of Angkor, getting a foot massage/fish pedicure would be the ultimate dosage of relaxation! The Night Markets & Pub Street is lined with dozens of shops, offering both! A half-hour reflexology treatment would cost you around $5. You can also try the fish pedicure where tiny fish will nibble dead skin from your toes, making you feel rejuvenated! That's gonna cost you around $1 for 15 minutes or $3 for 20 minutes and a can of Angkor Beer too!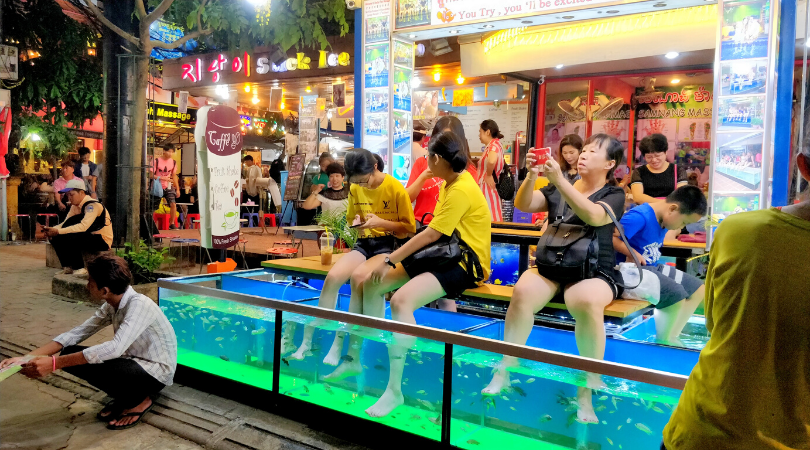 5. Treat yourself with some insects (maybe)!
On the very first day when we went to the night market, we met this little boy named Pho. He had his own cart, selling everything from snakes to worms, scorpions, frogs, etc. There was a banner which said – 'Fear Factor Foods of Cambodia'! While RD happily munched on the roasted tarantulas, this guy tried giving me major FOMO saying, 'Never try, never know!' But honestly, I kept myself away from binging on the insects! Well, you can say that Cambodian cuisine can easily create a bizarre foodie circus. 
6. Try your hands in cooking an authentic Khmer BBQ!
Even if you miss out on eating the insects, you can always try the other delicious things that Khmer cuisine has to offer! Needless to say, the Khmer BBQ is one of them! Our friend Sunly had suggested us to eat at the Cambodian BBQ Restaurant in Pub Street, and before we walked in, we had no idea what was in store for us. As we ordered the food, this lady got this huge vessel on our table, fitted the stove and explained to us that we've to cook our own meal and eat (yeah, you got that right!). They served us two varieties of noodles, raw meats (pork, beef, chicken, crocodile!), fish & prawns as well as a bowl full of veggies. The vessel contained broth, in which we had to put the ingredients and wait until everything was cooked well.
It was indeed amazing – not just the food, but the entire experience! Before this, we never knew that you can actually walk into a restaurant and get to cook your own food!
7. Explore the floating villages of Tonle Sap!
It's gonna be a soothing ride away from the chaos of the city. A beautiful lake on the outskirts of Siem Reap, Tonle Sap is home to several floating communities. There are four main villages – Chong Kneas, Mechrey, Kampong Phluk, and Kampong Khleang. We went for a half-day trip, exploring Kampong Khleang, which included a boat ride on the lake, taking us around the stilted houses plus floating shops, tiny schools, hangouts, and markets. This village is home to nearly 6,000 people, predominantly fishermen families, and depending on whether it's the rainy season, some areas are accessible by land. It is the only floating village in Cambodia where the villages are benefited from the ecotourism.
8. Watch a traditional Apsara Dance show!
It's not just the ruins of Angkor that have been recognized by UNESCO, but the traditional Apsara Dance has also been acclaimed as the Royal Ballet of Cambodia. And when you're in Siem Reap, you gotta watch the beautiful women depicting everything from fear and rage to love and joy through dance! The word 'Apsara' means 'heavenly dancers' and this classical Khmer performance art is largely inspired by Hindu and Buddhist mythology. While you can watch a free performance while walking around the Angkor Temple Complex, you'll have to pay in order to watch a full show! Apsara Terrace at the Raffles Grand Hotel d'Angkor is surely the best place, where they regularly schedule buffet dinners alongside traditional Khmer dance and martial arts performances.
Apart from these, there are several other things that we thought of doing – but, honestly, 3 days just aren't enough! If you're there in Siem Reap for longer, make sure to spend a day exploring Phnom Kulen and get drenched under the Kulen Mountain Waterfall. Also, if you are keen to learn something new, you can always go for a Khmer cooking course, or maybe try your hands at a Ceramic Pottery Class. Several NGOs are also pretty active in Siem Reap these days, and if you have some spare time, you can also sign up to volunteer at a souvenir shop or just get in touch with the folks at ConCERT Cambodia, who can connect you with any of Siem Reap's organizations and help you choose an activity that fits with your interests and schedule!
The world is huge and there are so many places to be explored, but I'm sure that if we ever have another chance, we would love to head back to Siem Reap. If not for anything else, but for our dear friend Sunly, a dawn at Angkor and bowlful of fish amok!