The show must go on, and so must travel...🚗 As the lockdown has started loosening up and people are tired of their quarantined life, desperately looking for destinations where they can simply drive down and unwind amidst nature, 'staycation' is gonna emerge as the most popular travel trend in the post-pandemic times.
Well, it never hurts to dream a little and although the fear psychosis of the pandemic still lingers in the air, it's time when we can gather some courage to pack our bags, pick a place to stay for a couple of weeks (or more) and just travel to find some solace in the lap of the Himalayas.
Shrouded in rolling mists and towering pine & deodar trees, unknown trails running through the valleys, orchards full of fresh fruits and rivers flowing downstream, these mountain towns would surely add a perfect dose of tranquility that our chaotic minds are seeking amidst this quarantined life! For those who are living in Delhi NCR, escaping to the mountains isn't a big deal and there are some gorgeous homestays that have opened their doors for all the wanderlustful souls, offering a perfect ambiance to WFH (Work From the Himalayas!).
If you're interested in going on a road trip & looking for a perfect 'staycation' in the Himalayas, then you can check out these properties.
Located at an altitude of 1940 meters above sea level in the Kumaon Region, Nathuakhan is a tiny hamlet enveloped in the Ramgarh District of Uttarakhand. A lesser-known cloistered village, this place is easily accessible from Nainital & Bhimtal with Kathgodam being the closest railway station. The distance of approx 350 KM can be covered in 8 hours from Delhi, and you can simply opt for an overnight drive to wake up amidst the alluring views of the sunkissed Himalayan ranges.
Hosted by Disha & Sambit, Doi Homestay would be your perfect 'home away from home' – where you can kick start your mornings gazing at the valley from the balcony, gorge on sumptuous local delicacies as well as pizzas and banoffee pies (trust me when I say this, they'll spoil you with treats!), walk around their orchard plucking plums and apricots, & play with the little pups they have! Each of the rooms here have a clear view of the valley and if you're lucky enough, you might even stand a chance of spotting the snowclad Trishul peak (7,120m) and Nanda Ghunti (6,309m). Nights would be absolutely stunning out here, with ample scope to spot the Milky Way and more.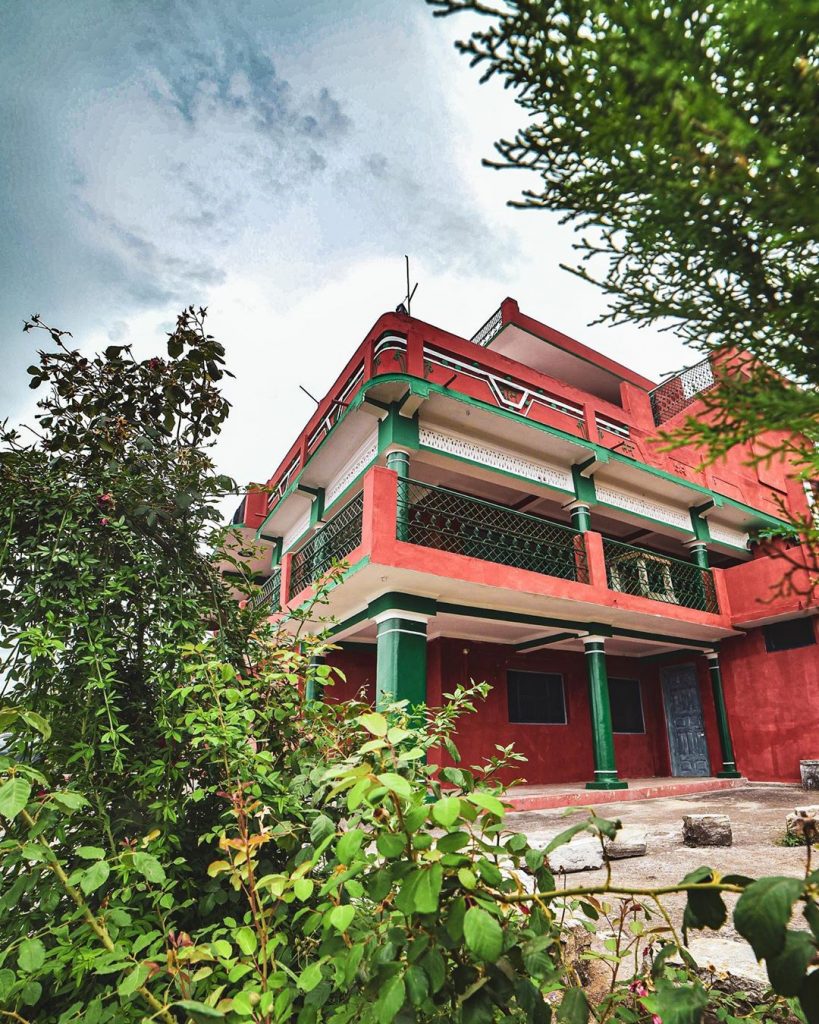 I visited this postcard-perfect property last year, when we had nearly no idea of what the world was going to be like in the next few months! Well, given a chance, I would love to go back to this place in a heartbeat and sit by the balcony watching the vast valley covered with forests of oak trees, the snowcapped Panchachuli Peaks, and listening to the endless chirping of the birds. Needless to say, this homestay in the Kumaon range of Uttarakhand is heaven for sore eyes – and minds!
Hosted by Nishant, who was previously managing the popular Drifter's Inn and Cafe in Old Manali, started The Birdcage with a view of offering a luxuriously comfortable stay where one can indulge in soul searching, forgetting about the outside world. There's an in-house cafeteria where you'd get a hearty Continental Breakfast, along with your choice of meals for lunch & dinner. With a cup of freshly brewed honey- ginger-lime-and-fresh mint tea in hand, you can spend your days gazing at the cobalt-blue sky with clouds floating like cotton candies!
Overlooking the spectacular Tirthan Valley, The Blue Sheep Homestay is absolutely ideal for backpackers, solo travelers, and gypsy souls who are seeking a perfect balance of adventures and peace. Located in the Kullu district of Himachal Pradesh, at a distance of about 490 KM (approx) from Delhi, it'll mostly take around 11 hours by road to reach the homestay. Tirthan Valley derives its name from the Tirthan river, which winds its way through this place, originating from the icy cold glacial springs of Hanskund, a snow-capped peak in the verdant Great Himalayan National Park. Well, needless to say, when you're at The Blue Sheep Homestay, you'd have all your time in the world to stroll on the banks of the river, dip your feet & feel the chills or simply go fishing & catch some trouts!
Hosted by Sheena, who has been living in the mountains for years, know that you'll be having amazing company out here – getting to know more about the local folklores, savoring the authentic homemade cuisine, and soaking in the freshness that lingers in the air. A gorgeously designed hostel with a rustic layout and several interesting elements adding to its Himachali feel, this place will surely not disappoint you when it comes to experiencing a warm homely vibe coupled with stunning sunsets, the advantage of indulging in plucking fresh fruits including cherries, apricots, plums and pears and lots of hiking trails!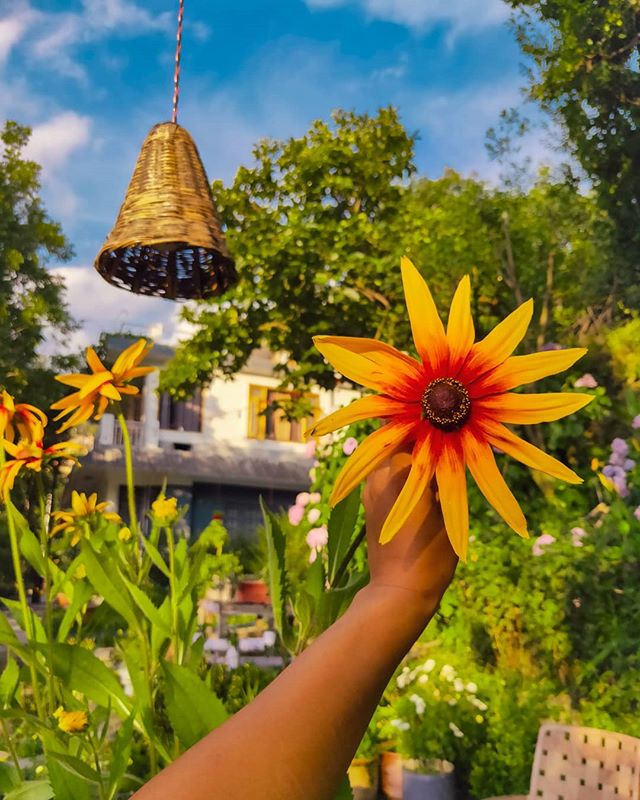 An offbeat place in Himachal Pradesh, Jibhi is a scenic, unpretentious and old Himalayan village, often referred to as a mesmerizing 'hamlet' situated amidst the lush green forests and surrounded by the breathtaking mountains. Mudhouse Hostel is situated just beside the Jibhi river, surrounded by the tall pinewood trees on all sides. Serenity lingers in the air here, and it's truly a home for all creative souls who are desperately looking for an escapade in the Himalayas. Hosted by Rahul, who's himself a traveler and a filmmaker, aiming to provide one of a kind experiential living to all those who stop by and imbibing the spirit of community living.
Located in the Kullu District of Himachal, it'll take you about 12 hours to reach Mudhouse Hostel from Delhi by road (approx 600 KM). The entire space is divided into 4 segments, the ground floor has two rooms with 6 rustic bunks placed in each, and the first floor has two rustic private rooms. There's a soulful cafe on the first floor, from where you can expect delicious meals ranging from pancakes & waffles to traditional Himachali cuisine and the ground floor has a designated seating and chilling space, as well as huge space for outdoor games like badminton, etc. With promises to offer you a charming rustic stay, Mudhouse won't disappoint you when it comes to soothing your heart & soul, amidst the chaos of the pandemic.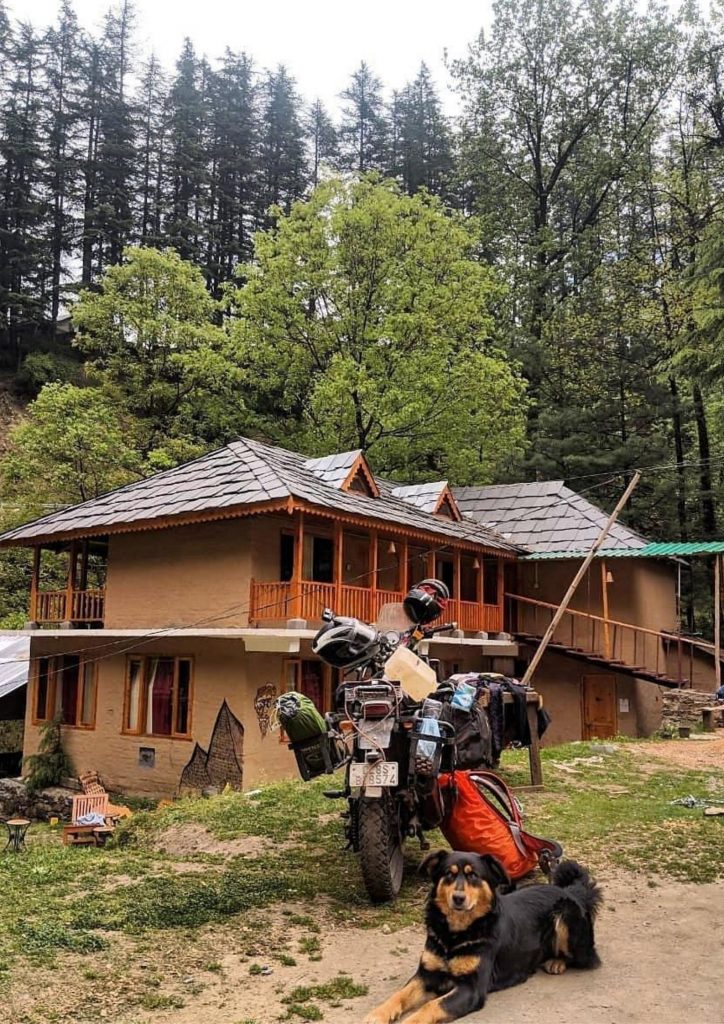 Having said that, it's our responsibility to follow the travel guidelines and take adequate measures before traveling – in order to ensure that we don't end up being a cause of worry amongst the natives of the place. The medical facilities in these places aren't as developed and advanced as that of the cities, so it's important that we abide by the safety measures while fueling our desire to escape & explore.
It is mandatory for all travelers to carry a COVID-19 Test Report (done before 72 hours of traveling) along with other necessary medical documents.

It is mandatory for everyone to have the Aarogya Setu app downloaded on their phones.
As you travel in the post-pandemic times, choose to be a responsible traveler 🙂