While scrolling through old photographs and cribbing about canceled plans, I was wondering where I can travel after the pandemic. I thought to ask a few of our friends where they would wanna travel to and their responses touched our hearts. So, I decided to share the wanderlust stories with you all 🌎✈
It has been almost 5 months that we're all stuck indoors and experiencing a life that seemed dystopian even a few years back! To be honest, we always took traveling for granted – buying flight tickets at the last minute never seemed a big deal. We would just pack our bags and set out for a journey, waking up in a new place! But the last few months have given us a hard reality check – all thanks to CoronaVirus and the ruckus it has created across the globe.
I've been quarantined in Gurgaon since March and half of my heart wants to travel to Kolkata as soon as things get better, 'coz so many of my friends are there (I can't wait to meet and hug them for real!). But then there's another part that beats to be in the mountains, soaking in the serenity away from the network zone (enough of Whatsapp & Zoom calls!). Stuck in the dilemma, we were discussing where we can go once things look a bit better and asked some of our friends where they'd wanna travel to after things get back to normal (or, the 'new normal').
Well, our hearts were filled with joy to listen to their travel dreams and we thought of sharing them so that we'd know who all could actually tick things off their bucket list.
Apeksha is a travel and lifestyle blogger who has extensively explored various countries and worked for brands like BBC Travel, Travel & Leisure India & South Asia as well as PopXO. She is always imparting happy vibes around her, and other than focusing on sustainable traveling & environmental issues, she also has her own blog – ViaDelhi – through which is an exclusive platform for women travelers. Last night, when I asked her where she'd wanna travel after the pandemic, she said:
"I'm not sure if I'll take any international trips this year because the world is crazy and isolation rules are different everywhere. But if I can manage a short flight, I'll go to Goa with my girlfriends. I go every year to wind down and chill, and after what has happened, it'll be a huge relief to just sit on the beach, watch the waves, and have a tall glass of pina colada. If that also seems impossible, then I've asked a friend to show me around Dehradun, where I've not been in years, Mussoorie and Landour, where Ruskin Bond lives. Some quiet time in the hills will be good for the soul." 🙂
Shuroma has traveled to more than 20 countries and you can say that she's bitten by the wanderlust bug, always dreaming of traveling! Although we met for work, there was something that instantly clicked and we ended up talking for hours, discussing our favorite places, making plans of traveling together at some point. When I asked her where she'd travel once the pandemic gets over, she said: "I think the first trip I'd like to make post-COVID would be to Goa. I'd love to meet my grandfather – who is the coolest grandfather of the century! I can't imagine anything being more relaxing and soothing than digging my feet in the cool sand, walking by the beach in a flowing dress, listening to the waves cheerfully roar and welcome back it's visitors, eat delicious food and soaking in the lights and colors of the place!
For me, Goa isn't the party spot as it is for everyone else. It is a place to breathe, feel the freedom, observe, and enjoy the little things in life. Goa encompasses love, laughter, and life all in one place for this Delhi girl."
Sharada is someone whom I've always known as a positive soul, adding creative vibes all around her. Other than being a beautiful storyteller (and you gotta check out her tales on Instagram – @sharadakerkar) and social entrepreneur, she's engaged actively with the Museum of Goa. When I asked her where she'd wanna go in the post-pandemic days, she had a beautiful reply.
She said: "Busy markets with the fisherwomen gossiping, fruitsellers howling jingles to sell faster, people rushing past each other shoulder-to-shoulder is what gave the markets their real character. I want to go back to that rush, to that noise and to all those strangers who engaged in cozy conversations amidst the marketplace.
To me, markets are magical places where every seller is a storyteller. I want to go back to those stories. The stories are hidden amidst the rush of the marketplace."
Sana is one of the most beautiful souls I've met recently for a project and her thoughts about life motivated me immensely. She has made it to #25CountriedBy25 and was featured on Outlook Traveler, BBC Travel to name a few and you can follow her journey on Instagram – @sanamahajan_. Other than her zeal to explore the world, she's also running @thementalhealthstory – a beautiful initiative to portray various mental health issues that we often skip to speak out loud. When I asked her about where she plans to travel next, she said:
"It's 154 days since I traveled. It's not about an obsession or even a way of life but, I wouldn't hesitate by calling it oxygen for myself. These past few months I have gone from thinking about my canceled trips to the ones I was supposed to make to wish I could go somewhere – just anywhere.
I don't know if it's about exploring or meeting new people. Is it about being surround by the quietness of nature or the undying need for adventure or simply, just an escape.
I'm moving to Ireland in a few weeks. I'm all about hope, optimism & new beginnings for now- & who knows, life might surprise me with some new cultures, new people, new food & new feelings sometime soon.🌼"
Ilisha took a flight back to her hometown in Jalandhar (Punjab) from Bangalore, a few days back! So, you may say that she has already traveled (just kidding!).
Over our conversations, we keep making plans to escape to the mountains and WFH (Work From the Himalayas!).
Well, when I asked her where she would wanna go once things get back to normal, she said:
"I'm kinda' tired of the city life and the entire lockdown has got into my nerves. But homecoming feels good for now! So once things get better, I would love to go to Grahan in Parvati Valley, and just soak in the beauty of the place. 
Parvati Valley has been on my bucket list for a long time. And if this pandemic has taught me anything, it's that life is too short to not do what you really want to do 🙂
Also I'm missing the mountains more than anything."
Debjani, Sanjib and Tojo are enjoying their 'family quarantine time' together in Kuala Lumpur, balancing work, online classes, and regular chores of life. Tojo, who's just 10 years old, is on the verge of becoming a great baker (Kudos to mom DB) and you can follow their baking suit on Instagram – @bakesaresour 🙂 Ever since I've known them, I've adored their passion for food (whether it's about cooking the most exotic dishes at home, or trying out the best restaurants & street food) as well as traveling. So when I asked DB where she wants to go in the post-pandemic times, she said: "Thought long and hard and the way most people are reacting to the safety norms, I think I won't be comfortable visiting the western world in a long time to come (This isn't going away overnight, right?) So, South East Asia would be my top choice as SE Asians have been more rule-abiding and the numbers speak! Singapore and Vietnam are gonna be our top choice. Singapore because it's the second home for us. Vietnam, 'coz it was in our 2020 checklist, and given how wonderfully they have managed the pandemic, I would be feeling very safe."
Sulagna has been one of those few people I know, who had to go back to work, just after the initial phase of the lockdown. Well, bank employees don't really have a choice, do they? Embracing all protective measures, she has been doing her job without cribbing much – and if I have to put myself in her shoes, I would definitely end up having anxiety attacks. I'm sure she needs a break more than us, and when I asked her where she'd wanna travel to, she said: "I have wanted to visit Ladakh for a long time now, but considering the current scenario I would rather choose a nearby place to travel to. Maybe, after this pandemic gets over, I'll go to Mangarjung gaon. It's a small village in the Kalimpong district which I had visited last September. The place is a hidden gem in itself especially the homestay we stayed at. The mighty Teesta could be seen meandering its way from the balcony only. The mesmerizing view of the clouds floating along the hills offers a perfect view while we enjoyed our morning cup of tea. There is also a small path down to the river which I wish to trek the next time I visit. So looking forward to waking up to the breathtaking view of Mangarjung, soon."
Arnab is teaching Chemistry over Zoom Classes in the daytime and flooding his WhatsApp status with photos from his past trips! When we asked him, he couldn't hold on to his excitement and said:
"Srilanka …The tiny island nation, also known as 'Pearl of the Indian Ocean' is at the top of my priority list. To mention the "so-called" reasons, I would like to emphasize its sandy beaches, tropical climate, historical monuments, incredible cuisines, serene natural beauty, lush tea gardens and green farmlands, gorgeous landscapes, hiking trails, versatile wildlife, and many more aspects. I just want to get disencumbered from my "boredom" while remaining captivated during the "CORONA OUTBREAK". I wish to breathe in the fresh air, witness some of the spectacular natural beauties, want to travel through the lanes of history and architectural marvels, and spend some memorable time in the lap of Mother Nature."
Saikat recently got engaged amidst the pandemic and living in a beautiful old zamindari bungalow (his ancestors did some really good work!) in the outskirts of Durgapur, West Bengal. Well, he's thinking of returning back to Mumbai, and here's what he said:
"Mumbai? Do I have a choice? I'm one of those people who's daily life itself is like that of a nomad ('jajabor' in Bengali), who never stayed with their family for more than 2 months since the age of 7 years! This lockdown made me stay with my family for more than 5 months and gave me a reality check that yes, I've been a nomad for all my life. This lockdown gave me a break. But once it's over, I got to go back to the place which brings daily bread on my table and helps me to continue my nomadic life.
For all my life, as I traveled from one place to another, those now seem like temporary breaks. I actually live to travel and this lockdown helped me realize it all over again!"
Radha is living all by herself in Gold Coast, and has a beautiful parrot to give her company!
She is baking gorgeous Vegan Cakes and on good days, she gets to go for a walk by the beaches and soak in the sun. (That's an advantage of living in a beach town).
When I asked her where she'd love to travel when things get better, here's what she said:
"If I have the chance to travel 🧳 and I have got good health to do so, I would love to go walk the Camino de Santiago and visit the old Gothic churches and cathedrals in Europe.
The Camino de Santiago Tour is more like a pilgrimage that I've been dreaming of. for a while now, and watched many movies and documentaries about it.
It's supposed to be soul-stirring and life-changing."
Pramit was stuck in Delhi for 4 months, before he decided to head back home in West Bengal, a couple of weeks ago! (I'm sure if I asked him this question sometime back, he would have said that the first place he wants to travel to is Kolkata!)
Anyway, so he's yet another one who has an experience of traveling amidst all the chaos, but when I asked where he'd wanna escape when things turn better, he said:
"The first place I would like to visit after the pandemic would be the islands of Andaman & Nicobar. I have never been to an island before and my mother seems excited to visit that place as well.
So, I think that would be a much-needed peaceful as well as an exciting break from the current 'monotonous and lockdown' life."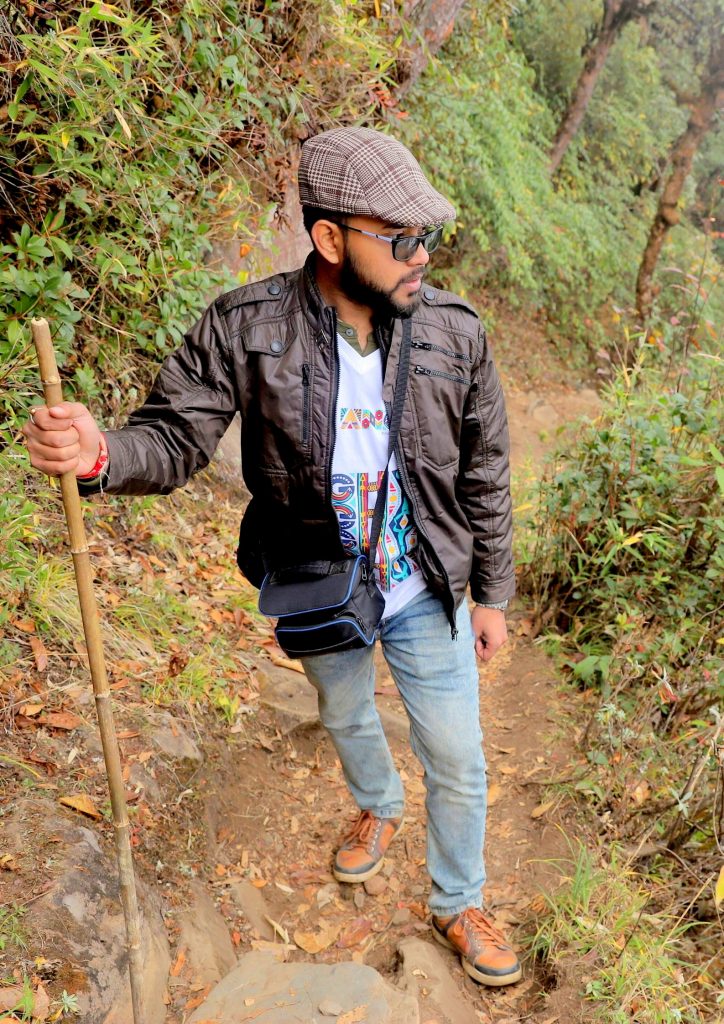 Navonil is also trying to cope up with the new system of conducting online classes and indulging in painting gorgeous landscapes during his free time.
While we are still drooling over our Hornbill Festival trip in Nagaland, last December, I asked him where he'd wanna travel next and he said:
"Well, It's Darjeeling, Kalimpong, and Kurseong. I haven't been to these places and also think that it wouldn't be completely safe to go beyond the borders of the country, at this point.
So I would prefer to take some days off, opt for a digital detox, strolling through the serene valleys and hills, enjoy the local delicacies in the chilly weather. What more can I ask from life?"
Pradipta has been spending her days in Kolkata, cooking some great food, and inspiring women supporting the aesthetics of a beautiful environment around us. Her Instagram profile – @pradipta_neha – has oodles of positivity and colors that'll surely brighten up your day. When I asked her where she'd wanna travel after the pandemic, she promptly replied:
"Since 2009, I have been visiting Darjeeling every two years. Yes, I never missed any point to visit and witness the busiest hill station in India. The lanes, bylanes, mall road, market, nothing is unknown to me. The local food, the vendors, noodles, sandwiches, momos make me feel like I am and was a part of this place for years. I smile at the strangers and they smile back at me, with love. I am missing that love in this strangest time. It is difficult for me to accept that the mountains are shut, and once this pandemic is over I will go off to my place and smell a cup full of my favorite tea. Will sit on the Toy Train, taking a swift round off Batasia Loop and I will look at Kanchenjunga, yet again, with awe!"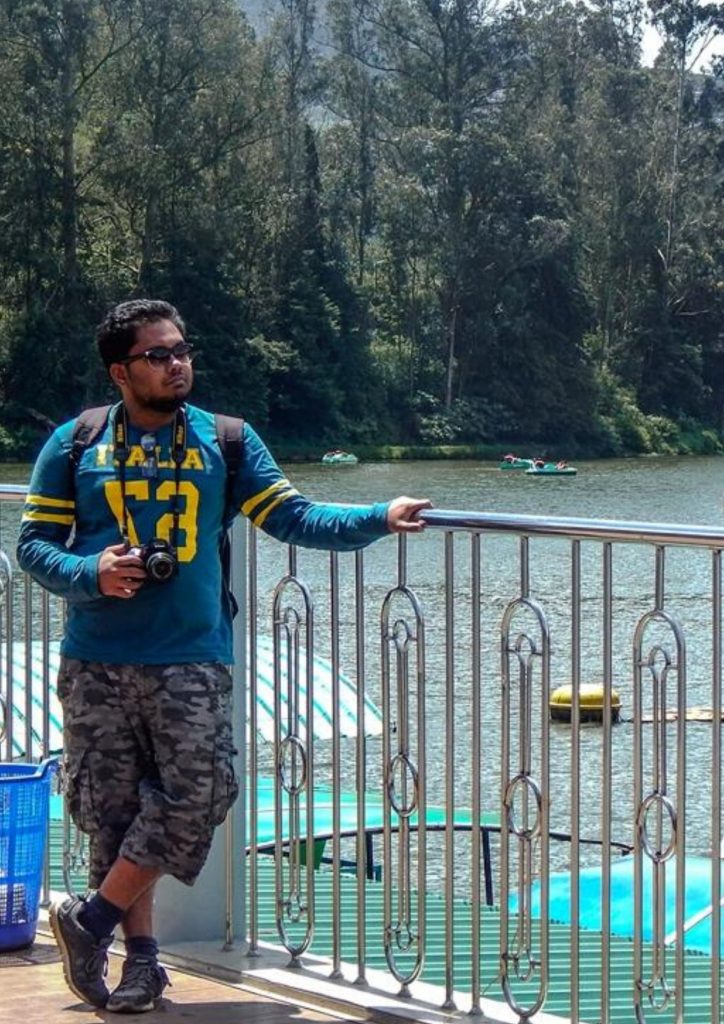 Imtiaz was supposed to be in Japan this year, to cover the Olympics but #ThugLife – for now, he's contemplating how 'new normal' will affect the sports scenario across the globe. When I asked him about his travel plans, he said:
"Like everyone else, I am eagerly waiting for this pandemic to get over or at least the world to find a cure. The first place I would like to visit when the pandemic is over is Agra. I had my itinerary ready this year for a visit in April when lockdown turned our lives upside down. I have always been fascinated by the Mughal architecture. Reading about them and seeing innumerable photographs made me decide to start exploring them. And the hallowed Taj Mahal, along with Fatehpur Sikri would have been a good start. Besides, despite being in New Delhi thrice, I haven't been able to explore the city as well. So when it all ends, I am just gonna pack my bags and board a flight to the capital city and drive through the Yamuna Express Highway all the way to Agra. I hope I will be able to tick this off my bucket list in 2021."
Snigdha, who's dealing with the WFH woes along with brushing her household skills and dreaming of the mountains, said:
"I think the first place I would like to travel to after the pandemic is Sikkim.
It has been there on my bucket list for years and now that I am staying in Kolkata (thanks to the pandemic and homecoming) Sikkim is in closer proximity.
Hills are my eternal love and Sikkim, with such serene sights with lovely hospitable people, I think will give me the much-needed refreshment after this prolonged pandemic situation.
All the pictures and stories about Gurudongmar Lake makes me dream  of going there, sooner or later. I just hope things get better and I can go there soon!"
Ramyani had some crazy plans to travel to Thailand with her girl gang for her bachelorette trip, but the Universe was all set to ruin her plans! Well, we really hope she makes it up on her honeymoon. When I asked about her post-pandemic travel plans, here's what she said:
"Ever since the pandemic started, all of us had to cancel or postpone our travel plans, due to obvious reasons. I have decided that the moment things take a positive turn, I am going to pack my bags and head to Mykonos. It is a Greek island that has a perfect blend of cosmopolitan and slick culture, as well as rugged and historical. I picture myself waking up in the morning, gorging on Aegean food, swimming peacefully at Agrari, and visiting the beautiful monasteries like the Monastery of Paleokastro. The mere thought of basking in the sun, relishing a platter of seafood, and clicking a host of pretty pictures is helping me beat the lockdown stress and to hope for better days in the future."
Tandra & Subhabrata are having a rather good time, living in Bangalore and delving deeper into world cuisine! Needless to say, they are currently experiencing their 'culinary joyride' and when I asked Tandra where she would wanna travel once things get better, she  said:
"I want to travel to Austria and witness the beauty of the Alps. This vacation was long pending. Our Schengen visa was expiring in May. We had plans to visit Europe in the last week of April.
Since we didn't have to bother about Visa, we had left the bookings at the last minute.
Thankfully, we didn't lose any money but this was a much-awaited vacation, that we were planning after 2 years and now it feels incomplete!
Brat says he wants to go to the Himalayas right after lockdown."
Anonya and Sayantan moved from Osnabrück to Aachen (Germany) just before the pandemic turned our lives upside down and somehow, when all of us were cribbing of the sudden pause, they were having a good time setting up their new house together.
But of course, their plans to come home this year are shelved for now and when I asked Anonya, she had an obvious answer.
"After the pandemic is over, I want to come back to India, more specifically to my home town – Kolkata.
Why?
Because I can't wait to meet and hug my parents and friends. These trying times make you realize that all you need is the love and support of loved ones.
In this time and age of globalization, I took traveling for granted. But COVID 19 was the biggest eye-opener, for sure."
Dipti has been mastering the art of Yoga during this entire lockdown period (you can check her amazing Instagram profile – @yogagirldipti) and also putting her heart and soul in creating a wellness-focused website called Life Gram. When I asked where she would love to travel to after the pandemic, she said:
"I am a beach lover but after the pandemic, I would like to visit a peaceful place around the Himalayas, preferably to Manali. To be honest, COVID-19 has given us all a much-needed reality check and has also changed people's mentality towards the environment. Because of this entire lockdown, nature finally got the chance to reboot itself and I'm sure that the hills have become more beautiful and green. Also, it's in closer proximity to Delhi NCR and I'm assuming that people will be conscious enough to follow the rules of social distancing. Can't wait for the entire situation to get back to normal and I'll happily escape to Manali."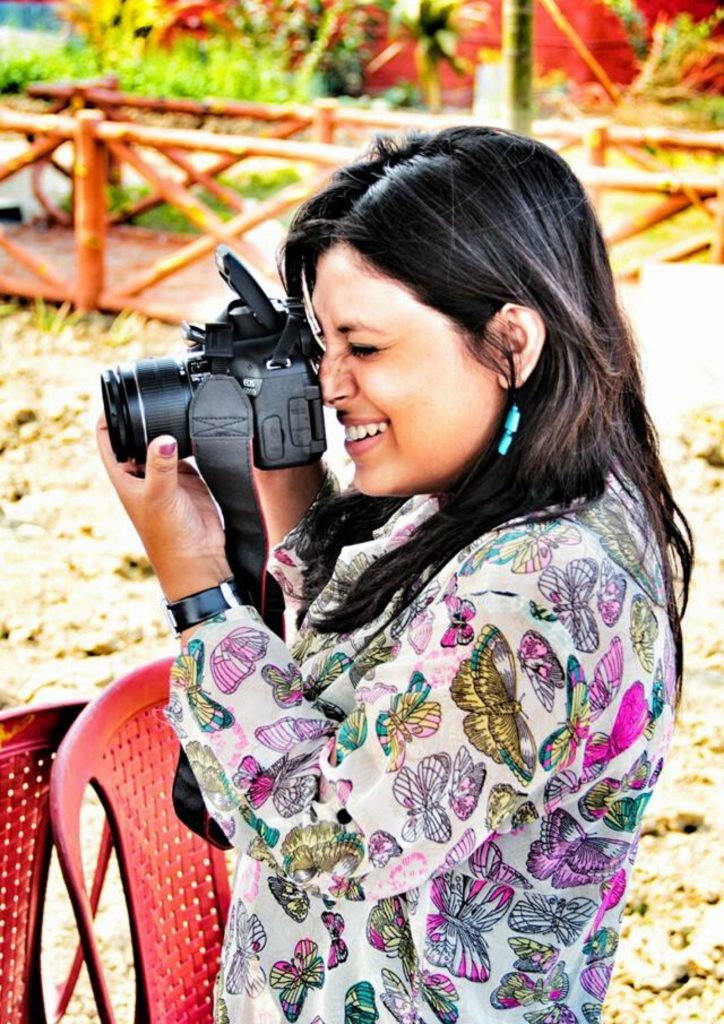 Debipreeti's profile would be full of beautiful photographs from the rural areas of Bengal and I mostly lose track of how many times she has been to Shantiniketan! Otherwise an Application Specialist by profession, she does have a knack for travels and photography, and when I wanted to know where she dreams of traveling after the pandemic, here's what she said:
"What we can best do in these pressing times is 'hope'! Hope for a COVID19-free future because we do not know when the entire system will normalize! Given a chance, I would like to revisit the Bandhavgarh Forest, MP, once again! I can still feel that eerie silence which increased the suspense of confronting a tiger or other animals even more! Many a time, a visitor would find a tiny brook bubbling down amidst the trees over the rocks and branches, and when I say this I can still hear the burbles! I wanted to capture all the beautiful details with my camera lens, but those could hardly do justice to the unbounded beauty of the place!
We were so close to Nature! Moving inside the jungle was like roaming around bountiful Mother Earth which had such immense treasure of beauty and biodiversity to offer. The lush green trees around, the beautiful clear blue sky above, that silence and the anticipation of confronting a tiger or the unexpected sight of a colorful bird for a just a flash of a moment, was altogether such a treat, that I would not mind visiting the place time and again!"
Debolina and Gaurav had plans to travel to Bhutan in April, followed by a visit to Kolkata – all of which got canceled. They're currently re-decoring their house, cooking fancy meals occasionally, and catching up with their friends in Pondicherry!
While Debolina and I keep discussing how much we want to travel to Bali this year (making castles in the clouds!), when I asked about the first place she'd like to travel to, after the pandemic, she said:
"Kolkata, of course!
Do you have a doubt about that?
It's almost a year and I haven't met my parents and sister, and now I'm just craving for mom's food. And Durga puja is just around the corner – I've my tickets booked for October!
I just hope things get better by then and I can just be home. That's it."
Ganesh is a die-hard biker and over the last couple of years, he has been extensively exploring Nepal & Bhutan on his two-wheeler. You can check out his Instagram profile – @thecluelessmuni – to follow his adventures! Although I've never met him in person, it feels great to know an enthusiastic-heart like him – who's always up for a conversation about anything! We've worked together on a couple of projects and when I asked him where he would wanna travel next, he said:
"Everywhere I had traveled to, one thing that I'd constantly hear were praises about my own home state – Kerala, and how lucky I was to be from there. I never quite understood their fascination about something that was so ordinary for me; it was home and generally, home is to be taken for granted. It took a long time of traveling far and wide for it to finally dawn upon me that there was 'nothing quite like home' along with the realization that I knew very little about it. 
This natural urge to know more about my roots combined with a newfound sense of pride after the resilience displayed by this humble coastal town during these difficult times have only added fuel to the fire and so without a doubt, the place I look forward to exploring the most once things get back to normal would be this beautiful place I call home, Kerala."
Deepa is living with her family in Jaipur and indulging in reading lots of books and sketching at times. Just before the lockdown was announced, she rushed back home from Mumbai, where she was living all by herself and learning to balance between her personal & professional life. When I asked her about where she'd wanna travel after the pandemic, she initially said "Bhutan". But on second thoughts, she was like:
"Actually Ri, I want to go back to Bombay. The city was showing signs of lockdown way before the whole world declared one.
So, when I left on 16th March, I was in some hurry and I had to let go of a beautiful part of my life. Over a video, my bags were packed by two young boys from movers and packers and shipped to Jaipur. I would want to go back and bid a farewell to that room that housed me for a year and made me feel at home. Everything was perfect about that tiny space. I want to go back and sleep in that room one more time, putting on my fairy lights and staring at my favorite poems stuck on the cupboard."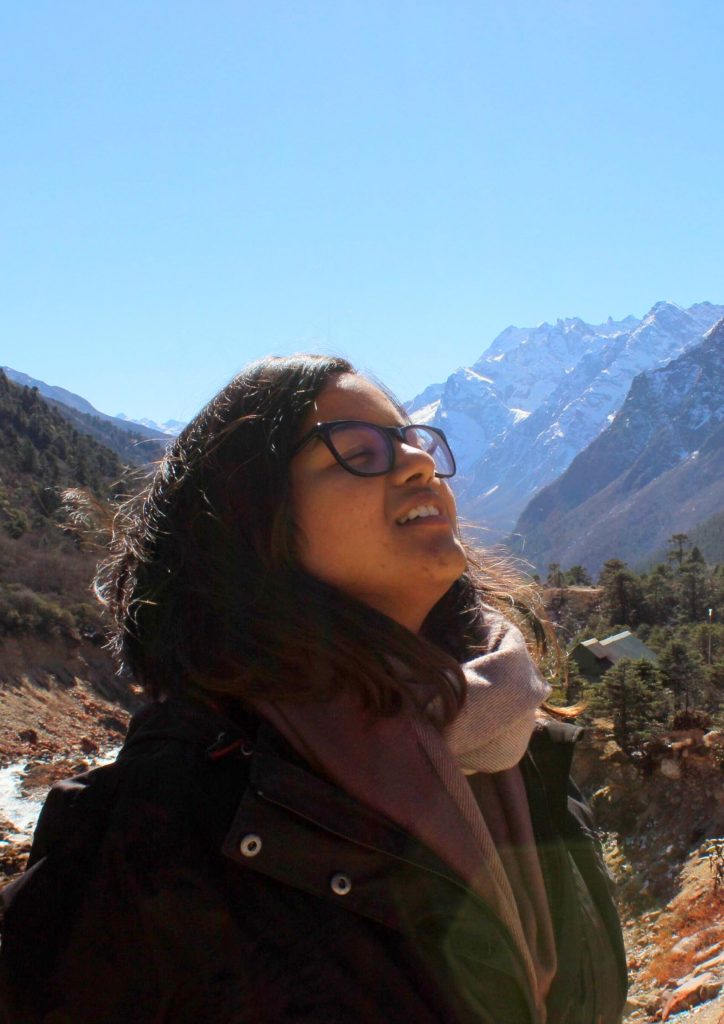 As we are all stuck in the cozy corners of our homes, trying to motivate ourselves every single day and hoping for a better tomorrow – the only things that can keep us alive are 'dreams'. Dreams of stepping out, being carefree all over again, hugging each other and laughing out loud, grabbing a meal together over endless conversations, and more.
We hope that everyone gets to dream and live up to those, for this is one life that we have and we gotta make it worthy!
To put it in the words of JRR Tolkien, "Still round the corner, there may wait, a new road or a secret gate."