Quite stereotypical, but people like us who live in the Northern part of India usually correlate the term 'trekking' to the Himalayas, and we actually can't think beyond that. For us, it's obvious that we'll get to see the snowcapped peaks, feel the chills as the wind blows, and sip on a cup of steaming tea while we are out for a trek!
The idea of going for a trek in the Deccan never really occurred to us, until recently, when our friend Murli told us how he fell in love with the Western Ghats while exploring the trails of Kumara Parvatha.
Famously known as the Pushpagiri Peak, it is the highest peak within Pushpagiri Wildlife Sanctuary (Madikeri District, Coorg) in the Western Ghats of Karnataka. The altitude of Kumara Parvatha is 1,712 meters (5,617 ft) – which might not seem much, but to tell the truth, it's not an easy affair to climb up to the top! We did the trek at the beginning of March when the weather was pretty humid and the long stretch of 28 km that you need to cover in 2 days might pose some serious challenges. (No, we don't wanna scare the hell out of you!) But if you are up for some adventure in the woods during the weekends, and feel like ditching the crazy urban crowd – then perhaps this would be your perfect escapade!
By the time we finished the trek and came down, we were quite exhausted and literally panting to grasp our breath – but here's why we loved Kumara Parvatha Trek and we believe you should try it too!
A chance to spend a couple of days amidst nature!
The entire trail passes through dense forests, giving you a chance to get closer to nature. If you are one amongst those who are stuck in the urban jungle and dreaming of a retreat, then probably you should just plan to spend your weekend amidst the wilderness and rejuvenate your senses in the most pleasant manner. We flew down from Delhi, and it was totally worth it. (For Bangaloreans, there's no scope for second thought!)
The lush-green beauty that left us speechless!
Well, this trek surely made us believe that it's not just the snow-clad peaks that can take our breath away – but the different shades of green can do it too! We were mesmerized by the greenery that kept changing its aura throughout the trail. While it was dark and dense in the beginning, it slowly started changing to a more dried version of green. When we reached Shesha Parvatha and looked down, it seemed that there were green waves behind us.
How To Go, Where To Stay & Other Details About Kumara Parvatha Trek
From Bangalore, you can either board the KSRTC till Kukke Subramaniam or hire a car if you are in a group of 4 or more. The journey will take about 6 hours. At Kukke, you need to walk for about 2 km from the temple to the forest gate, and then start the trek walking through the dense jungles with quite a few ascends covering a stretch of 7 km, until you reach Bhattar Mane, which is the base for the trek. It'll take about 4 to 5 hours to reach Bhattar Mane, where you can have your meal (rice and sambar, tea) and set up your tent in the meadows, somewhere around the Forest Department Office. If you aren't carrying a tent, you can opt to stay at the Bhatt's cottage for a charge.
Spend the night at Bhattar Mane, relax your muscles, and gear up for the next day, which is surely gonna be a long & challenging one!
It's better to start early for Kumara Parvatha, the next day. You can leave your luggage at the Forest Department Office, and it would be easier and comfortable to walk without carrying anything. Make sure to fill your water bottles – it's a must!
The stretch from here comprises of some ascends and descends, patches of forests and vast meadows, and of course, picturesque views that you can't miss out on! After walking for about an hour and a half, you'll reach Kallu Mandapa, where you can rest for a while before carrying on. Reaching Kallu Mandapa marks that you've covered one-third of the trail to Kumara Parvatha.
Hike up the steep ascend and keep walking through a portion of the forest with boulders on your sides and steep slopes till you reach Sesha Parvatha, which marks two-thirds of your journey.
The last part of the journey begins from here, and it is all uphill, crossing past huge boulders along the way. At one point, right after you cross the forest stretch, there's a vertical rock face which might pose serious challenges! But once you cross that hurdle, you'll make it to your destination!
There's a small shrine at the top of Kumara Parvatha where we met few religious people who have trekked up with devotion to please the Lord! However, reaching the top, you can treat yourself with the postcard-perfect views, soaking in the sun for a while before you start descending.
It'll be a total of 14 km descend from Kumara Parvatha to Kukke Subramaniam through the same route, which would require approx 4 – 5 hours. Pick up your luggage from the Forest Department Office, have lunch at Bhattar Mane and make sure to keep up your pace, so that you can reach the temple town before it gets dark.
Have a hearty meal at the Neo Mysore Restaurant (the lassi there is too good!) in Kukke, before you start your journey to Bangalore.
And as they say, your journey is best measured by the companions you had on the way – I would love to thank our bunch of crazy folks (Ilisha, Dixshant, Saikat, Snigdha & of course, Murli – the leader) who made this journey more funfilled and memorable for us. Exploring Kumara Parvatha wouldn't have been the same without these people!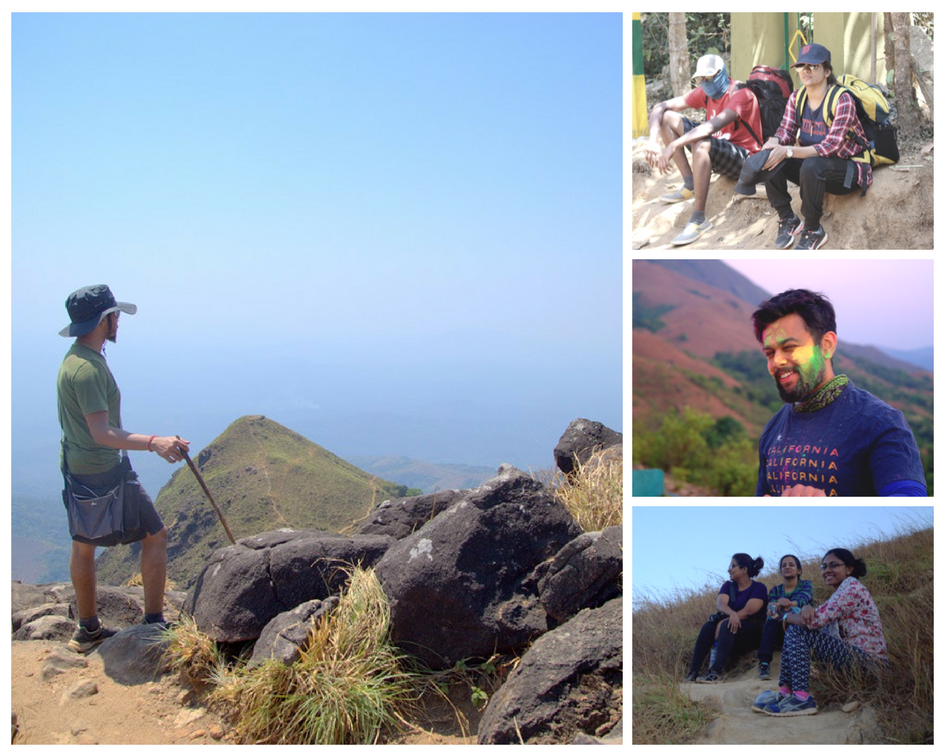 Note: In case you aren't sure about how to manage it all by yourself, our friends at Plan The Unplanned can help you in planning your weekend escapade to Kumara Parvatha.
Have you been there for the Kumara Parvatha Trek and want to share your amazing experiences with us? I'm all ears to hear about your adventures!