2017 has been an amazing year for us, as we got to travel far and wide, going back to some of our favorite places and exploring some new. While we got to backpack together, we did take a few solo trips as well. There were trips which we took with a bunch of our friends and enjoyed every bit of it. And there were journeys on which we met some amazing people who turned into our favorite travel buddies!
As we look forward to traveling more in 2018, here's looking back at 12 thrilling trips we took in the last year, while maintaining our regular work schedule! *Well, we can now boast about the fact that we've learned the hack to balance work & travel.*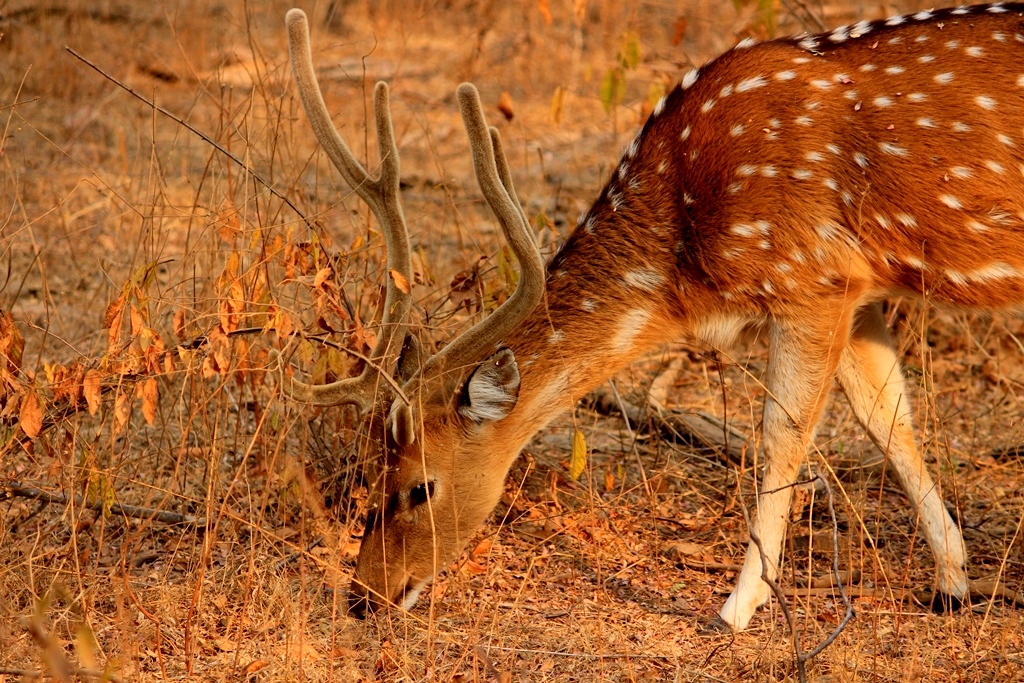 1. Ranthambore, Rajasthan
The initial idea was to go to the Jaipur Literature Festival. But then I considered the crowd and while hunting for hotels online, I thought to change my plans! RD and another friend were also joining me for the trip and we all agreed that a quick getaway to Ranthambore doesn't need much planning (though, if we would have actually planned well, we could have been there during the Ranthambore Music Festival, which we obviously missed out!).
Located at a distance of around 400 Km (approx), it was an 8 hours journey that we covered with Ola Outstation. The Delhi-Jaipur Highway is too good an option for a road trip, and luckily, there wasn't much fog (read, smog) and we had a pretty comfortable journey. We left Delhi at around 11 PM on a Friday and reached Ranthambore at around 7'O clock on Saturday.
We headed straight to book our safari tickets (which are available at the Forest Gate). We got a shared jeep with a couple of foreigners, and it was a bumpy (and dusty) ride through the forests of Rajasthan. The Ranthambore national park is divided into 8 zones, and the maximum probability to spot a tiger is at Zone 1 & 2. Rarely, people can also spot them at Zone 3 & 4, but in case you are getting any other Zone, be mentally prepared not to see any!
Even if you don't catch a glimpse of the Big Cat, you'll surely get to see herds of deer, antelopes, monkeys, and beautiful migratory birds.
Ranthambore has some really nice resorts where you can stay (if you are looking for high-end properties), but there are several mid-range ones as well, and we stayed at Sher Vilas Resort, which was close to the Old Jungle Safari Booking office and the market.
On Sunday, we visited the Ranthambore Fort, tucked in the middle of the jungles, which has thousands of stories around it. We got a guide (an 8th standard village kid, who works as a tourist guide on weekends) who narrated the story of the Rajputs, how the fort was built, and its significance.
We left Ranthambore at around 6 PM on Sunday, stopped mid-way for dinner, and we were back in Delhi in the early hours of Monday.
Ranthambore, undoubtedly, can be the apt option for a perfect weekend getaway!
(If you wish to spot the tiger, then winter isn't the best time to go. Maybe you can plan a trip sometime around May or June, as that's the best time for spotting, according to the Forest Guides.)
2. Kasol, Tosh and Manali, Himachal Pradesh
We just love long weekends, and our happiness just doubles when we figure out that a trip can go smoothly without taking a day off from work! That's exactly how we did Kasol, Tosh, and Manali during the Republic Day weekend, last year.
We started off from Delhi on Thursday and reached Kasol on Friday afternoon. Trust me when I say this, Kasol is too overrated and you'll find the college crowd from Delhi and Chandigarh, if you are going on a weekend! A close friend knew of a quieter escape, and we hiked to Challal (about 6 km from Kasol, crossing the Parvati River) to spend a night at a local's den.
Walking up to see the snow-covered mountains was nothing less than a treat! We gorged on delicious aloo paranthas layered with butter and Elaichi Chai before we started heading back to Kasol. On the way to Kasol from Challal, right after you cross the broken bridge on the Parvati) there's a tiny cafe selling the best hot chocolate you've ever tasted! You gotta stop there for a hot cuppa!
We carried on with our journey and took the car until Barshaini, (which is the last stop, before Tosh). The entire trail from Barshaini was covered with a thick layer of snow, and as the sun started going down, it became a little difficult for us to walk. But we did manage!
We reached Tosh at around 8 PM and it was freezing! We had no hotel booking, and we manage a room for ourselves, for 150 bucks per person for the night! The room had just one bed, and we were 5 people – enough space to spend a cozy night! Maggi and chai were all that we got for dinner.
The next morning came as a surprise! We woke up realizing that we've been sleeping in a room that opened to a valley of snow! It was absolutely white wherever we looked. After spending a lazy morning there making a distorted snowman and playing with snowballs as 10-year-old kids would do, we started heading back to Barshaini.
Another 45 minutes drive, and we were back to Kasol. We stopped at Jim Morrison Cafe for lunch. From the main road, it was about half a kilometers uphill walk through the forest, and the cafe is amidst the wilderness!
After a sumptuous lunch, we left for Manali and stayed at Manzana Woodlet for the night. The next morning, we went to Johnson's for a customary brunch, (without which no Manali trip is ever complete) and started for Delhi later that afternoon. We were back in town on Monday, early morning!
3. Kasauli, Himachal Pradesh
Sadly, every month doesn't come with a long weekend! But that never stops us from hitting the roads. As winter in Delhi was about to wrap up and let Spring in, we thought to make a quick escape again to the hills – this time to Kasauli.
The distance between Delhi to Kasauli is just about 290 km, and probably it's one of the closest hill stations for a quick escapade.
Leaving the city at around 9 PM, we comfortably reached Kasauli by 5 AM on Saturday. We had booked our stay at Kasauli Residency, which is located on the way to the main town (about a km before you reach the main center or the police chowki). We dropped our bags at the hotel and went out for a walk, as daylight was breaking.
In the month of February, Kasauli was pretty cold and surprisingly, it wasn't as crowded as we had expected! Actually, it was pretty peaceful, to be honest. Even the market had a handful of tourists and mostly locals, who were chilling on a Saturday it seemed. We had brunch at a little local momo shack in the Tibetan market, which served delicious chicken cheese momos. The market is a narrow lane with shops selling Buddhist bells and prayer flags, souvenirs and woolen clothes and some not-so-attractive food stalls (which definitely serves delicious dishes!).
There's a Christ Church holding onto its colonial charm, dating from the mid-19th century, which you must explore. To keep the hustle and bustle of life aside, we spend quite some time inside the church, trying to soak in the quietness.
Stepping out, we randomly started to walk in a lane that seemed deserted, only to find some beautiful old heritage buildings and European style cottages, with barely anyone living there. For a while, it felt like we are lost in some European countryside! Dusk started to set in, and we had to return back to our hotel.
Being die-hard foodies, we always check the best places to eat at our destination, and it seemed that Hangout Rooftop Cafe is one of the most recommended ones. We were absolutely delighted to figure out that it was the cafe in our hotel, and the dinner scenes were sorted!
To add to our surprises, Hangout had a silent disco with amazing food and a perfect ambiance! One can get a 180 degrees valley view from the rooftop, and enjoy dinner under the starlit sky – that's exactly what we did.
On Sunday, we checked out of the hotel, dumped the backpacks in our car, and went for a hike on the Gilbert Trail. Well, if you ask the locals, they might not able to tell you about this! It's a tiny trail on the hillside, after crossing the sunset point. While most of the tourists end up at the sunset point, going a little ahead would be absolutely worthy!
The people at the hotel told us to visit the 'Monkey Point' – which we also read in a few articles on the internet. We had imagined it to be a place full of monkeys, quite like many other places! But it's only when we reached there, our perceptions were cleared. The place, which everyone called by a wrong name, is basically 'Mann-Ki Point', and it's a temple on a hilltop, managed by the Indian Air Force. You need to carry your ID Proof to enter here. According to mythology, Lord Hanuman placed his foot in this place while searching for medicinal herbs for Lakshmana in the Ramayana. You can see the Himalayas at a distance and the views from this place are absolutely breathtaking.
We left Kasauli by 6 pm on Sunday, and we were back in Delhi before dawn on Monday.
4. Bir, Billing and Mcleodganj, Himachal Pradesh
Himachal Pradesh, without any doubt, can be our second home! As the long weekend came with Good Friday, we planned to tick off 'paragliding' from our bucket list!
And which place can be better than Billing – the 2nd highest paragliding spot in the world!
On a Thursday, we boarded the HRTC bus from Kashmere Gate, New Delhi, at around 8 PM, which dropped us at Baijnath on Friday, early morning. From there, Bir was about 12 km and we got a cab for a pretty reasonable price. The driver not only agreed to take us to the paragliding point but was also keen on showing us a monastery in Bir. (We've always been lucky when it comes to local cab drivers!)
We had no prior booking, but there are so many agents hosting a glide, that it wasn't a hassle to get our slots! No need for bargaining, because everyone offers the same rate. It's 2500 INR for a glide with still photographs and a GoPro video!
The topsy-turvy road goes up from Bir to Billing, with the snow-capped Himalayas offering a constant company!
If you think that paragliding is scary or needs too much courage – then it's nothing like that. You always have your guide flying with you and controlling the glide, manipulating it at his own wills. All it takes is a second's adrenaline rush when they ask you to jump off the cliff, and the next minute, you'd know that you are flying amidst the snow-clad mountains, and spot the tiny villages below. How wonderful it is to live a bird's life for 20 minutes or so!
Be careful during the landing, as it might be a little harsh at times, depending on the wind speed.
Your photographs and videos would be handed to you instantly, so make sure you have enough space in your smartphone or carry your pen drive/ hard disk along.
It was late afternoon when we started from Billing towards Mcleodganj. On the way, we stopped at the Tashi Jong Monastery, which was quite deserted at that time. We found some little monks playing at the backyard, and once we walked inside, we could hear the prayer songs sung in chorus.
From there, we had to cover a distance of approx 70 km, and by the time we reached Mcleodganj, it was already dark. We headed straight towards our stay, which was a little away from the chaos of the main market.
The Great Himalayan Resort, nestled at the edge of a cliff, with mountains all around, was a perfect abode for the next 2 days. They have options to stay in the rooms, and at camps laid under the starlit sky.
The main market was about 20 mins walk from our stay. And for dinner, we chose to binge at the Tibet Kitchen (a little restaurant in the main market, which serves delicious momos, thukpa & datshi).
The next morning, we hiked along the Bhagsu Nag falls, destination – Shiva Cafe! Soaking in the freshness, we tried to reach the cafe before the crowd hit it (most of the people on the way to Triund or back, usually stop here for food). Satiating ourselves with Cheese Omelette & Nutella pancakes, we headed back to our stay.
In the afternoon that day, we paid a visit to the Dalai Lama Monastery and later, went to Naddi for the picturesque sunset views. As the crimson sky gave its way to darkness, we thought to go to Illiterati Cafe for dinner. Much to our surprise, this place seemed like something straight out of the pages of a storybook!
Some people were singing, some reading books, some just gazing at the starlit sky and others doing nothing, sipping on their mug of hot chocolate – it felt as if time has stopped here! It got pretty late, as we also immersed ourselves in the vast collection of books that this place has. A nice stranger offered us a lift (which was necessary since the cafe was about 4 km from where we were staying), unfolding conversations about how Mcleod has become a popular tourist hub over the years, yet not many Indians know about Illiterati yet!
We did nothing the next day, except filling out tummies (& soul) with more datshi & tingmos, before taking the bus, which brought us back to the urban chaos.
[Note: If you're planning a trip to Bir anytime soon, make sure to spend some time at Karyashaala, meet the amazing hosts there and have a quick chat with them! They are the loveliest & warmest people, to say the least 🙂 ]
5. Prini Peak, Himachal Pradesh
When RD got to know that a mountaineering course was happening where he would get a chance to explore the trails that haven't been explored before and climb a peak, he couldn't resist his excitement! Even though I love trekking and have been to several treks before, this seemed like something that wasn't my cup of tea (sometimes, you have to accept the fact that you can't do it all!). And thus, this was RD's journey of testing his limits, learning new tricks & hacks about mountaineering, and making it up to Prini Peak – a lesser-explored trail in Himachal.
[Read more about RD's Prini Peak – Experiences From A Self-Sufficiency Mountaineering Course]
6. Manali, Himachal Pradesh
People at work often teased me saying I should permanently move to Manali – considering the fact that I keep going back there! While many people will disagree saying that Manali is overhyped, I feel there's something in that place that pulls me back, time & again!
So, I again planned a trip to Manali, this time with Plan The Unplanned, thinking I would get to explore my favorite hill town with a bunch of strangers! Friday evening, we all met at Majnu-Ka-Tilla, from where we had to board our bus for Manali.
The journey of 12 hours didn't seem that long enough, as we tried to break the ice, share our travel tales while introducing ourselves and planned what all we'll do for the next couple of days. Reaching Manali, we headed straight to Bonfire Hostels, freshened up and I took the gang to The Lazy Dog, my favorite eatery! On the banks of the River Beas, tucked in one corner, this restaurant doesn't just have an amazing ambiance, but great food as well.
Post lunch, we decided to take a walk through the forest trails, filling our lungs with freshness. Amongst us, was a professional storyteller, who made it all the more thrilling, narrating interesting stories with her gestures and actions! Time flew by the wink of an eye, and as the sun started setting, we walked out of the forest to explore the market and went to Johnson's Cafe for dinner.
Early morning on the next day, we left for a hike to the Jogini falls, and later stopped at Solang Valley. The snowcapped mountains at a distance mesmerized me as always. And as we were leaving, I felt that the Himalayas were also bidding us a sad goodbye.
By the time the trip ended, the strangers I started my journey with had become friends I would want to meet again, and even now as I think of the trip, I feel it wouldn't have been so exciting if their madness wasn't stirred into it!
7. Singapore
After months of planning and anticipation, we finally decided to travel to Singapore (our annual international trip!). It was an easy & obvious choice as RD's cousins live there and we didn't have to worry much about the accommodations. Also, thanks to AirAsia, tickets to Singapore from India are pretty reasonable, if booked in advance.
(Getting the Visa for Singapore is no big deal if you have all your documents ready while applying, and we got it in about 5 days time.)
We had about 10 days in hand and a pretty well-sorted checklist (that consisted of the places to visit, where to eat, and must-do things) but in spite of that, we felt like we missed out a lot! The glitz and glamour of this Southeast Asian nation can mesmerize anyone at first sight, and leave you craving for more. Whether it's the extravaganza of the Gardens By The Bay or the thrilling Night Safari, the malls lined up at Orchid Road or the hawkers selling delicious meal bowls at China Town, or the Universal Studio tickling the kid in you – Singapore just won our heart in those few days.
[Read: 5 Places You Can't Miss While Exploring Singapore]
If I have to mention my favorite place in Singapore, then it would definitely be Jurong Bird Park – a place that Indian tourists often tend to miss out on, having an overburdened itinerary! But that place surely deserves a visit. Filled with exotic birds from all across the world – from flamingoes to macaws, penguins & hornbills, toucans & ostriches – you'll get to see them all. (Tickets for the Bird park are available online, and they are cheaper than the counter price. If you buy a combo ticket – Singapore Zoo + Night Safari + Jurong Bird Park, you'll surely get the best deal.)
For foodies like us, Singapore can be perfectly called 'heaven' with such great places to eat! Whether it's the fancy dine restaurant at a mall, or the food courts next to MRT Stations, or at Clarke Quay – there wasn't any bad experience when it comes to food!
We took a day trip to Sentosa, to see the S.E.A Aquarium and Universal Studios. Although the ticket price would pinch a bit, it's absolutely worth to experience the madness that surrounds the place!
There were a couple of other things that we had in your bucket list, which we missed out – but that ensures the fact that we'll return back someday, to tick them off!
8. Dhanaulti, Uttarakhand
It was the Independence Day weekend (a long one, of course!) and a friend of ours was coming from Chennai to Delhi, and she wanted to go somewhere in the hills. This time, we thought to ditch Himachal, and instead, planned for Uttarakhand. We found this beautiful property in Dhanaulti through AirBnB (ZeroStay), which was located on a hill behind a patch of forest. The place seemed quite secluded from the crowded areas and we were sure that it'll be the perfect place to chill and enjoy!
We booked an Ola Outstation and started from Delhi at around 9 PM on Friday. The next morning, at around 10'O clock, we reached Kanatal, crossing Dhanaulti, where our stay was. Our host was extremely generous to wait for us on the main road and guided us to the cottages through the woods. It was a pleasant half an hour's hike to his place. Located on a cliff, these huts had greens all around and they were growing their own vegetables – from potatoes to carrots and cabbages and what not!
We knew that we aren't heading out anywhere from here and just relax, soaking in the freshness of the place. They served us delicious local food (very simple and basic). Since there was no internet connection, it turned out to be a digital detox for us!
The next day, we thought we'd just go to Dhanaulti for lunch and explore the EcoPark that's there (we saw it while coming to Kanatal). But the day didn't go as planned! 4 of us just walked out of the stay, taking the jungle trails, and after walking for about an hour, we knew that we were lost amidst the greens! It was extremely difficult for us to find the way back, and as we kept walking, we went deeper into the woods. Finally, a few shepherds helped us to find the way to the main road, and by the time we reached, it was already late afternoon! We just had little time for lunch before it got dark and headed back to ZeroStay!
When we came back, we figured out that Manish, our host, and the others there already knew about our adventures! While they laughed and made fun of us being lost, we had quite an adventure that day!
On Monday, we left Kanatal and came to Mussoorie. Our friends wanted to explore the market and the famous 'Ruskin Bond Bookstore', and we wanted to eat at Kalsang (our favorite place for delicious momos, shyapta, and tingmos) – so it was an obvious choice. We also stopped at the Rokeby Manor for desserts, and then, left for Delhi that night.
9. Udaipur, Rajasthan
Back in 2014, I've spent quite some time in Udaipur while I was doing a fellowship, and it's definitely one of my favorite places. This time, I wanted to show RD some of my preferred spots in this gorgeous city and thus, we headed off to Udaipur for a weekend. To tell the truth, no elaborate planning is needed for this, since you can easily take an overnight bus from Delhi and reach Udaipur the next morning! However, we booked train tickets (there are 2 trains from Delhi to Udaipur – Chetak & Mewar Express) for a more comfortable journey.
Udaipur has some great options for staying for all kinds of travelers – you can splurge a lot and stay at one of those fancy havelis overlooking the lakes or choose a budget hotel that is perfect for backpackers! We opted to stay at Zostel, which is just 2 minutes' walk from the lakeside & a walkable distance from the main Jagdish Chowk of the city, offering clean and beautiful rooms.
That morning, after we freshened up and had our breakfast, we went out for a walk down the lane, towards Jagdish Temple. This is the place where you can buy amazing silver jewelry, clothes & bags and much more! It's also the best place for getting authentic Rajasthani souvenirs, but be aware of the price you pay! Since there are a lot of foreigners visiting these stores, the shopkeepers usually ask for absurd prices – so you better brush up your bargaining skills before you buy anything!
Then we went to the City Palace – which was built over a period of nearly 400 years, with contributions from several rulers of the Mewar dynasty. Located on the banks of Lake Pichola, this majestic structure still holds on to its glory and beauty, and the museum inside will help you to take a deeper look into the past the rulers. We had lunch at Palki Khana, the restaurant inside the City Palace while soaking in the sun. It was an afternoon well spent!
That evening, we went for the Dharohar Dance Show at Bagor-Ki-Haveli, which takes place from 7:00 PM to 8:00 PM & the show tickets available from 6:15 PM at the venue. It's an hour of incredible folk dancing that'll leave you mesmerized, for sure!
For dinner, there are so many options that it gets difficult to choose! But as I said, I wanted to take RD to my favorite place – and that was Ambrai. It's one of those fine dining restaurants on the lakeside, from where you'll get the breathtaking views of the City Palace, glimmering with all the lights! The food at Ambrai is top-notch, and the ambiance of the place definitely makes it even more perfect.
The next day, we set out for the Sajjangarh Fort, which is also known as the 'Monsoon Palace'. Located atop the Aravallis, you can get a picturesque view of the Lake Pichola from the fort, and soak in the freshness that lingers here. The Fort now comes under the control of the Forest Department and they say that there are quite a few wild animals around this place, though all we got to spot were monkeys!
We spend the afternoon strolling around the Fatehsagar Lake, which has several street food stalls selling everything from fresh sugarcane juice to 'kulhad' chai and daal-baati-choorma to masala Maggi. Sunday afternoons around Fatehsagar turns out to be a bustling affair, and mostly appears like a 'mela'!
It was time for us to unwind and say goodbye to Udaipur, until the next time, as we boarded our bus from Chandpole and set out for our journey back home, and buckled up for another week at work!
10. Agra, Uttar Pradesh
It was the Diwali weekend and all we wanted was to get away from the chaos (and pollution) of Delhi. The best option was Agra – quick trip, easy on pockets and also because RD hadn't yet seen the Taj!
Well, Agra is easily doable over the weekend and the Yamuna Expressway has made traveling much easier. We booked an Ola outstation (as always) and we had to pay about 7,000 INR for a round trip. We booked our stay at Four Points by Sheraton and got a Taj view room (what else could we have asked for!). Nearly all good hotels have a few rooms from which you can get an excellent view of the monument – so you better check with them once, you might just get lucky like us!
We reached Agra early on Saturday morning and headed straight to see the Taj, which opens at 6 AM. The crowd in the early hours is usually less, and it definitely is the best time to walk around and soak in its majestic vibes (otherwise there will be a lot of people, most of them clicking selfies and creating a banter!)
You'd be surprised to know that recently, travelers voted it to be the 2nd most preferred site, attracting about 8 million people each year. There would hardly be any foreigner who came to India and left without seeing this magnificent piece of architecture. There's truly something magical about that place, and of course – the extra stories that the guides would tell you!
Once we were done exploring the 'Monument of Love' (as they popularly call it), we went for a quick brunch at Sheroes – a food joint that's run by acid attacked victims. It's totally a place worth visiting – not for the food, but for the experience. Meeting those women there will definitely make you believe in the good things of life! Also, it's a 'pay as you wish' kinda' eatery, and there's no price list. Once you're done eating, you can pay whatever you feel like – and we were absolutely moved by this concept.
Later in the afternoon, we went to see the Agra Fort. The evening we chilled at the hotel, and for dinner, we went to the Clarks, which was another amazing experience! There was live qawwali happening, with an exotic Mughal menu which had everything from Mutton Shorba to Gahlouti Kebab, and Ghost Biriyani, Rogan Josh, Firni and more. There were no firecrackers, but it turned out to be a perfect Diwali evening!
The next day, we enjoyed the marvelous breakfast spread at the Sheraton, and later check out – our next destination was Fatehpur Sikri, located at a distance of about 35 KM from Agra. This magnificent fortified ancient city used to be the capital of the Mughal Empire for a very brief period, during the rule of Akbar. The Buland Darwaza (the grand gateway), the Dargah of Salim Chisti, the Jama Masjid are some of the famous things to see at Fatehpur. (Beware of the touts here, as they might try to influence you to get money, misguiding you! We actually saw several foreigners falling in their trap.)
To put it in the words of the Lonely Planet, "The city was an Indo-Islamic masterpiece but was erected in an area that supposedly suffered from water shortages and so was abandoned shortly after Akbar's death. The red-sandstone palace walls are at their most atmospheric and photogenic near sunset."
We started our journey back to Delhi in the evening, and by Sunday night, we were back in the city (and were greeted by the hazardous smog!). However, we did have a great time in Agra, and like always, it didn't disappoint us.
11. Spiti, Himachal Pradesh
We had Spiti on our bucket list for a long, but for some reason or the other, we kept procrastinating. And finally, one fine day around the month of August, we decided that we'd travel to Spiti in October before the Rohtang Pass shuts down! We coordinated with a couple of our friends who agreed to tag along instantly (yeah, we do have such amazing friends who never say 'NO') and after a little research, we figured out that the best option to travel to Spiti would be with a local travel organization called Spiti Holiday Adventure.
They had curated road trips from Manali to Manali, which we opted for and it was an 8 days trip. We were 5 people in total (both of us, Murli, Ilisha & Arnab) and each one of us was super excited about this journey! We took the overnight bus from Delhi to Manali, and had a day in hand before heading off to the valley! As enchanting as it might sound – 'Spiti' or 'The Middle Land' tucked between India and Tibet, is nothing less than a magic. From the breathtaking Himalayas to the colorful prayer flags, the red-cheeked kids and the oldies with wrinkled faces, smiling as they said 'Julley' (Hello), the monasteries and the topsy turvy mountain trails – everything left us mesmerized, and made us crave for more!
Our journey from Manali to Kaza took around 10 hours on the first day, and we stayed at Le Karze, one of the decent places in this Himalayan town. Kaza, which is the main town of Lahaul & Spiti District, has gained much popularity in recent years (thanks to the flourishing tourism!). Over the next few days, we explored the other villages – including Langza, where fossils are found; Hikkim, where the highest altitude Post Office in the world is located; Komic, which is the highest village connected by motorable road! Surprised much? Well yeah, India is a strangely unique land and we actually have a lot of it unexplored!
We walked down the lanes of the Tabo Monastery and Key Monastery, listening to the chantings that soothed our soul, and talked for hours with Singye, who left us speechless with his sense and sensibility! We trekked up to see the Chandrataal Lake (the Moon Lake, as they call it) and felt as if we've arrived in some other planet. We celebrated a local festival in Lhalung and spend a night at Sonam Bhaiya's homestay, binging on Tingmos and Soup, before spotting the Milky Way and getting drunk on the local alcohol.
By the time we were head back to Manali, we already had pieces of our hearts left back there, in the Valley. Probably one trip to Spiti is never enough, and would soon plan to head back again, soaking in the freshness and feeling the chills, while sipping on the Lemon-Honey-Ginger tea at Sol Cafe and having another heartwarming conversation with Singye, our long lost friend!
[Wanna know more about our conversations with Singye? Well, go ahead and read it 🙂 ]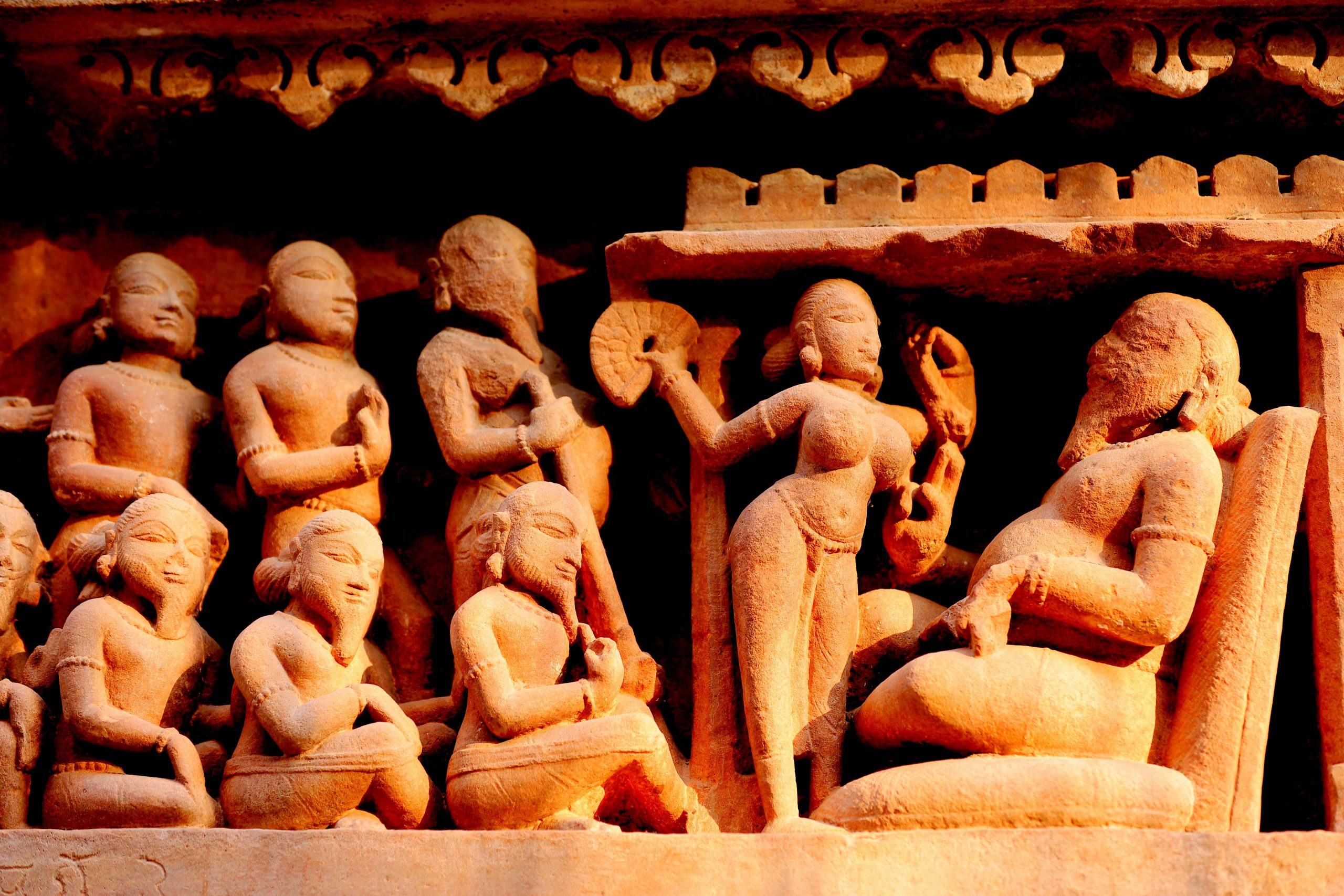 12. Khajuraho & Panna National Park, Madhya Pradesh
The Spiti hangover was still there, and we were thinking of where to go during Christmas. We realized that most of the places would be super-crowded, and everything was expensive for that weekend! It seemed that the whole world was either rushing to the hills or heading off to Goa!
So finally we planned a short trip to Khajuraho (which RD wanted to explore since forever! Blame it on his love for ancient art and archaeology, which is tremendously infectious) and Panna, in Madhya Pradesh. Built between 950 AD and 1050 AD by the Chandela dynasty, the temples of Khajuraho are marked as a UNESCO Heritage Site. We took the overnight train from Delhi to Khajuraho (Uttar Pradesh Samparkkranti) which took about 11 hours. We had booked our stay at Clarks, Khajuraho, which is located in closer proximity to the temples, but a bit far from the station.
Note: Khajuraho also has an airport, for those who wish to fly down and save time. However, we assume that there are not many flights, and it'll be an expensive deal.
We reached early in the morning, and thus, we had the whole day to explore. We walked down, got our tickets and explored the Duladeo Mahadev Temple and the Eastern Group of Temples on that day. The intricate work of art, the way daily life has been portrayed through the sculptings, and the amalgamation of Hinduism & Jainism left us spellbound. Honestly, when we think of Khajuraho, all we imagine are those erotic sculptors (which are there of course, and they are highly different from how we conceive them to be!) but this ancient temple complex has a lot more than just that. The incredible artwork symbolically highlights the four goals of life that are considered to be extremely necessary and essential in Hinduism – Dharma, Kama, Artha, and Moksha.
That evening, we watched the Light & Sound Show in the main temple complex premises and celebrated Christmas Eve with a hearty dinner at Raja Cafe. (Well, for all you foodies out there, don't miss Raja Cafe when you're there – located right opposite to the main entrance gate, it's one of the best places in Khajuraho serving European delicacies, catering mostly to foreigners. The price might seem to be a little on the higher side, but the food is to drool for!)
On the next day, we explored the main temple complex, the Kandariya Mahadev Temple, the Lakshmana Temple, and other small ruins. Post lunch, we hired a cab for Panna and went straight to Ken River Lodge, located near the National Park. A luxury boutique hotel on the banks of the Ken River, this place is perfect for a quaint retreat and one can just be there to soak in the beauty of Nature!
The next day, we had a plan for an early morning safari, where we had no luck and spotted only deer and some birds! Panna, supposedly, has about 40 tigers, as well as some leopards and sloth bears as well – we really hope that if you're visiting someday, you get to spot something at least! Later, we went to the Gharial Sanctuary, before heading back to the lodge. We checked out in the afternoon and headed back to Khajuraho station – to board our train for Delhi. It was quite an actioned-packed weekend – and the best part is that it was fairly less crowded and we could chill & explore at our own pace!
And so, the year ended and we started working on yet another travel bucket list! As they say, "The journey is what defines us…" and so, we shall continue…