As scientists are still continuing with their work of discovering life in Danakil, we wouldn't hesitate in saying that this place - known as 'The Gateway to Hell' - is definitely one of the most unique places on Earth, that's yet to be explored properly! 🌎
Decorated British desert explorer Wilfred Thesiger once called it a "Land of Death". National Geographic christened it the "Cruellest Place on Earth"; yet for this basin in North Eastern Ethiopia, tens of thousands of families have earned their income and livelihoods from mining one of the most precious commodities: salt, that the locals consider to be 'white gold'.
Vivien Cumming of BBC Earth had put it aptly, when he said, "The Sun scorches the cracked earth, a wavering mirage confuses the eye, and dry air and dust suck the moisture from your mouth and eyes. Ethiopia's Danakil Depression is one of the hottest, driest and lowest places on the planet."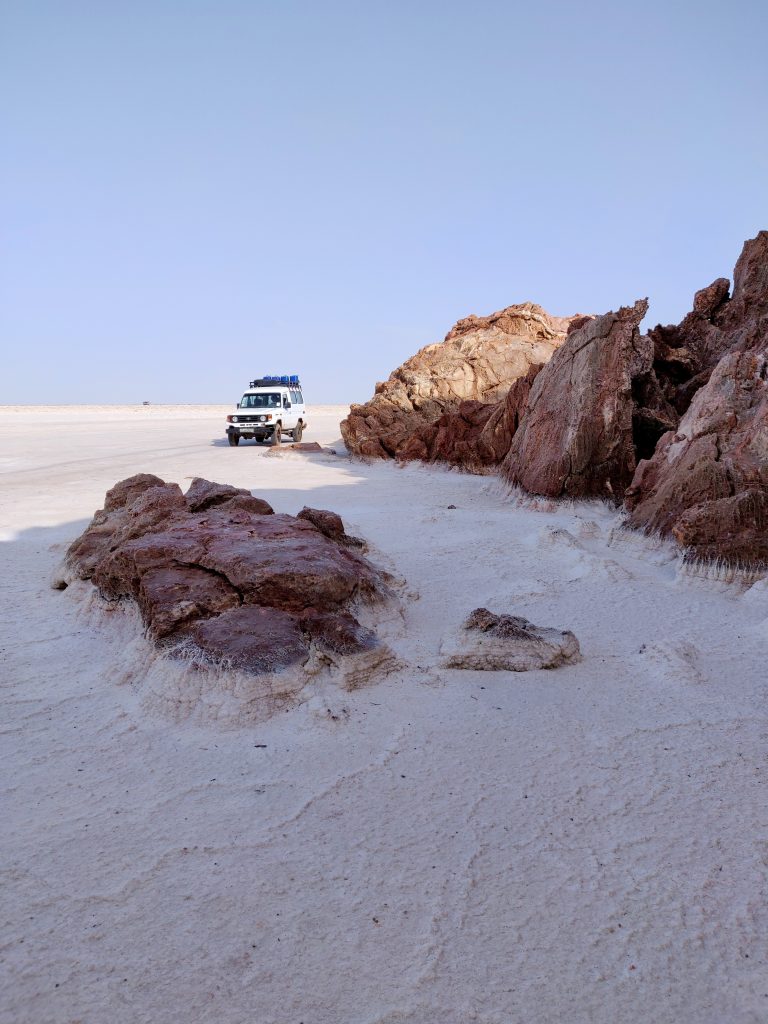 In spite of the immense scientific, geological & historical importance that Danakil holds, it's quite strange that we're never taught about such places in our school books!
Scientific Significance of Danakil:
Scientists have been doing research for a decade now, and it seems that life around Danakil is kind of similar to what's surviving on Mars, due to the extreme salty environment with volcanic origin. The area is also characterized by toxic sulphur and chlorine vapors, as a result of natural degassing volcanic processes.
Geological Significance of Danakil:
Embedded in the horn of Africa, this region is popularly called the Afar Triangle – a geological depression that has resulted from the divergence of three tectonic plates. It has developed as a result of Africa and Asia moving apart, causing rifting and volcanic activity. Erosion, inundation by the sea, the rising and falling of the ground have all played their part in the formation of this depression.
When we were there, it seemed like we'd come to another planet! Indeed, it's a place that seems more alien than Earth-like. There are volcanoes with bubbling lava lakes, multi-colored hydro-thermal fields, and great salt pans that dazzle the eyes. It's the hottest place on Earth, lies about 410 ft (125 m) below sea level and during the summer months, the temperature often goes up to as high as 55 degrees C.
Historical Significance of Danakil:
Amazingly, despite its toxic environment and lack of rainfall, it's home to some lifeforms, including microbes. As inhospitable as the environment is around Danakil, it seems that this area played a role in the evolution of humanity. In 1974, researchers led by paleoanthropologist Donald Johnson found the fossil remains of an ​Australopithecus woman nicknamed "Lucy".
The scientific name for her species is "Australopithecus afarensis" as a tribute to the region where she and fossils of others of her kind have been found. That discovery has led to this region being dubbed the "cradle of humanity".  (Source: Wikipedia)
How To Reach Danakil?
To be honest, it's not an easy journey! In spite of that, it's surely a magical place to explore.
The nearest airport is in Mekele, however, it might be difficult to get a direct flight till here. The best way would be to fly to Addis Ababa, the Ethiopian capital, from where you can take another flight to Mekele.
From here, it was a road trip across the Great Rift Valley, crossing some of the highest points of Ethiopia, to explore one of the lowest points on Earth!
The best way to explore is to book a 3 nights/4 days trip that would take you across Danakil Depression, which includes a night trek to Erta Ale, an active shield volcano, that lies in this region; exploring the salt flats and the vast stretches of the desert; a night under the starlit sky at Hamed Ela; a chance to dip in the salt pools and of course, endless opportunities to walk alongside the acid pools and sulphur formations!
In spite of the harsh climatic conditions and lack of basic necessities, the people of Afar are happy to call this home! They mostly trade with salts, something that is abundantly available in this part of the world. We saw hundreds of camels, carrying salt bars across the desert. It was a sight to behold!
We traveled with ETT (Ethio Travel & Tours), the most reputed agency, organizing the Danakil Depression Tours. The 3 nights/4 days trip would cost you around 600 USD. The price might seem high for backpackers on a shoestring budget, but you need to take into consideration that you're traveling in a great, comfortable, and safe 4×4 car, guarded by a convoy with local policemen to ensure your safety and you have all your water, food, guide and entrance fees included.
To conclude in the words of the Lonely Planet, "If you want genuine, raw adventure, few corners of the globe can match this overwhelming wilderness. But come prepared because with temperatures frequently saying hello to 50°C and appalling 'roads', visiting this region is more an expedition than a tour."