With a selection of handcrafted products, The Rocks Markets in Sydney casts a vibrant spell on travelers like you and me, as it brings the local artists & talented folks together at the heart of the city - making it a paradise for shopaholics! In this photoblog, take a tour of the Sunday Market at The Rocks 🙂
When I planned my trip to Sydney (I just had 3 days to spend, and take my words, it's literally IMPOSSIBLE to cover all that this city has to offer!) – there was a checklist of 'Things I wanna do…' & I wanted to tick them all off the list. From wandering around the Sydney Opera House to soaking in the sun at the Bondi Beach – I had planned everything out.
But as they say, you always have surprises waiting for you at the other end of a flight – and landing up at The Rocks Market was one such for me! If I wouldn't have been staying in Sydney over the weekends, I surely would have missed out experiencing the hustle & bustle of this popular weekend market. 
It was a bright & beautiful Sunday morning, when I was lazing at the dining hall of Sydney Boulevard Hotel when one of the staff members suggested me to visit weekend market at The Rocks, saying that I'd find some great local goodies to buy as souvenirs. (FYI, I had previously asked him for suggestions, regarding where I could shop local stuff.)
The Rocks – Known to be the Oldest Neighborhood in Sydney, Australia
The Rocks is also home to some of Sydney's most significant sites, including Cadmans Cottage, the oldest surviving residential building in the city; The Museum of Contemporary Art, dedicated to art from both across Australia and around the world; and then, of course, the iconic, Sydney Harbour Bridge.
It was originally the site of the first European colony, established in 1788 when convict-bearing ships came from England to set up the colony of New South Wales. It's here, where you'll discover the colonial history of Australia, once home to convicts, soldiers, and sailors – that has now turned into a paradise for both locals & travelers from across the world! And the weekend market, along the cobbled streets of the city's oldest neighborhood, is definitely something that you must add to your Sydney bucketlist.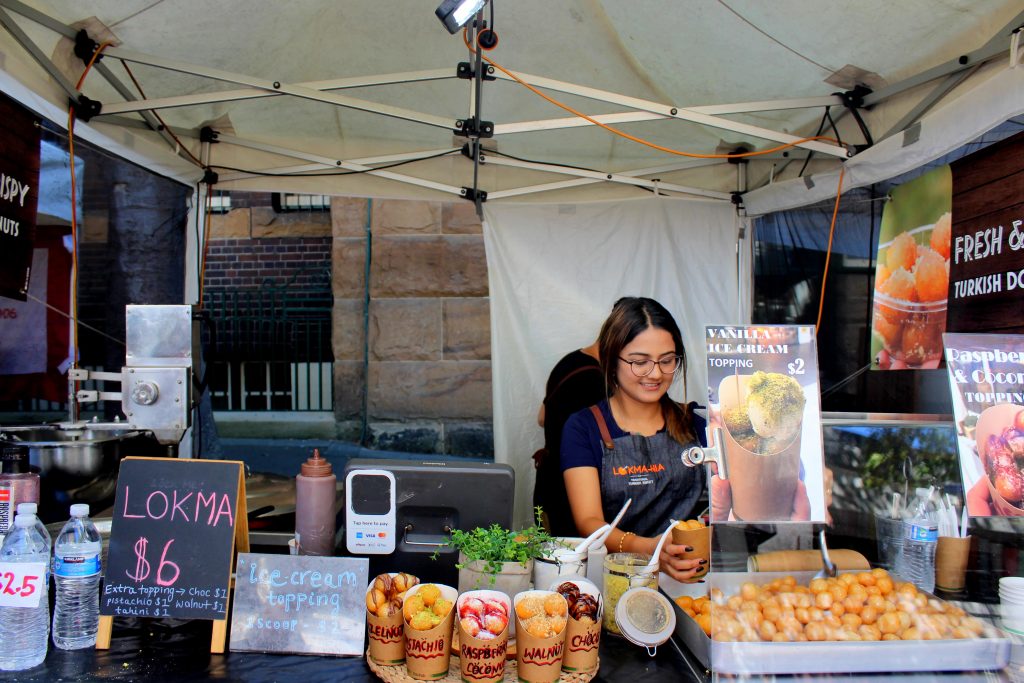 The Rocks Weekend Market
I'm not a shopaholic, but I did end up buying a lot & it just made me so happy! Even if you don't know what you wanna buy, you can just take a stroll through the bustling market stalls and discover locally-designed fashion, handcrafted jewellery and unique homewares.
It's a great opportunity to meet local artists and photographers, sample handmade beauty products, or simply grab a bite to eat from one of the many food vendors, to fuel your exploration. You'll find it all here – from freshly made pancakes to crispy fried lokma (Turkish desserts!), grilled bacon sandwiches to soothing kombucha – and what not!
Stumble across live music and enjoy face painting sessions, happening here & there! You'll feel the excitement to be found around every corner of The Rocks, with a diverse range of tastes and styles that proudly reflects Sydney's culture. To say the least, it's an oasis that's as easy as the breeze, nestled next to the CBD and just footsteps from the ferries, trains and buses of Circular Quay and Wynyard.
Open every Saturday and Sunday from 10 AM to 5 PM year-round, The Rocks Market is a Sydney institution. So, if you're in Sydney over the weekends, you must make it a point to visit The Rocks Markets – just for the sake of experiencing the local vibes with a twist!