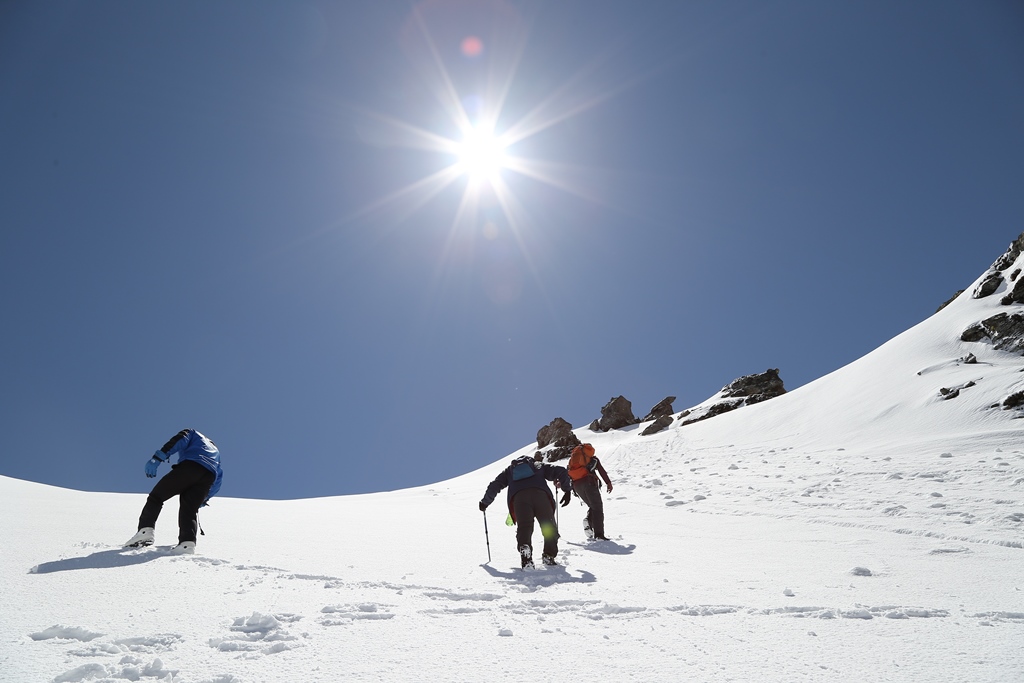 Perhaps everyone dreams of it, but not everyone is lucky enough to traverse the paths unexplored. And as a famous saying goes, "Sometimes the path we choose, makes our life."
Back in December 2016, I came across this trailer of a documentary called 'The Fall' on YouTube which showed the journey of two young adventurists, who were marked as India's first waterfall climbers, and much later, when I saw that one of them was organizing a 'Self Sufficiency Trekking Program' in the Himalayas, I couldn't hold back my excitement and enrolled for the program. I knew it was going to be something incredible, but little did I know that it'll turn into one of the best journeys of my life, to date.
Thus, on a bright summer afternoon, I met Pranav Rawat, one of the leading ice climbers in India, and Huzefa Siamwala, a backpacker & mountain lover, and set out for the learning journey in the Himalayas. With me, there was another enthusiastic soul, Kannan Uncle as we fondly called him. Seeing an above 60-year-old man with us in this tryst was nothing less than a delight and an inspiration, at the same time.
The Journey To Prini Peak:
The journey began from Manali, where we all met and picked up the necessary pieces of stuff that were to be used over the next week. We had to drive up to Hampta Village, which was our base. Hampta Village (not to be confused with the Hampta Pass!) is located about 15 km from the Mall Road of Manali and took us about an hour to reach. A quaint homestay accommodation was selected for us, nestled amidst the apple orchards with a breathtaking view of the snowclad Himalayan mountains.
The apple flowers, in full bloom!
That evening, when we talked about the mountains and how life unfolds around it, how we need to be prepared to explore the beauty and the training that would be provided to us in the next couple of days, I realized that this trek wasn't going to be anything similar to what I've experienced before!
The 'Self Sufficiency Course', as the name suggests, was essentially designed to prepare a climber to be independent in all possible ways, while hitting a high altitude. The training began from day 2, when we had to go for a mountain run from Hampta Village to Sethan, another quaint village which was about 3 to 4 km away. The trail was pretty uphill and needed a lot of control over our breathing.
Post the running session, we had breakfast at Kalsang Uncle's Dhaba, the only little food shack at Bend No 33 on the Manali – Hampta Route. After that, Huzefa guided us into the mountain forest for practicing rock climbing. We had an extremely engrossing lesson on belaying, ascending, and repelling over the rock face. This was followed by a session on mountain medications and how to help someone who needs medical attention during a trek.
And finally, the next morning, we started our trek towards Prini Peak crossing the Sethan Glacier. Each one of us had to carry our rucksacks which were about 15 – 18 kgs each, loaded with all the essentials that we would need over the next 3, 4 days. We covered a distance of about 12 km that day and pitched our tents near the snow line.
The whole thing seemed absolutely surreal to me, as I tried to sink at the moment that I was experiencing. Amidst vast snowfields, our little camps stood, under the starlit sky that made everything turn magical. The entire Pir Panjal Range and Chandrabhaga Range could be seen from where I stood. It was a moment of sheer joy, that's difficult to be put into words. We cooked our food for the night, and enjoyed the steaming hot meal to satiate our hunger after the day's walk!
The next morning, we trekked for another 6 km and camped next to a glacial lake in Sethan. Under Pranav's supervision, we learned the art of snow crafting and practiced it for about an hour, till the snowstorm started. No matter how much you plan, nothing is certain in the Himalayas, and Nature can bring you surprises when you least expect them! We couldn't go any further that day, for obvious reasons…
The breathtaking view of the glacial region. Pranav clicked, as I was gearing up for the day!
It was a bright sunny morning, the next day, and we planned to make it to the summit of Prini Peak, one of the highest peaks of Sethan Glacial Region, and also a virgin peak, which hasn't been climbed earlier. My excitement knew no bounds! I knew it was going to be a tough climb but I was prepared for the adventure ahead. We had to cross the slopes that were about 70 to 80 degrees steep and covered with snow. At points, it was extremely slippery making things all the more difficult. The chilled wind and the direct sun rays started hitting us in the face. Kannan Uncle had certain difficulties and started showing early symptoms of snowblindness (since he wasn't carrying UV ray-protected sunglasses), so he chose to stay back.
Kannan Uncle, at the campsite.
That was the view we witnessed on the way to the peak. The small lake you see is the Sethan Glacial Lake, with the Chandrabhaga Range at the backdrop.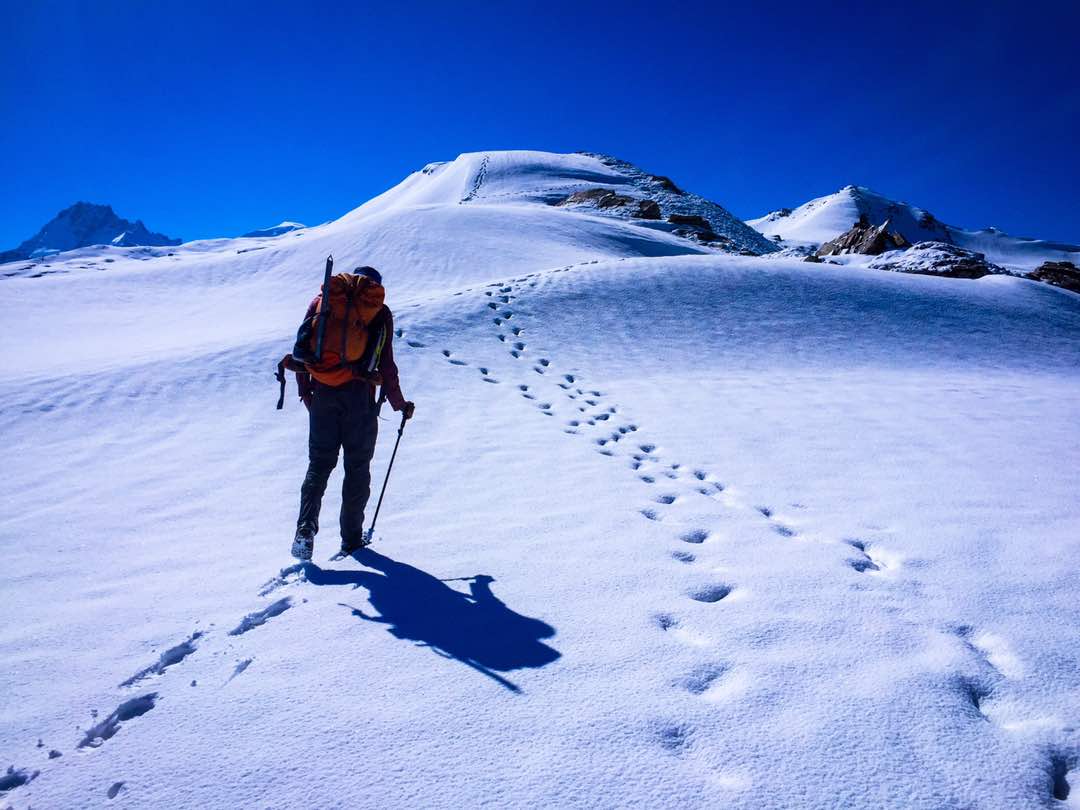 Traversing the snow-covered trail. Next stop – Summit of Prini Peak.
We continued our journey, crossing the vast stretches of snowfields and the glacial lakes. The views, at every point, were absolutely mesmerizing. However, Pranav had warned us about the chances of an avalanche (Thank God, nothing of that sort happened!) as we crossed an avalanche-prone area. Due to the previous day's storm, the entire trail had a thick layer of snow and we had to make use of our ice axes at certain points, to negotiate with the slope.
After about three and a half hours since we had started from the base camp, we made it to the summit – only to witness the picturesque view of Mt. Indrasena, Mt. DeoTibba, and several other peaks from that point. Our joy knew no bounds, as we stared at the mighty mountains standing with all their glory.
As they say, the best view comes after the hardest climb!
We didn't stay at the summit for long, since we had to descend back to Hampta Village that very day, picking up Kannan Uncle on the way. The descent was much easier since we could slide down at places, but it needed a lot of control over the body. If one can't slide with control, there are heavy possibilities to get hurt.
The next day, we traveled back to Manali, before all of us bid 'Good Bye' to each other. In my heart, I know that this wouldn't have possible without these companions (Pranav, Huzeifa, Ashray, and Kannan Uncle) of mine, and maybe sometime again in life, if I get another chance, I would definitely hit the mountains with them and create new memories.
Mandatory selfie at the Prini Peak. From left to right – Pranav, Huzeifa, myself and Ashray.
Note: For those who wish to ditch the crowd of Manali, Hampta Village or Sethan can be better options for a retreat, amidst the apple orchards and some gorgeous views. You'll find some local Himachali homestay accommodations and warm people to greet you. Don't forget to stop at Kalsang Uncle's place for a cup of tea – it's just after Bend No.33!
As far as climbing up to Prini peak is concerned, it'll require a little bit of physical fitness and basic knowledge of climbing.