Extending over approximately 400 sq.km and consisting of scores of temples, hydraulic structures (basins, reservoirs, canals) as well as communication routes – the Angkor Temple complex surely deserves to be explored at least once in a lifetime. Being lovers of ancient art, architecture, and ruins, we had Cambodia in our mind for quite some time and when we finally found ourselves there, we were taken aback by the beauty of the place.
Angkor was the capital of the ancient Khmer Empire which flourished during 9th to 15th century AD and it is one of the most significant archaeological sites in Southeast Asia that witnesses more than 2 million footfall each year (surprising, isn't it?). Undoubtedly, the best times to catch the perfect glimpse of the ruins are during dawn and dusk when there's less crowd and the sunlight adequately enhances the charm of the temples. Apart from the Angkor Wat, the Preah Vihear Temple, the Royal Ballet of Cambodia and Sbèk Thom (Khmer Shadow Theater) are the other things that come under the list of UNESCO.
An Apsara, sculpted on the walls of the temple.
We were quite lucky to have an amazing tuk-tuk driver who not only helped us in preparing an itinerary for exploring this massive area but also ensured that we get enough time at each of the temples, to walk around and observe, learn more about their specific artwork, absorb the beauty and of course, capture the best photographs!
A Detailed Guide & Itinerary To Explore The Ruins Of Angkor
Let us be honest on this note, you can't see it all in just a day! The best option, thus, is to get a 3 days' pass which enables you to explore a major portion of the temple complex, without rushing from one place to another.
Entry Fee & Getting A Ticket
You can keep US Dollars handy, or use your International Credit/ Debit Card to purchase the tickets from Angkor Enterprise Ticket office, which is open from 5:00 AM to 5:30 PM on all days.
1 Day Pass: $37 per person (Valid for only 24 hours)
3 Day Pass: $62 per person (Valid for seven days, from the time you buy your ticket. You can use your ticket pass to visit the temples on three separate days, in between a week's time)
7 Day Pass: $72 per person (Valid for one month from when you bought your ticket. You can use your ticket pass to visit the temples on seven separate days, over a month's time)
Note: This ticket allows you to visit all the temples of Angkor Complex, except for Beng Mealea and Phnom Kulen. An additional fee will be charged to enter these two temples, which you can purchase separately.
If you hire a tuk-tuk driver, they will first drive you to the ticketing office (Street 60, Krong Siem Reap, Cambodia) where you can purchase your ticket. Trust me when I say this, the tuk-tuk drivers know it all, and you can simply trust them as they lead you to the right places. When you purchase your ticket, they will take a photo of you which will be printed on your ticket. It is essential to keep your ticket with you, every time you enter the Angkor Complex.
Few Essential Things To Remember:
1. It's mandatory to cover your knees and elbows before entering the temples, so make sure to wear full-length pants/ shirts/ dresses, and avoid anything sleeveless! Also, it'll be better if you wear comfortable shoes since it involves a lot of walking!
2. Make sure to carry water with you, as the temperature is usually hot and sultry, and drinking water will keep you well hydrated.
3) While you'll see several elephants inside the complex (and also spot tourists riding on them) – it's an earnest request from our end to not go for the rides! It really hurts the elephants.
4) Keep enough cash with yourself (USD/ Cambodian riel) as the local restaurants inside the complex won't accept Credit/ Debit Cards.
The Itinerary That We Followed:
Before every trip, we do our fair share of research – thanks to all those 'Things to do…' articles available across the internet and our favorite Lonely Planet! But in Siem Reap, things went a little hayway in the beginning, when our tuk-tuk driver came up with his planned itinerary and insisted that we followed his trails. We were kinda' thrilled 'coz we had a countryman leading us – and thus, Sunly ensured that we can enjoy and observe the best, in those 3 days!
Day 1:
On the first day, we left Siem Reap city at around 10'O clock in the morning, and our first stop was at the ticket counter. We purchased our tickets and embarked on our journey to witness the beauty and grandeur of the ancient temples, standing with all its glory! The first glimpse of the Angkor Wat did give us goosebumps, as we stared with astonishment! The main temple is surrounded by an impressive moat and visitors have to cross over a stone causeway to enter the temple grounds.
The government employed guides are there at the gate, and it entirely depends on you – whether you want someone to accompany you or not! Well, we had Ki as our guide (he agreed to show us the Angkor Wat for 10 USD) and his knowledge about the entire Khmer history, art, and architecture, ideas of Hinduism & Buddhism, etc., did impress us!
What makes the temple of Angkor Wat unique are the thousands of intact apsaras (female deities) hand-carved into the walls. Other than that, there are inscriptions from Ramayana & Mahabharata on the walls, which narrates the strong impact that the Hindus had in that region.
Inside the temple, we found little monks conducting prayers and casting goodness spell on people who asked for their service. Though we didn't try it out, it was great to watch them chant and tie a thread on the wrist of those who opted for their blessings.
The main temple usually gets quite crowded and when we were there, a queue of nearly 100 people was there! (If you wish to click pictures without any other human in the background, it might not just happen!) As we were walking out, we met these beautiful young women, dressed as the Apsaras and people could click photographs with them for just 1 USD.
The sun's blazing rays had already half-baked us by then, and we were so happy to see the coconut sellers right next to the exit – we quenched our thirst and headed off to our next destination – Srah Srang (The Grand Pool). Originally dug as a reservoir at Angkor, the royal pool was reserved for use by the king and his wives. A stone base seen at an island in the center of the pond once housed a wooden temple where the king did meditation, is what Sunly told us.
The unbroken steps, right opposite to the entrance of Banteay Kdei, has the upright head of a serpent, mounted by a garuda with its wings unfurled. The steps that lead down to the water are flanked by two guardian lions – making it look extremely grand.
Sunly, our tuk-tuk driver, had warned us of the unpredictable Cambodian weather – but we only realized it, when the sudden showers started without any prior notice! We were at Srah Srang, getting drenched while standing next to the majestic pool created by the Khmer rulers, back in 1200 AD (approximately)!
Our next stop was Banteay Kdei, which was right opposite Srah Srang, but the rains didn't seem to stop anytime soon! We had 2 options – either to head back to Siem Reap (back to the accommodation!) or to get drenched and explore! We definitely opted for the second one – 'coz there was no way of not seeing something that gorgeous, which was right in front of us!
Also, (thanks to the downpour) there was barely any crowd, only a few adventurous ones like us, who walked through the forest trails, exploring this small temple. Banteay Kdei means 'A Citadel of Chambers' and it's also known as 'Citadel of Monks' Cells – which primarily served as a meditating area for monks, even till the mid 19th Century. The rains had turned everything into a lush green, and the ruins were all washed out, giving them a fresh new look.
As the rain continued, we walked out of Banteay Kdei and then, headed back to Siem Reap town. We had plans of visiting Ta Phrom, but we were so badly drenched, that we chose to do it the next day!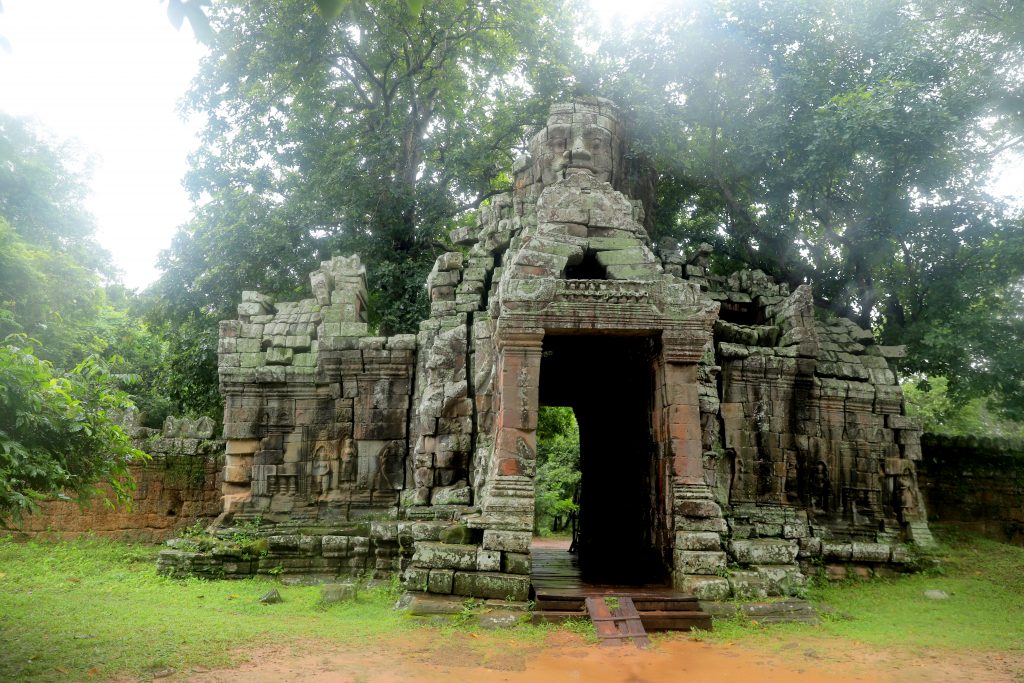 Day 2:
We aimed to cover the major part of the temple complex on the second day, and as per our expert guide (Sunly!), we were to cover Angkor Thom including the ruins of Bayon, Preah Khan Temple, Neak Pean, Terrace of Elephants, East Mebon, Pre Rup and Ta Phrom! We were quite thrilled and all set for the day's adventures!
You must have seen thousands of photographs of these sculptures, and so did we! But when we're there, right outside the South Gate, it felt surreal, seeing these faces. While most of them have fallen off, some have been restored and it's pretty easy to spot them – those with a rugged body and a shiny face!
Angkor Thom is the biggest area of the Angkor Archaeological Park and comprises of several temples, Bayon being the most significant. Well, that was our first destination for the day! As the tuk-tuk moved through the forests, we could see the huge faces peeping out, and they were absolutely breathtaking! Bayon, definitely, forms the most impressive temple in Angkor! Its many stone towers have faces on each side, adding up to nearly 200 serene and smiling stone faces.
We took our own sweet time, exploring every nook and corner of Bayon. Couldn't really believe our eyes (honestly) and wondered how people must have sculpted these huge structures, back in those days!
Once we had completed our exploration, we walked over to Baphuon, which has been painstakingly restored from near-collapse – including a subtle but visible reclining Buddha.
Slowly, we hopped from one ruin to another, covering the Terrace of Leper King, Neak Pean, and others. We also explored East Mebon (which looks pretty similar to the main Angkor Wat structure, but smaller to that) and Pre Rup.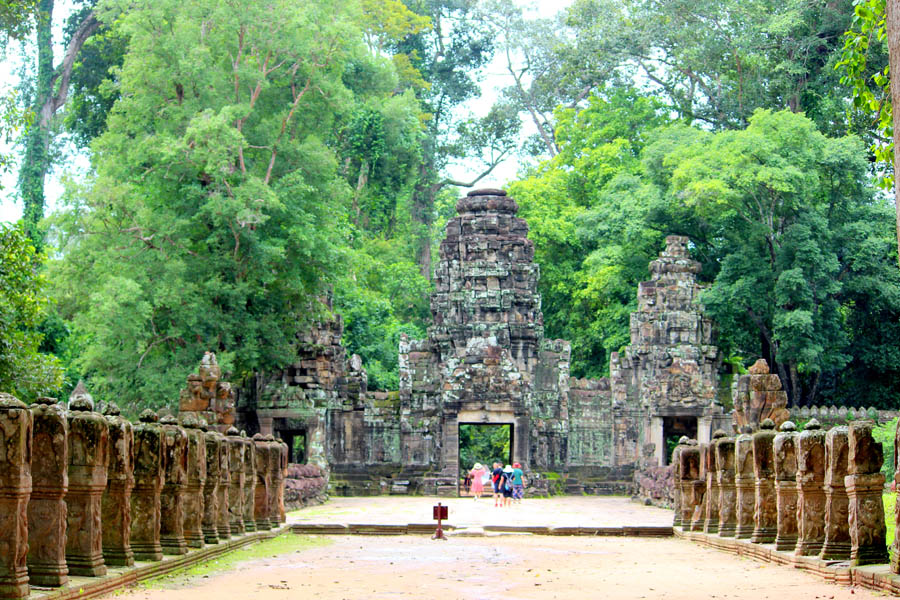 We had our lunch at one of the restaurants nearby and continued our journey towards Ta Phrom – one of the most popular temples of Angkor! And before you ask why it's so popular – we'll tell you the reason! The famous Hollywood movie 'Tomb Raider' was filmed here.
But apart from that, the mysticism around this temple completely left us stunned! The doorways of the temple have huge tree roots growing around them, with the carvings having moss growing out of them, and enormous, ancient tree trunks loom from the center of even more ancient chambers – it was absolutely splendid to see how nature has entwined humans' craft!
We took about an hour to explore Ta Phrom, and soak in the beauty of the place, before heading back to the town. It was indeed a pretty long day and your legs were longing for some rest!
(We went for a foot massage at the Night Market in Siem Reap, for 3 USD per person, and it was absolutely worth it!)
Day 3:
The last and the final day of exploring Angkor! It began pretty early, as we headed out of Siem Reap by 3.30 AM, aiming to reach Angkor Wat by 4'O clock to catch the sunrise. We had read so much about this, that our excitement knew no bounds! While our tuk-tuk crossed the jungles, we figured out that the roads were absolutely empty but to add to our surprise, when we reached there, thousands of people were already waiting!
It was still pitch dark, and everyone was trying to find a spot from where they can click the perfect shot when the sun's first rays fall on the temple! And then, finally, painting the sky with all shades of crimson, that moment arrived! (We choose not to say much, and let the photograph do the rest of the talking!)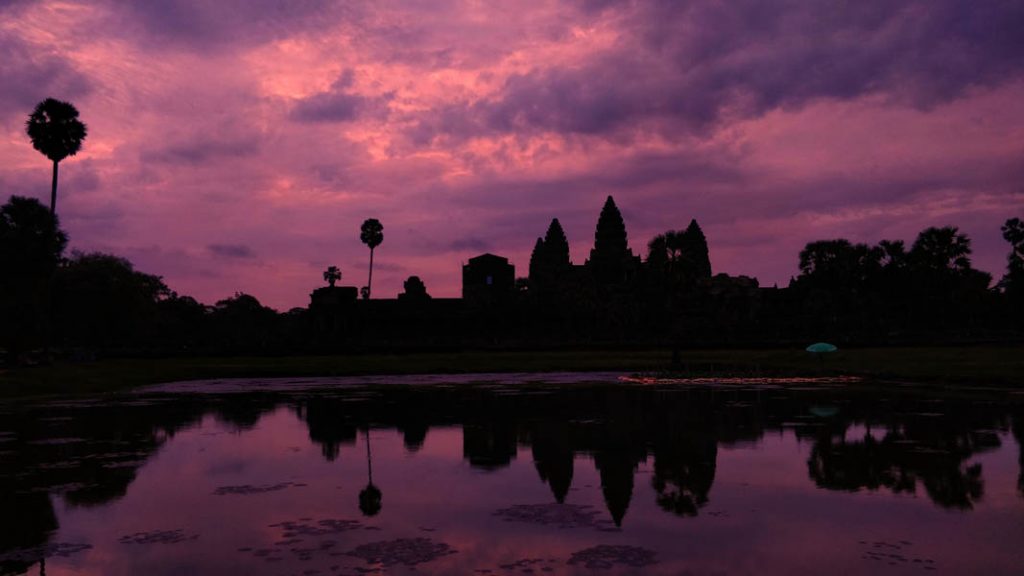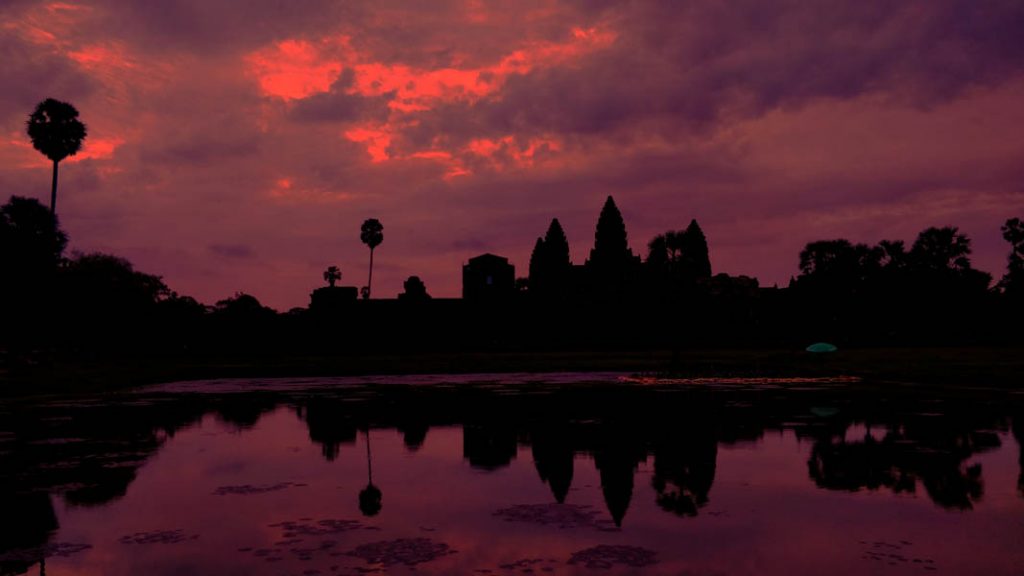 Once done, we started our journey for Banteay Srei, one of the farthest temples of Angkor, located at a distance of about 32 KM from the other temples that we've been exploring. 
We grabbed a quick breakfast on the way, and finally reached Banteay Srei at around 8.30 AM. Built largely of red sandstone, this temple is a tad bit different from others, and its beauty lies in the uniqueness. Probably that's the reason why it's often termed as 'The jewel of Khmer Art'.
To put it in the words of Lonely Planet, "Banteay Srei means 'Citadel of the Women', and it is said that it must have been built by a woman, as the elaborate carvings are supposedly too fine for the hand of a man."
Our next destination was Phnom Kulen National Park, but on the way, we stopped to see Beng Melea, one of the not-so-popular yet breathtakingly beautiful structures of the Khmer art. The history of the Beng Melea temple is unknown and till a certain point of time, there was no way of accessing this place, due to the abundant growth of trees and thick bushes around the area.
Later, we continued our journey towards Kbal Spean, a waterfall at the top of Kulen Mountain in Phnom Kulen National Park. Here, we saw 1000 Shiva Lingas on the bed where the waterfalls – and it seemed something straight out of the storybooks! Reaching the main area involves about half an hour's hike through the forests, and it's absolutely beautiful, to soak in the freshness of nature while walking through the wilderness.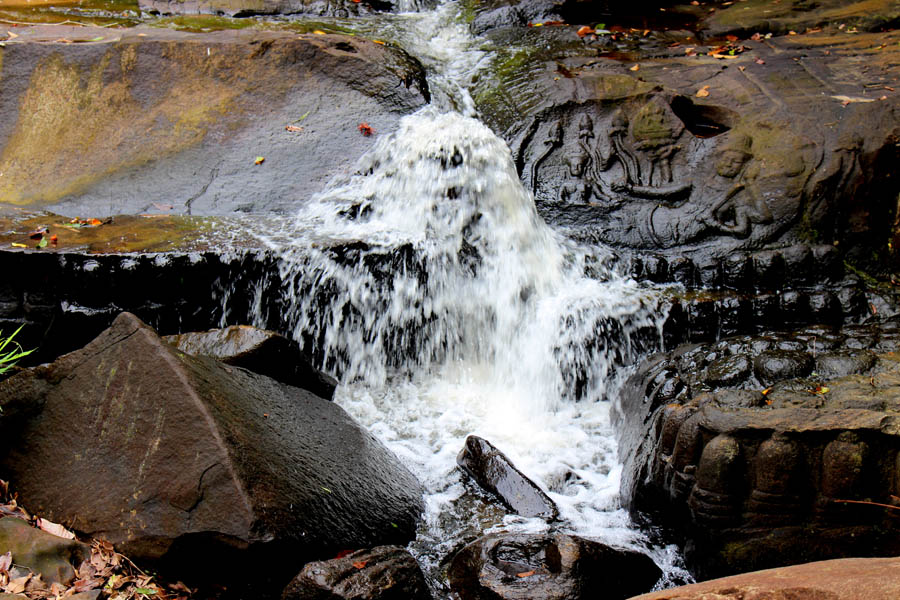 Note: As we already mentioned in the beginning, this place requires a separate ticket to the Angkor Archaeological Park, which is 20 USD per person and can be purchased at the entrance gate, before you start the hike. Also, swimming or dipping your feet in the water isn't allowed, since this place is considered to be extremely sacred. However, there's no dress code, but better not to be too open!
Thus, we ticked off most of the ruins we had wished to see (as our expert friend, Sunly, has promised to show us!) and it was time to return back to Siem Reap town. On our way back, we went to see Bayon for another time, because we both were in love with that particular temple. While most people love the Angkor Wat most, we were far more enchanted by the beauty of those faces, carved so beautifully.
And finally, we had to bid 'Goodbye' to Angkor and continue with our journey…
---
P.S: There are several other temples inside the Angkor Complex and to see them all, one needs to stay back for a longer period of time. But if you're there for just about 3 days like us, then this would surely be the best itinerary to follow!
If you've been to Angkor and followed a different trail, then we would love to know about that too. And for those who are planning to head off to Cambodia soon, and wish to get some advice/help from us, do let us know. We'd love to hear out from all our readers!