Vietnam – a country with 3,000 kilometers of tropical coastline, tantalizing cuisine, fascinating history, and captivating culture, is a sought-after destination for travelers across the world. Whether you're a beach lover, an art enthusiast, a passionate foodie, or an adventure seeker, Vietnam offers something extraordinary for everyone.

Personally, Vietnam holds a special place in my heart as it was the last country I visited before the global pandemic disrupted our lives. I cherished unforgettable moments in Saigon and went on to explore the charming destinations of Nha Trang and Da Lat.

In 2022, I had the privilege of returning to Vietnam, this time to explore the captivating northern region. From the vibrant city of Hanoi to cruising through the enchanting Ha Long Bay, delving into the historical wonders of the Imperial Citadel of Hue, and stepping back in time in the charming town of Hoi An, my journey was filled with awe-inspiring experiences.
In this article, I've tried to answer the frequently asked questions that might pop up on your mind, while planning a trip to Vietnam.
How to get a visa for Vietnam?
Vietnam is one of the many countries offering VOA (Visa-on-arrival) to Indian travelers. However, you'll need to apply for an Electronic Travel Authorization (eTA) online. Here are some simple steps to follow for this:
– Obtain a visa-on-arrival (VOA) approval letter. You will use this letter at the airport in Vietnam to pick up your visa.
Note: The visa-on-arrival (VOA) option is only applicable to Indian passport holders who are traveling by air to Vietnam. In case you're traveling by road (from Thailand or Cambodia), you'll need to get a pre-approved visa.
Also, it is essential to have return flight tickets to get the visa.
 How much does it cost for the visa?
The cost for visa approval for Indian passport holders is as follows:
– USD 35 (approx 2800 INR) for a one-month, single-entry or multiple-entry visa
– USD 45 (approx 3600 INR) for a three-month, single-entry visa
– USD 65 (approx 5300 INR) for a three-month, multiple-entry visa
How to travel to Vietnam from India?
To reach Vietnam from India, you can conveniently fly to two major international airports in Vietnam: Tan Son Nhat Airport in Ho Chi Minh City and Noi Bai International Airport in Hanoi. There are several airlines that offer direct flights from various cities in India, including Delhi, Mumbai, Bangalore, Hyderabad, Kolkata, Aurangabad, Goa, and Ahmedabad.

Here are some of the airlines that operate regular flights between India and Vietnam: Air India, Malaysia Airlines, VietJet Air, Thai Airways, Vistara, and Singapore Airlines.

Apart from that, you can also enter Vietnam from the neighboring countries, by road! There are regular buses from Bangkok and Phnom Penh to Ho Chi Minh City.
Note: Flights from New Delhi to Hanoi can be as cheap as 16,500 INR (for a round trip) if booked early.

What is the best time to travel to Vietnam?
I've been to Vietnam twice, once in December when I covered

Saigon

, Da Lat, and Nha Trang and it was beautiful. My second visit was in July when I covered Hanoi, Ha Long Bay, Da Nang, and Hoi An. Although it was raining and everything was lush green, the humidity was terrible.

To be honest, the best time to travel to Vietnam depends on your preferences and the specific regions you plan to visit. Vietnam has a diverse climate due to its long and narrow shape, with variations in weather patterns throughout the country. Generally, the best time to visit Vietnam is during the spring (February to April) and autumn (August to October) seasons when the weather is pleasant and relatively stable.
Here's a breakdown of the weather conditions in different regions of Vietnam during different seasons:

Northern Vietnam (Hanoi, Halong Bay, Sapa):
>Spring (February to April): Mild temperatures and low rainfall.
>Autumn (August to October): Pleasant temperatures and low rainfall.
>Winter (December to February): Cool temperatures, occasional fog, and higher chances of rainfall.
> Summer (May to July): Hot and humid with occasional heavy rainfall.

Central Vietnam (Hue, Da Nang, Hoi An):
>Spring (February to April): Pleasant temperatures and low rainfall.
>Summer (May to August): Hot and dry, with occasional showers.
>Autumn (September to November): Mild temperatures and low rainfall.
>Winter (December to January): Cooler temperatures with occasional rain.

Southern Vietnam (Ho Chi Minh City, Mekong Delta, Phu Quoc):
>Dry season (November to April): Hot temperatures with lower humidity and minimal rainfall.
>Rainy season (May to October): Higher temperatures, high humidity, and frequent rain showers, often in the form of short bursts in the afternoon.
Note: Check the weather updates while planning your trip. Exploring some places in Vietnam involves a lot of walking, so it's always better to travel when the weather is pleasant.
What language is spoken in Vietnam?
The official language of Vietnam is Vietnamese and once you land in the country, you'll see that English is not spoken by many. However, in tourist areas, English will be understood in hotels and restaurants. Tour guides in popular areas also communicate in English.
I remember when I was there, I had a tough time communicating with the cab drivers! But Google Translator was there to rescue us!
What is Vietnam's currency?
Vietnam uses Vietnamese Dong (VND) as currency and even if you're traveling from India, you'll feel quite rich using VND. To give you a better idea INR 1 = 290-300 VND depending on the exchange rate, which means INR 100 can easily get you a glass of amazing Vietnamese coffee!
I remember getting a good dinner for 2 at just 140 INR, which also included 2 glasses of wine! Sounds unbelievable, right?
Should I get a local SIM Card while in Vietnam?
Just like while traveling to any other country, you can get international roaming activated on your number for Vietnam too, But, I'd suggest against it as it'll surely end up costing you more. So, instead, reach the airport and get yourself a local Viettel SIM for about 300k VND (INR 1100) or if you can wait, you might get the same plan for cheaper in the city or at your stay. The SIM had great connectivity almost everywhere we went.
Which are the most popular festivals in Vietnam?
I believe that in order to know a country closely, two things are very important – first, trying their local cuisine and secondly, attending the local festivals.
Vietnam is a country rich in cultural festivals, providing visitors with a wonderful opportunity to experience its vibrant traditions. The Vietnamese Lunar Calendar sets the stage for numerous festivals held throughout the year.

Here's a list of the most popular festivals that are worth witnessing:
Tet Festival (Lunar New Year): Tet is the most significant and widely celebrated festival in Vietnam. It marks the beginning of the Lunar New Year and typically falls in late January or early February. Streets are adorned with colorful decorations, and vibrant dragon and lion dances can be witnessed.

Lim Festival: The Lim Festival takes place in Bac Ninh province and is dedicated to Quan Ho singing, a traditional form of Vietnamese folk music. Travelers can witness captivating performances by local singers dressed in traditional costumes.

National Day (Vietnam Independence Day):
Celebrated on September 2nd, National Day commemorates the declaration of independence from French rule in 1945. The day is marked by patriotic events, parades, fireworks, and cultural performances throughout the country.

Tet Trung Thu (Mid-autumn Festival): Also known as the Moon Festival, Tet Trung Thu celebrates the harvest season and is particularly popular among children. Colorful lanterns are lit, lion and dragon dances are performed, and mooncakes (a traditional pastry) are shared.

Perfume Pagoda Festival: This religious festival takes place at the Perfume Pagoda, a complex of Buddhist temples in Hanoi. Pilgrims visit the pagoda, located in a scenic area surrounded by mountains and caves, to pray for blessings and make offerings.

Cau Ngu Festival: Celebrated in coastal fishing communities, the Cau Ngu Festival is dedicated to the Sea God. Fishermen pray for a prosperous fishing season, safe voyages, and a bountiful catch.

Nui Ba Festival: Held at the Ba Den Mountain in Tay Ninh province, this festival is a blend of religious and cultural traditions. Pilgrims climb the mountain to visit temples, pray for good fortune, and take part in vibrant ceremonies and performances.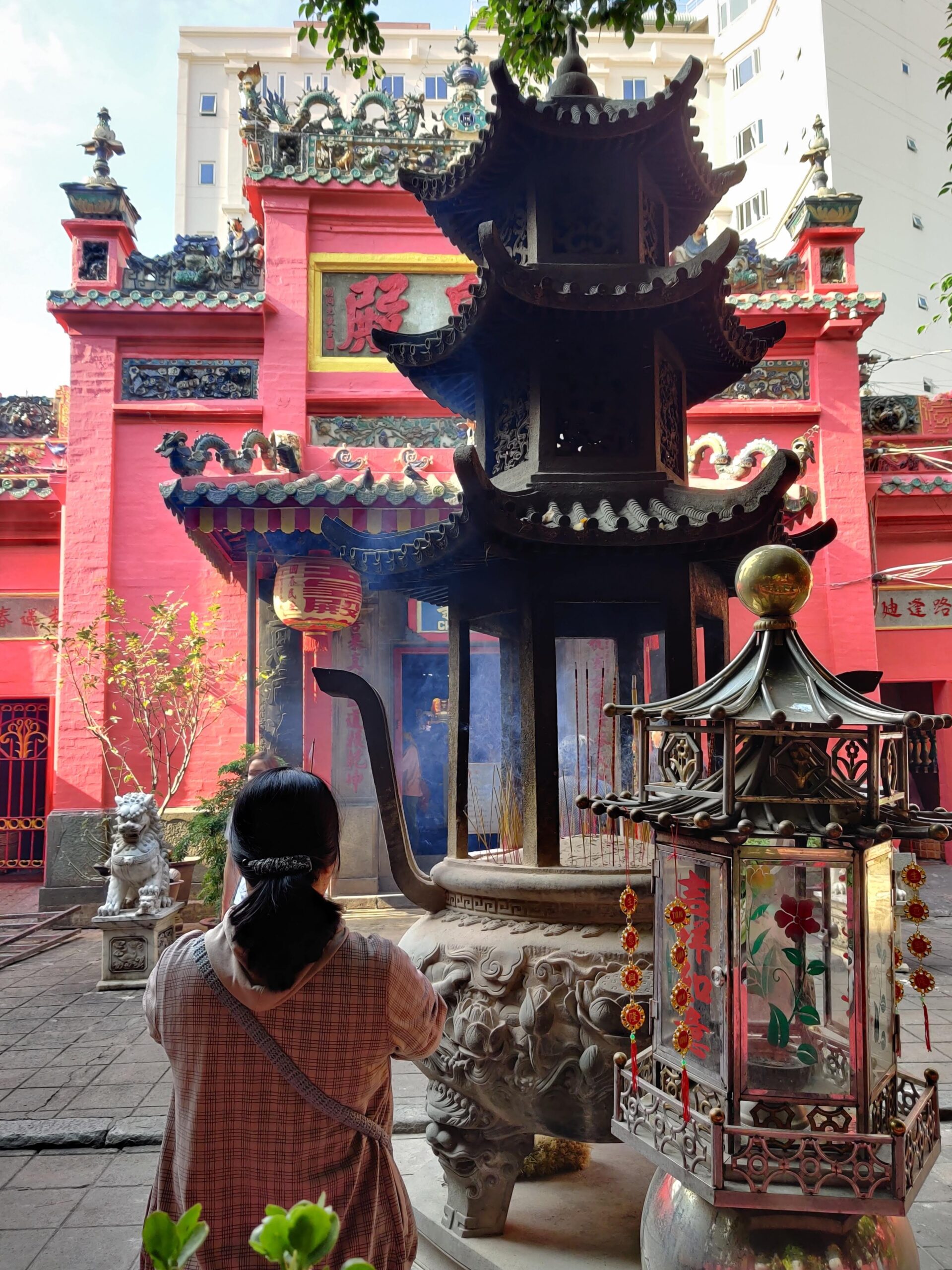 What to eat when in Vietnam?
If you're a non-vegetarian, you'll be in for a treat here! When it comes to Vietnamese cuisine, there is a plethora of delectable dishes to explore and savor. From flavorful street food to hearty traditional meals, here is a detailed account of what to eat in Vietnam:

Pho: Pho is Vietnam's iconic noodle soup, made with rice noodles, savory broth, and tender slices of beef or chicken. It is typically garnished with fresh herbs, bean sprouts, lime, and chili for added zing. Pho is a must-try dish that epitomizes Vietnamese cuisine.
Banh Mi: Banh Mi is a delicious Vietnamese sandwich with French influences. It features a crispy baguette filled with a variety of ingredients, such as grilled meats (pork, chicken, or beef), pâté, pickled vegetables, cilantro, and chili sauce. It's a delightful combination of flavors and textures.

Bun Cha: This Hanoi specialty consists of grilled pork patties and sliced pork belly served with vermicelli noodles, fresh herbs, lettuce, and a dipping sauce. The smoky and savory flavors of the grilled meat paired with the freshness of herbs make it a mouthwatering dish.
Cao Lau: Originating from Hoi An, Cao Lau is a unique noodle dish made with thick, chewy rice noodles, tender slices of pork, crispy pork rinds, bean sprouts, and fresh herbs. It's topped with a flavorful broth and often garnished with lime and chili.

Banh Xeo: Banh Xeo is a savory Vietnamese pancake filled with a combination of shrimp, pork, bean sprouts, and green onions. The pancake is crispy, and it's typically wrapped in lettuce or rice paper along with herbs and dipped in a tangy sauce.

Goi Cuon: Also known as Vietnamese spring rolls or fresh rolls, Goi Cuon is a refreshing dish made with rice paper wrappers filled with fresh herbs, vermicelli noodles, shrimp, pork, or tofu. It's often served with a peanut dipping sauce, adding a delightful nutty flavor.
Com Tam: Com Tam, or broken rice, is a popular dish in Southern Vietnam. It features a plate of fragrant broken rice accompanied by grilled pork, a fried egg, pickled vegetables, and fish sauce. It's a satisfying and flavorful meal.

Mi Quang: Originating from Central Vietnam, Mi Quang is a vibrant noodle dish comprising rice noodles, turmeric-infused broth, shrimp, pork, herbs, peanuts, and crispy rice crackers. The combination of flavors and textures makes it a unique and tasty dish.

Ca Kho To: Ca Kho To is a caramelized fish dish simmered in a clay pot with a savory and slightly sweet sauce. The fish is cooked until tender and served with steamed rice, making it a comforting and flavorsome meal.

Che: To satisfy your sweet tooth, try Che, a traditional Vietnamese dessert. Che encompasses a variety of sweet soups and puddings made with ingredients like mung beans, lotus seeds, coconut milk, agar jelly, and tropical fruits. It's a delightful way to end a meal.
In addition to these dishes, Vietnam offers a wide range of street food, seafood delicacies, grilled meats, and regional specialties. Don't miss trying Vietnamese iced coffee (ca phe sua da) and enjoying the vibrant street food scene found in bustling markets and alleys.
Which are the best places to explore in Vietnam?
Like I said earlier, one trip to Vietnam can never be enough (unless you're planning to stay there for a month!). While I covered parts of Southern Vietnam during my first trip, and a bit of North & Central on my second, here's a comprehensive list of places that you can consider while planning your trip:
Hanoi: Immerse yourself in the bustling capital city with its rich history, charming Old Quarter, and iconic landmarks like Hoan Kiem Lake and the Temple of Literature. Don't miss trying the local street food and exploring the vibrant night markets.
Halong Bay: Cruise through the breathtaking limestone karsts and emerald waters of Halong Bay, a UNESCO World Heritage site. Explore hidden caves, enjoy kayaking, and witness stunning sunsets over the bay.
Sapa: Trek through the stunning terraced rice fields of Sapa, located in the highlands. Discover the unique cultures of local ethnic minority groups and witness the mesmerizing beauty of the mountainous landscape.
Cat Ba Island: Explore the captivating beauty of Cat Ba Island, the largest island in Halong Bay. Relax on its beaches, hike through dense forests in Cat Ba National Park, and soak up the picturesque scenery.
Hoi An: Step into a charming ancient town with its well-preserved architecture, lantern-lit streets, and vibrant riverside. Explore the colorful markets, visit ancient temples, and indulge in local specialties like Cao Lau noodles and Banh Mi.
Hue: Dive into Vietnam's imperial history by visiting Hue's ancient citadel, royal tombs, and pagodas. Take a boat ride along the Perfume River and explore the local cuisine known for its delicate flavors.
Da Nang: Enjoy the beautiful beaches of Da Nang and visit iconic attractions like the Marble Mountains and the famous Dragon Bridge. Experience the modern side of Vietnam while enjoying vibrant nightlife and delicious seafood.
Nha Trang: Relax on the stunning beaches of Nha Trang, known for its pristine waters and vibrant coral reefs. Engage in water sports, explore nearby islands, and treat yourself to rejuvenating spa experiences.
Ninh Binh: Discover the breathtaking landscapes of Ninh Binh, often referred to as "Halong Bay on land." Cruise along the picturesque Tam Coc or Trang An River, surrounded by dramatic limestone karsts and lush greenery.
Ho Chi Minh City: Dive into the energetic vibe of the largest city in Vietnam. Explore historical sites like the Reunification Palace and the War Remnants Museum, shop at bustling markets, and savor the diverse street food scene.
Mekong Delta: Embark on a scenic boat trip through the Mekong Delta's intricate network of rivers and canals. Discover floating markets, lush fruit orchards, and traditional villages while immersing yourself in the laid-back countryside.
Phu Quoc Island: Unwind on the stunning beaches of Phu Quoc Island, known for its crystal-clear waters and coral reefs. Indulge in fresh seafood, explore national parks, and enjoy water activities such as snorkeling and diving.
Da Lat: Experience the charming highland city of

Da Lat

, known for its temperate climate and picturesque landscapes. Visit flower gardens, explore French colonial architecture, and enjoy activities like canyoning and trekking. I was in Da Lat for just 48 hours, and had the time of my life!
Each region of Vietnam offers a unique experience, from cultural immersion in the north to the ancient charm of central Vietnam and the vibrant city life in the south.
How to travel within Vietnam?
Traveling in Vietnam is made easy by its well-connected network of roads, railways, and airways. While flying may not always be an option for every destination, reliable trains and buses offer comfortable alternatives, particularly for budget-conscious travelers exploring Vietnam's tourism.

Buses and trains provide a smooth and comfortable journey, whether it's a short three-hour ride or a longer 35-hour trip. Many buses in Vietnam offer amenities such as sleeper seats, washrooms, and free Wi-Fi, ensuring a pleasant travel experience. Air travel within the country is also reasonably priced, especially when booking tickets in advance, but be aware of luggage restrictions that may apply.

In larger cities, taxis are a popular mode of transport for tourists exploring Vietnam. You have the flexibility to hire a taxi for the entire duration of your trip or opt for shorter rides as needed. Services like Uber and Grab taxis are preferred options as they use meters to calculate fares, ensuring fair pricing for travelers.
To put it in the words of Lonely Planet: "A land of staggering natural beauty and cultural complexities, of dynamic megacities and hill-tribe villages, Vietnam is unforgettably compelling." Well, after two trips to this country, I can't agree more with this!
Given a choice, I will happily teleport myself to Hoi An and sit at a café in the Ancient Town, sipping on a cup of coffee, while reading a book. That's my ideal life, I guess!