Back in the time, when the French ruled Vietnam, this place used to be their favorite getaway, especially during the summer! Every time, when they wished to ditch the tropical weather and feel the cool breeze, they'd travel to Da Lat, which often reminded them of France! Not surprising enough, it was even called 'Le Petit Paris'.
The colonial rulers left behind their holiday homes and a European resort vibe, which over time got a Vietnamese touch, becoming the 'honeymoon capital' for the countrymen!
Popularly known as 'The City of Eternal Spring', we were a bit in awe to know that Da Lat was listed among Asia's underrated & overlooked destinations by CNN in 2017. After all, a postcard-perfect city like this one, with gorgeous lakes, blooming flower gardens, lush forests, breathtaking waterfalls, and quaint cafes deserves to be explored.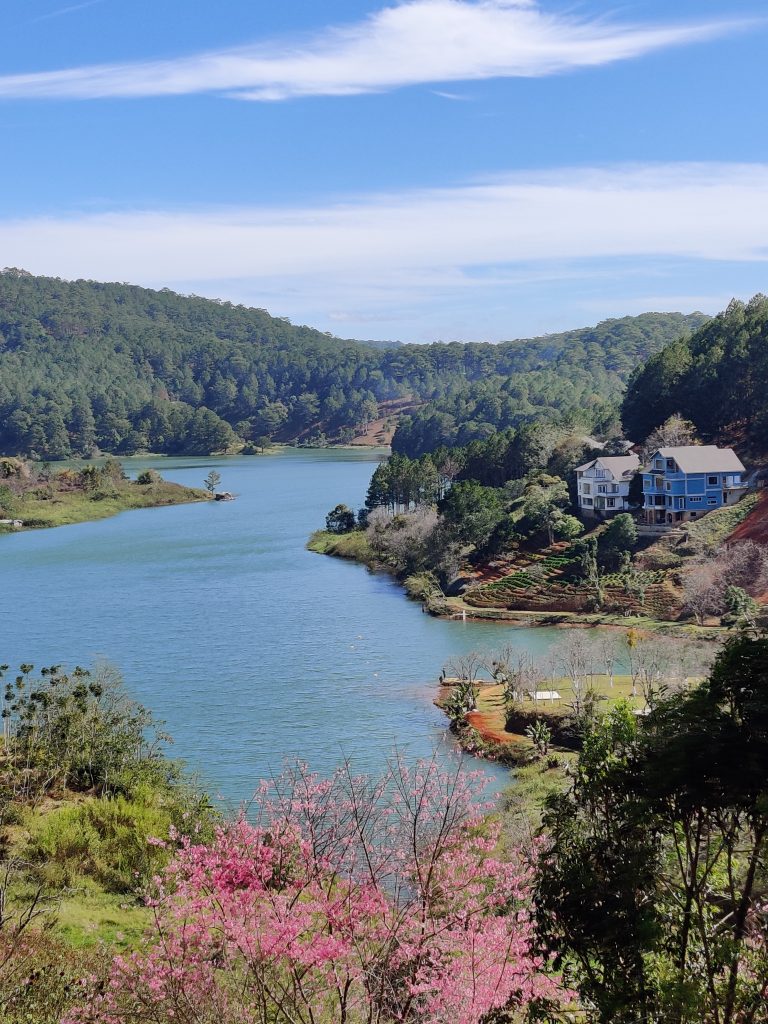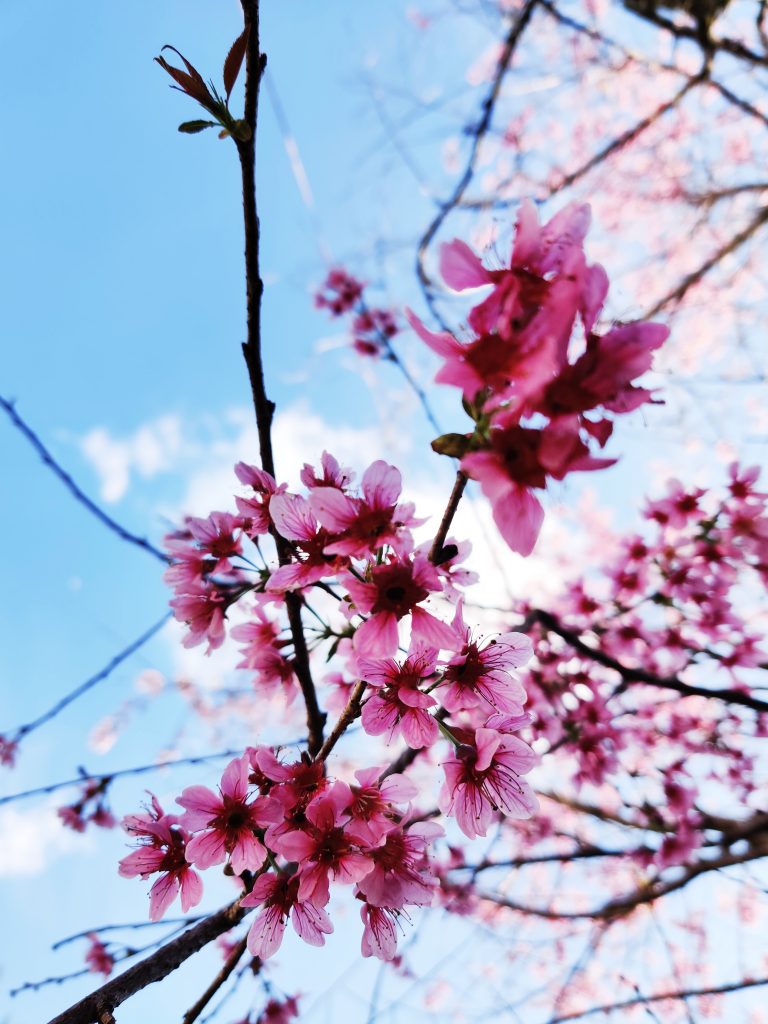 Where is Da Lat located & how to reach there?
Located at an altitude of 4,900 ft above sea level, on the Lang Bian Plateau in the southern parts of the Central Highlands of Vietnam, Da Lat is the capital of Lâm Đồng Province. The city's temperate weather stands in contrast to Vietnam's otherwise tropical climate.
We traveled to Da Lat from the beach town of Nha Trang, by bus. It took us 3 hours to cover a distance of 135 KM (approx). The bus service in Vietnam is incredible, there are quite a few buses that go from Nha Trang to Da Lat, and costs about 8 USD per person. One can also take a taxi from Nha Trang, but that would surely cost a lot more!
Reaching Da Lat: In case you're traveling from Hanoi or Ho Chi Minh City, you can also take a flight to Da Lat (Lien Khuong International Airport, located at a distance of about 28 KM from the city).
As the bus drove into the city crossing the topsy-turvy lanes, we experienced the most beautiful welcome. Every corner of the city was blooming in the month of January and it felt like someone had poured all the colors over the valley! It felt like a treat for our eyes!
Best Things To Do In Da Lat, In Just 48 Hours!
There was a strange serenity & tranquility that prevailed, and it felt like time has been put in a pause! Having just 48 hours to explore Da Lat, we tried to see as much of the city as we could. Here are the best things that we managed to do in those couple of days!
Day 1
Stay at The Train Villa
Getting down from the bus, we headed straight to our accommodation – The Train Villa! Close to the Da Lat Railway Station, this unique stay has a large garden with a 1910 French train car, which has been renovated into a cafe. The villas are beautifully restored masterpieces of French colonial-era architecture, and it's definitely a great place to spend a couple of nights.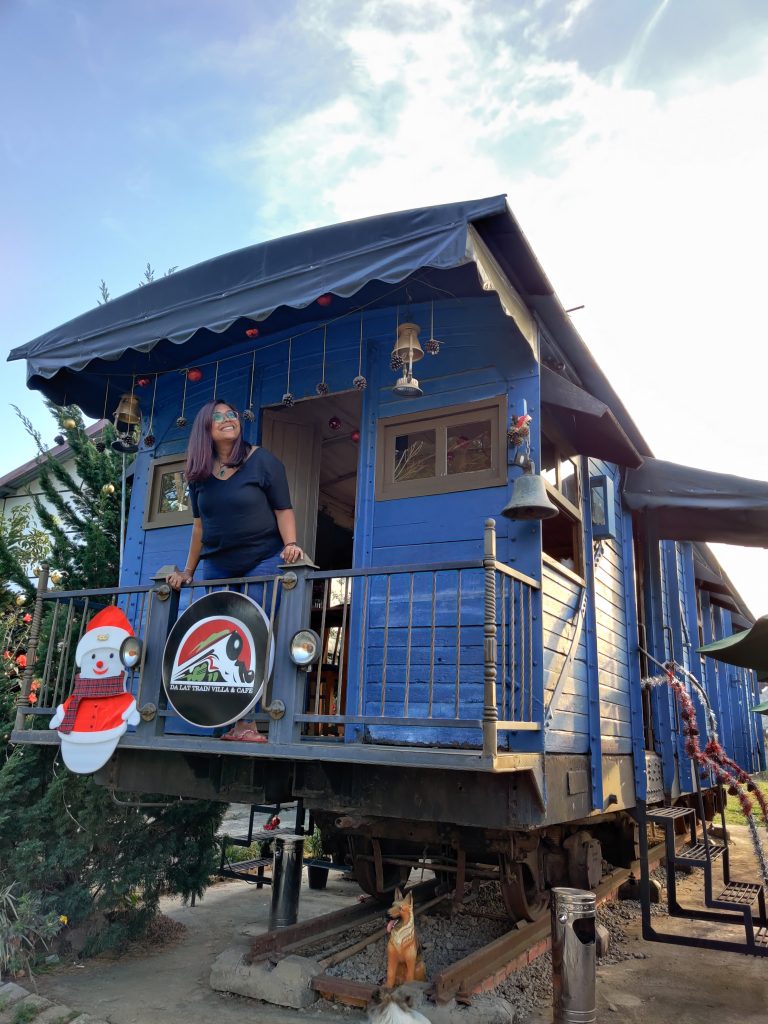 Adore the beauty of Linh Phuoc Pagoda
While the tiny town of Da Lat is beautiful beyond words, it has some gorgeous pagodas to add on to its beauty! Linh Phuoc Pagoda is one such place, which is locally popular as 'The Pagoda of Broken Glass' due to the 49-meter-long dragon's head at the entrance gate, which was meticulously pieced together from 12,000 glass bottles. Every corner of this place has colors oozing out, as the sun rays reflected on these tiny glass pieces. Situated at a distance of almost 8 KM from the main city of Da Lat, this marvelous pagoda is surely an example of Vietnamese craftsmanship.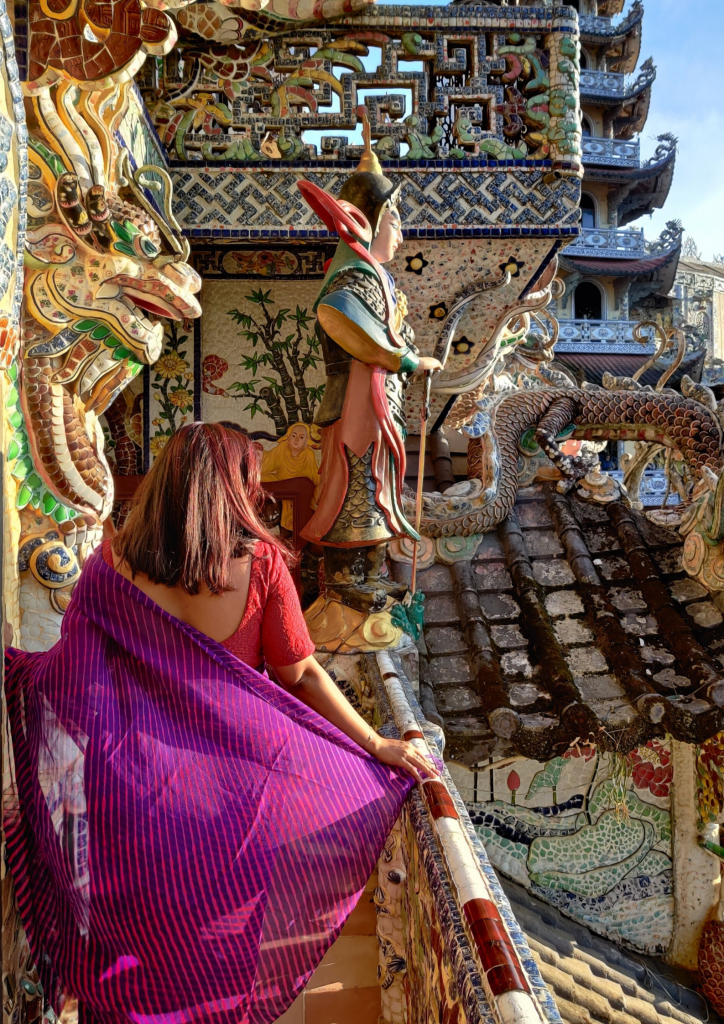 The best part is that there's no entry fee and we actually ended up spending more than a couple of hours here, walking through the colorful corridors and soaking in the sunshine!
Visit Da Lat Cathedral
The number of pagodas in Da Lat surely emphasizes the impact of Buddhism in the region, but that doesn't really blur the contributions of the colonial masters! Needless to say, St. Nicholas Cathedral is one of the most famous and oldest architectural works which the French had left in this romantic city.
Located in a beautiful location with its incredibly poetic scenery, the Cathedral is a sacred place for penancing and praying, not just among the locals but for travelers across the world. Built by the French in 1931-1932 in an eclectic style Romanesque, people say that the interiors have been beautifully done with colorful glasswork. But we weren't lucky enough to get a glimpse of it, since the church was closed on that particular day!
Peep into the Crazy House
At a first glance, it'd look like something straight out of the pages of a fairy tale book! Well, when we read about the story of the Crazy House before going there, we also couldn't believe that it's gonna be something so unreal. This extravagant, quintessentially cosmic & unconventional building was designed and constructed by Vietnamese architect Đặng Việt Nga, which has also been listed as one of the world's ten most "bizarre" buildings! Since its opening in 1990, the building has gained recognition for its unique architecture and it also serves as a guesthouse (yeah, you can actually book a room here and stay!).
Walking out of here, we were absolutely stunned! Our first day in Da Lat went by the wink of an eye as we explored three absolutely different kinds of architectural examples.
It was time for dinner – and just opposite to the Crazy House is this amazing restaurant called Le Chalet! Being extremely hungry, we couldn't really wait to binge on some delicious food after so much of walking throughout the day.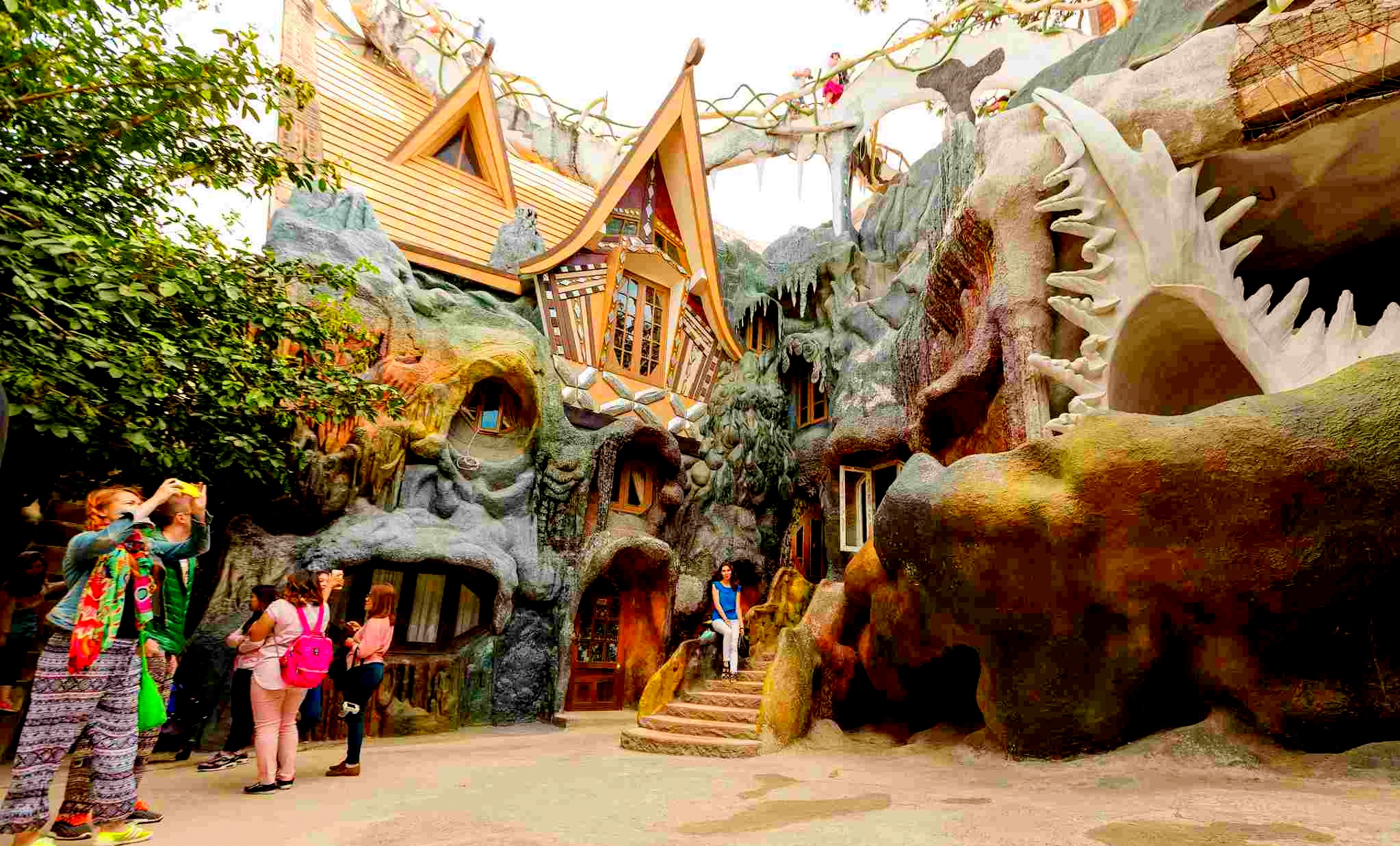 Eat at Le Chalet Cafe & Bistro
With an interesting menu combining the best of Vietnamese cuisine with a touch of European taste, this place is definitely one of the most popular eateries among the young crowd of Da Lat, as well as travelers.
There's an outdoor garden sitting arrangement which is ideal for brunch, we chose to sit inside which was equally elegant and rustic. To say the least, the food was absolutely delicious and we fell in love with their cold coffee (with icecream & Bailey's) 🙂
There were some happy faces serving at this cafe, which made the entire dining experience even more beautiful. The lady attending us was pretty chatty, telling us how much she loved Bollywood movies and seemed to be in love with my saree, she gave us a discount on the bill!
Da Lat was too good to us, offering the best experiences, and heading back to our stay, we both agreed that we couldn't have asked for more! 
Day 2
Head off to Tuyen Lam Lake
We started early that day, 'coz we had quite a few places to visit. Booking a cab, we headed off to Tuyen Lam lake, which is also popularly known as the Paradise Lake. Well, it indeed felt like we were close to paradise! Surrounded by hills and forests, this place was so enchanting that for a moment, we felt as if we were in some European countryside. There's a provision for boating as well, but we chose not to go for it. Rather, we were happy to soak in the silence and clicked till our heart's content.
Taking a walk around the lake and absorbing the freshness that lingered here, we stopped at a lakeside cafe for some weasel coffee, which Da Lat is also famous for! Then, it was time to set out for the next stop.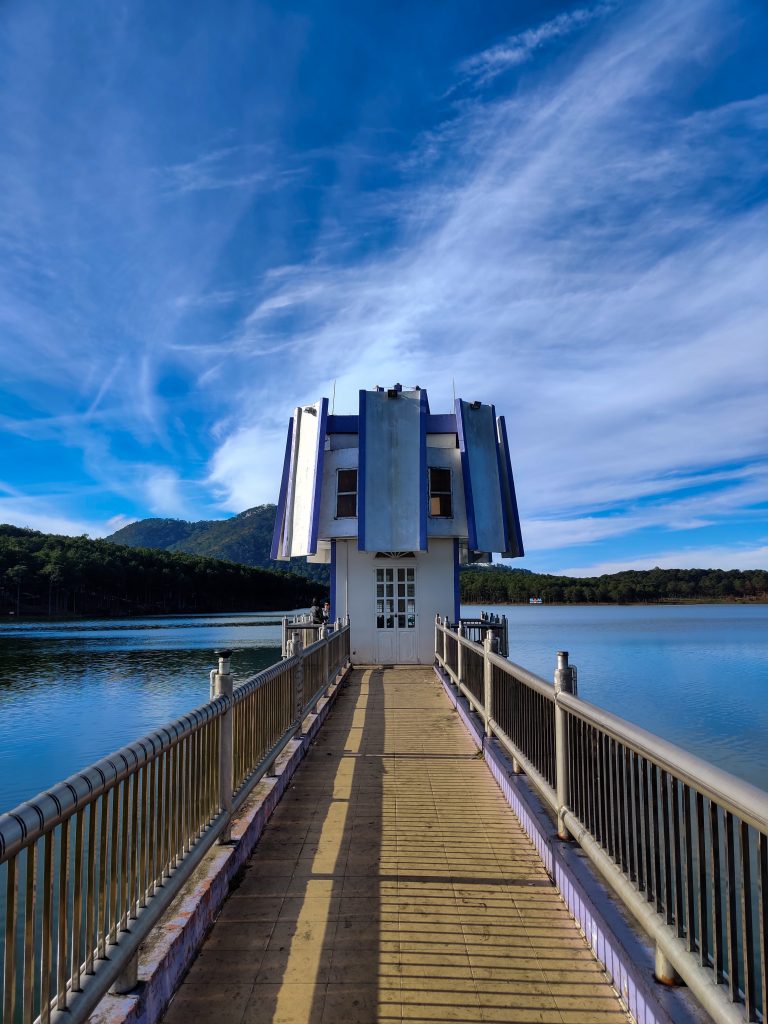 Enjoy a ride in the Alpine Coaster at Datanla Falls
At a distance of about 4 KM from the Tuyen Lam Lake, amidst the lush pine forests is this hidden waterfall, known as Datanla Falls. While one can choose to hike through the jungle trails, we opted to ride the mini roller coaster that took us straight to the falls from the entrance area! To be honest, it's not much like a traditional coaster but rather a control-your-own-speed alpine coaster that zips you down the hill for an exhilarating ride. It was a fun ride, for sure.
They also have waterfall canyoning & rappelling options, but since we weren't carrying extra clothes, we couldn't go for it! There's a nice little cafe right next to the falls, where we grabbed some quick snack before getting back on the coaster ride to the top.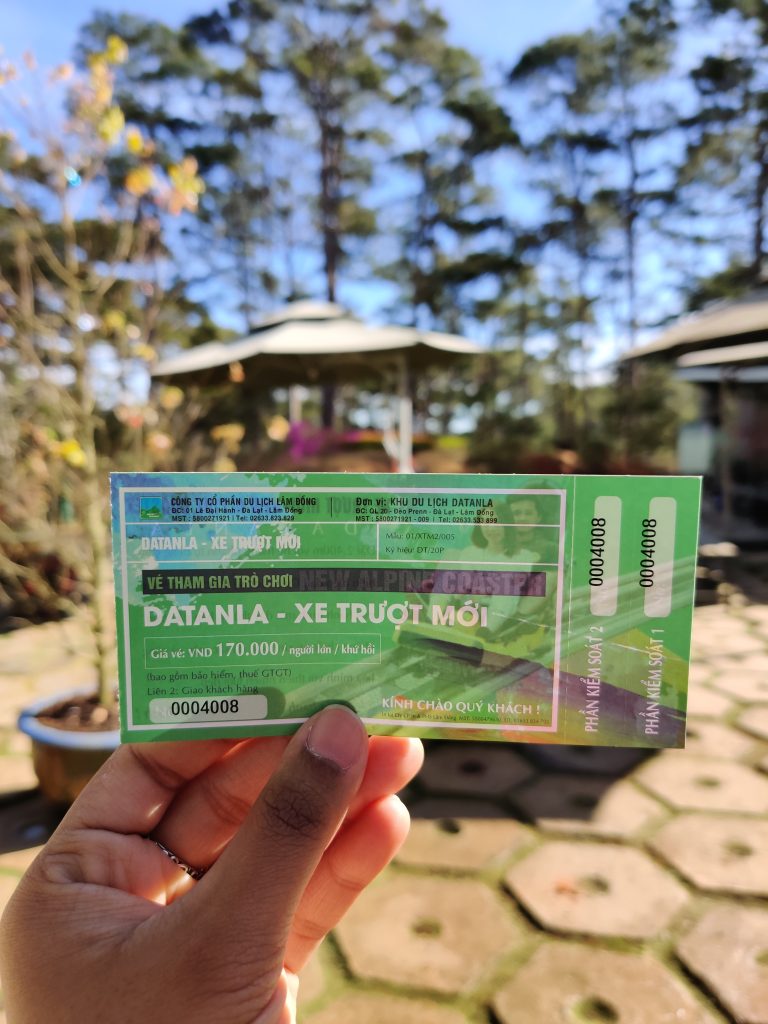 Exploring the Clay Tunnels
Getting off the cab, we saw that there was a queue at the ticket counter – something quite unlikely, as we didn't see enough crowd in Da Lat, until then! Soon, we figured out that this was one of the most Instagrammable places in Da Lat, and people were actually waiting for their turns to get clicked. There were kids everywhere, running around and posing with the oversized scooters and animals!
This unique sculpture park has taken the use of clay to a whole new level, and everything here has been made from basalt and dark clay found in the Central Highlands of Vietnam. Every little thing about Da Lat has been beautifully recreated here, from the Railway Station to the Cathedral.
After hopping around places where we barely found tourists, the hustle & bustle at the Clay Tunnels convinced us that people do come to Da Lat – if for nothing else, just to get some good photographs! Created by Vietnamese sculptor Trinh Thai Dung, this fairyland of wonderful artwork overlooking the Tuyen Lam Lake would surely boost the tourism of Da Lat, in the coming years.
Take a Cable Car to the Trúc Lâm Phụng Hoàng Zen Monastery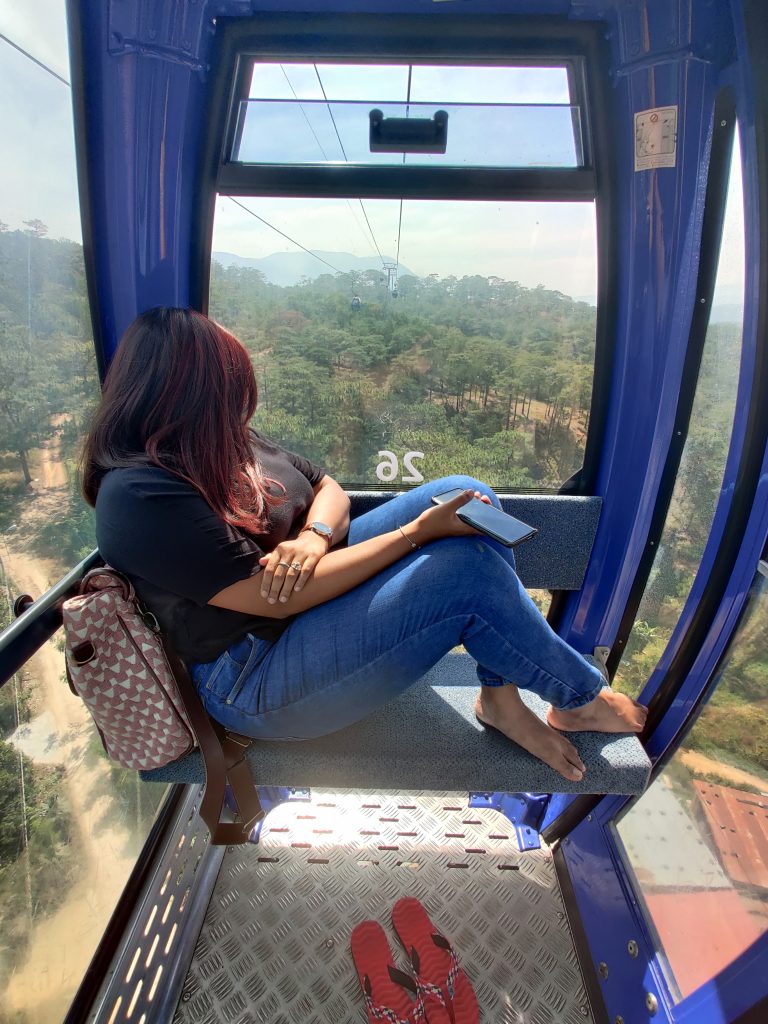 Our next destination was the Truc Lam Temple, located on Phượng Hoàng Hill, on the outskirts. While there's a scenic road going up to the temple entrance, we chose to take the cable car which promised to offer a bird's eye view of the entire Da Lat city, soaring over majestic pine forests before dropping us at Truc Lam.
This Zen Monastery was built in 1994 and serves as a residence for monks & nuns. The entire complex features traditional Asian architecture, with gorgeous Zen gardens that were blooming with flowers, birds fluttering here & there, and people, meditating to seek inner peace.
Binge on fresh fruits at the Night Market
We had our bus from Da Lat to Saigon late in the evening, so we thought to visit the Night Market (which starts by 5 PM) before leaving. The market located right in Da Lat city center, just a five-minute walk from Xuan Huong Lake, attracts locals & travelers alike – some for the food, some for the atmosphere, and some were there to perform or to watch the street performers.
It wasn't as bustling as the night market of Saigon, but had its own charm! There were quite a few stalls selling traditional rice noodles, banh mi, grilled meat, and skewers but we were absolutely delighted to see the fresh strawberries, pineapples, raspberries, raw mangoes, sweet potatoes, etc. Grabbing a glass of strawberries, we kept strolling around. Our eyes were dazzled to see the shops selling flowers and potted plants, but we had to hold on to the excitement for buying anything!
We weren't really ready to bid 'Goodbye' to Da Lat, but it was time for us to head back to Saigon. Going back to the Train Villa, we picked up our luggage and reached the bus stop right on time, boarded the bus, made ourselves comfortable after a long day's adventures and kept thinking about the pagodas & zen gardens, the lakes & waterfalls, the flowers & the warm smiling faces on the roads. Finally, we decided that we're coming back here, sooner or later!