In 2007, 1010 bikini-clad models gathered on Bondi Beach to set a Guinness World Record for the largest swimsuit photoshoot. Oh yeah, that's definitely a fun-fact worth knowing – but not really the reason why Bondi Beach in Sydney is so popular – not just for the travelers, but among the locals as well!
With over 2.5 million visitors each year, Bondi Beach is a mecca for tourists from all across the world. An Aussie friend told me that it has been featured on nearly everything about Australia – from postcards & books to TV shows and tourism ads. It is, indeed, rare for someone to visit Sydney, and not visit Bondi Beach. And if you're there on Instagram, you must have seen several photographs of the beach wondering what is so special about it?
Why is Bondi Beach so popular? Well, I too had the same question in mind, until I was there…
The vast stretches of white sand, the turquoise water crashing on the rocks and the warm temperature combine to make the experience at Bondi Beach like no other. From its world-class restaurants, closer proximity to the Sydney CBD, relatively safe swimming & surfing conditions, and 1km long beach strip – Bondi has rightly earned its reputation as one of Australia's top beaches.
Reason 1: It feels like there's a party happening on the beach and anyone could just drop in!
At around 11'O clock in the morning, there were thousands of people on the beach, soaking in the sun with their picnic baskets, drinking beer, and enjoying the views. There were folks skating on the graffiti-laden alleys surrounding the beach, or trying to conquer the waves while surfing. Bondi is the home to the oldest surf lifesaving club in the world, and people were fearlessly embracing the waves, out in the open waters – guess that's why it's more like a Surfer's Paradise!
[Note: Whether you're a beginner or even an intermediate, you can easily take surfing lessons on Bondi Beach. Most lessons start at around $79, and in many situations, the surfboard that you will be using is included in the lesson.]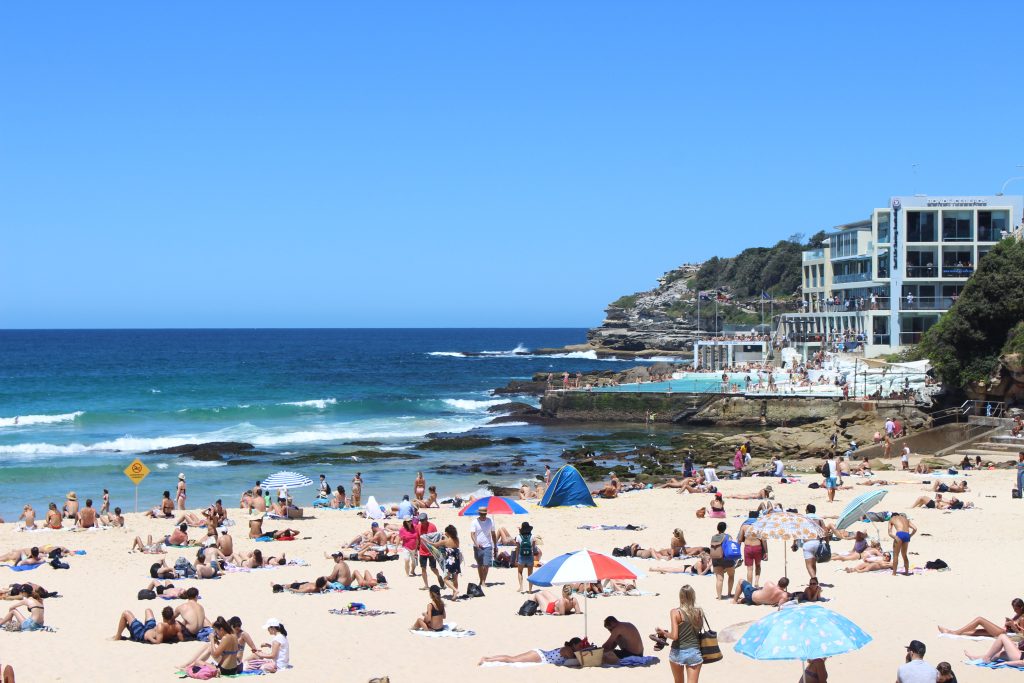 Reason 2: Bondi is a place where one can experience the most stunning views of the ocean!
Let's not argue on that, but Sydney's most famous walk begins at Bondi, for sure! If you're up for exploring the coastlines, you can climb the stairs behind the Bondi Icebergs and follow the trail along the clifftops above Bondi, Tamarama, ending up in Bronte – and it felt like I could never get bored of the views! Some of the folks I met there said that one can even be lucky enough to spot some whales, around dawn or dusk. (However, I was there during the day, and didn't get to spot any!)
This walkway becomes the setting for Bondi's annual Sculpture By the Sea during October and November, welcoming more than one hundred local and international sculptors.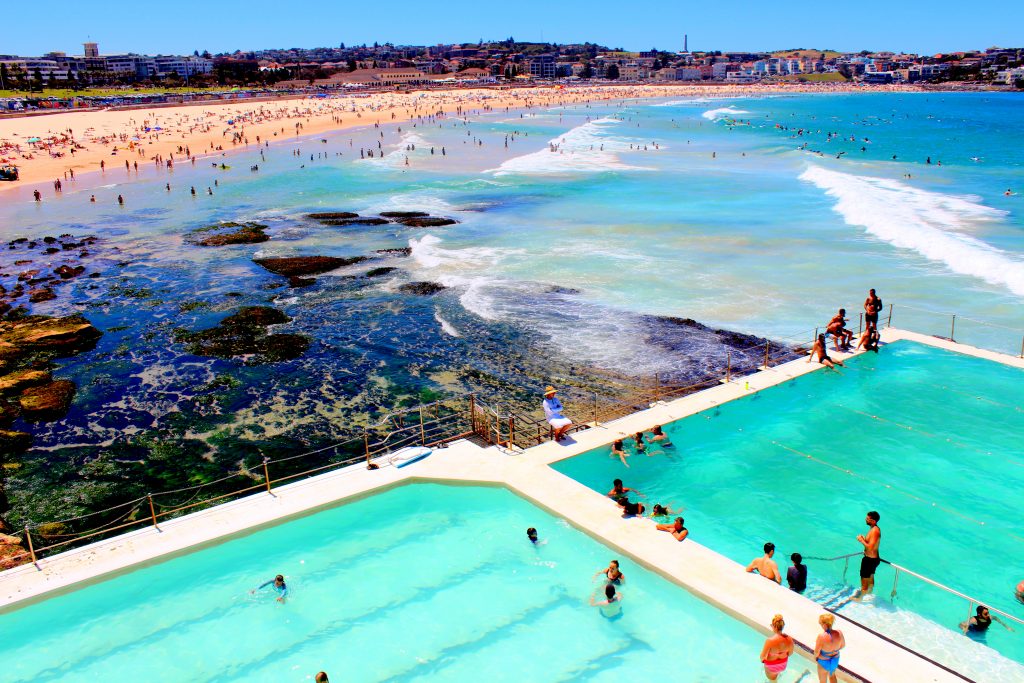 Reason 3: Talking about the Bondi Icebergs, they're definitely the most breathtaking swimming pools you'll ever come across!
Opened up in 1929, Bondi Icebergs has been an Aussie landmark since forever. However, now it has become 'one of the most Instagrammable places in Sydney', and people can't stop drooling over these gorgeous pools located at the southern end of Bondi Beach and adjacent to the Pacific Ocean.
There are two gorgeous swimming pools – one is an Olympic sized and the other is a children's pool. Both are filled by the ocean and the reason for the 'Iceberg' name is because, despite many presuming Australia never really gets extremely cold, during the winter months (May until September), the saltwater really is certifiably chill-inducing!
I had seen Bondi Icebergs all over Instagram, and couldn't resist myself from taking a dip in the soothing blue waters of the pool with waves crashing over the sides.
[Note: There's an entry fee – AUD 7 for adults and AUD 5 for children to enter and this gives you access to the Bondi Icebergs pool and the sauna.]
Reason 4: The food scene around the beach is too good to be true!
Whether you're looking for a quick coffee, a cocktail in the sunshine, or a quickie lunch—Bondi has got you covered.
Ask a foodie like me, and I'm never gonna disappoint you when it comes to suggesting the best places to eat. When you visit Bondi Beach, I assume that you plan to stay there for quite some time (at least I would definitely suggest to do that!) you will have an opportunity to choose what you wanna eat, from Australian steaks, Mexican, French, American burgers, and seafood galore. Regardless of the meal that you are looking to enjoy, you will be able to find a location to eat with a beautiful view of the ocean.
If you are looking for a delightful dessert, Gelato Messina is a great place to try some exciting flavors of gelato to give you relief from the heat. There are more than 40 different varieties, and each one is made from scratch every day. and in case you're looking for a comfortable place to enjoy your gelato, on the northern end of the beach, there's an area known as the grassy knoll, which is a small hill that many people use to simply relax and enjoy looking down at the ocean.
Reason 5: Bondi Beach Sea Wall adds an extra dose of magic!
I'm a lover of street art, and it surely gives me an innate pleasure to see how beautifully people paint their hearts out on the walls. The Bondi Beach Sea Wall made me fall in love and I got to know that it has been there since the late 1970s, featuring a mix of street and contemporary art with strong social and political messages throughout the decades. Over the years, the Bondi Beach Sea Wall has hosted the work of some of the best know street artists across the globe. Featured artworks have ranged from collages, stencils, pop art, text works, love notes, and memorial portraits. The interesting thing is that they keep changing the murals, every 6 months (and applications of artists pour in from across the world).
There are two murals that have been endorsed by Waverley Council for long-term preservation, one is "The Girl with a Frangipani in Her Hair" (dedicated to a local girl, Chloe Byron, who lost her life in the 2002 Bali bombing) and the other, an Anzac commemorative mural.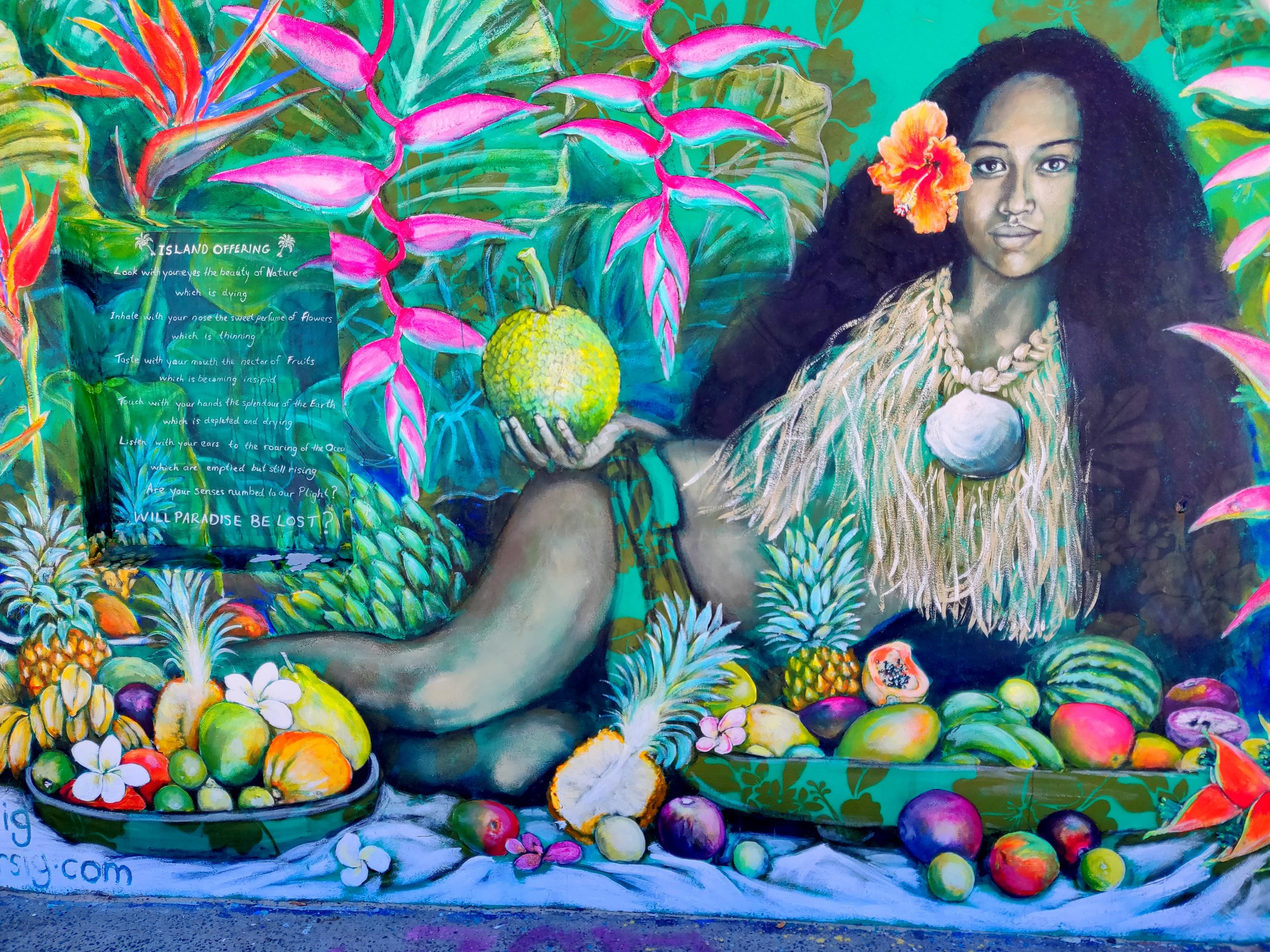 And now you know why Bondi Beach is so popular 🙂 Located at a distance of just 7 kilometers from Sydney CBD, there's no doubt why this is one of the most visited tourist attractions in the continent & also a part of Australia's National Heritage List!
Quick Fact: The History of the Name – "Bondi" comes from the Aboriginal word that means "noise of water breaking over rocks."
If you have the chance, take the opportunity and travel to Bondi Beach – you won't be disappointed, for sure! And in case you've already been here & soaked in the sun-kissed vibes, tell us what you loved the most about this place.
[You can check out Visit Bondi Beach Official Website to know more about the festivals/ events happening around the year!]