I still remember my first Airbnb experience, which was in Dhanaulti, Uttarakhand. I was initially planning to travel to Mussorie with three of my friends during the Independence Day weekend but figured out that it would be overcrowded and the hotels had already put a surcharge. While looking up other places where we could make a narrow escape within our budget, we found this beautiful property in AirBnb called 'Zero Stay'. We kinda fell in love with the photos while swiping through the gallery and without much research, we booked the place.
My friends gladly agreed to the proposal and that was how we ended up experiencing our first Airbnb stay!
Our host guided us on how to reach the place, and he waited for us at the main road since the property was a little off-the-road with a trek of approx 1.2 KM which took approx 20 minutes. Away from the hustle & bustle, it was the perfect getaway we were looking for. We were provided with a duplex hut, which had an attached bathroom and four beds. Outside the eco-home, they had their own farm growing potatoes, carrots, cabbages, and what not! In fact, lunch and dinner comprised of all the freshly grown veggies. Manish, the owner of the eco-stay, treated us with warmth, told us about the place and what all we can explore. Soaking in the local vibes and gorging on delicious organic meals, we did have an amazing weekend!
To be honest, all our first experiences matter and they somehow shape our future decisions! I understand that there are people who like to stay in hotels and for some, choosing an AirBnb accommodation & staying at 'someone else's place' (or 'at a stranger's home') is still an uncomfortable option.
Here are the reasons why I would always choose an AirBnb over a hotel while traveling!
Getting To Know The Place While Being With A Local.
Let's be honest, how often do we actually walk up to the hotel staff, asking them for recommendations about exploring the place? Not many to remember, for sure! Well, this surely is one of the best things that I love about AirBnb accommodations – the hospitality of the hosts! They often became an integral part of our journeys, leading us to experiences that we otherwise would have possibly missed. Over the years, I've met some great hosts like Phalla in Siem Reap (Cambodia), Janet in Nairobi (Kenya), and Huệ in Nha Trang (Vietnam).
I still remember how Phalla coordinated with me about the flight timings and had sent Sunly to the airport to pick us up. I had just 3 days in Siem Reap, but thanks to these two amazing gentlemen, I got to know the city more closely.
Note: If you're traveling to Siem Reap, you can choose to stay at Phalla's home, which is very close to the Night Market & Pub Street. It's a beautiful house with clean rooms and a small pool where you can swim at any time of the day! Moreover, he offers you airport pick up and also guides you about exploring the Angkor temple complex.
Experiencing A 'Home Away From Home' Kinda Feeling!
If you choose to stay in a hotel, you can always call up for a cup of tea; they'd come to clean the room on a daily basis, so on and so forth. But in the AirBnb, you'd have the freedom of doing things your way. I usually like to make a cup of coffee for myself in the wee hours while my friend loves to have his black tea, without sugar. It gives us that simple joy of doing things by ourselves, even while we're traveling. Sometimes we just leave our things here and there, coming back to a mess after a day's explorations – and that's how we like it. It gives a strange feeling of comfort – of living the way we want to, even when we're away from the regular chores of life.
Airbnb is someone's home, and by default, this means that we'd somehow get to feel the warmth that would be missing when in a hotel. This makes me remember my days in Nairobi while staying at Janet's house. She made me feel so comfortable – knocked every now and then, to check if I was getting hot water or if I'd had my dinner. She even helped me to book a game drive at the Nairobi National Park, using her contacts. Somehow, she made me feel as if I've known her for years and I'm still in touch with her through WhatsApp 🙂
Note: In case you're traveling to Nairobi, you can choose to stay at Janet's house, which is located in Southlands. Her place is very close to Nairobi National Park, David Sheldrick Elephant Orphanage & the Giraffe Center.
More Pocket-Friendly, Especially During Longer Trips.
Most of the time, we are backpacking for a minimum of 10 days (often it ends up to a month!) and thus, we need to keep track of our expenditures. Airbnb accommodations are usually pocket-friendly when compared to a hotel and often, they provide better amenities. We prefer to stay closer to the local markets, downtowns, or areas of attraction in a particular city where the prices of hotel rooms are sky-high! During our recent trip to Vietnam, we were staying at Huệ's home in Nha Trang which was right opposite the beach and offered us a delightful stay. There was a taxi stand near the apartment, some great restaurants, ATMs (to withdraw cash), departmental stores, etc. To say the least, her place was super affordable compared to the amenities offered.
In case you want a room with a balcony in a hotel, they'll ask you to upgrade the room for an extra cost whereas, at the Airbnb, you'd mostly get a balcony or an attached patio. Apart from that, hotels charge extra for laundry services while AirBnbs mostly have a washing machine, for our rescue!
Flexibility To Check-In At Any Time of the Day!
Unlike the hotels which usually have a strict 'Check-In or Check-Out Policy', Airbnb hosts are mostly very understanding and try to accommodate as and when we arrive. (Of course, there have been cases when we had to wait for the previous guests to empty the rooms!) It's good for us if we get to check in at 9'O clock in the morning, take a quick shower and get ready, leave our bags, and hit the streets. There has been an occasion when the host wasn't available, but she cared enough to leave the keys with the guard so that we could check in early.
During our trip to Goa with friends, we booked this entire bungalow in Colva. When we reached there, we figured out that the host had to leave for some urgent work but he left the keys with the housekeeper, who welcomed us and offered us Chai & breakfast as well.
Finding Some Unique Places To Stay!
There would rarely be instances when you'd get to experience something unique while staying at hotels! It's more or less the same, always. The standard of room and the amenities vary; some hotels have pools while some don't; some have a good restaurant offering a good breakfast – but that's it.
Thanks to AirBnb, we got to stay at some quirky homes like the Brandy Bus in Nairobi, Kenya, and the Train Villa in Da Lat, Vietnam!
The Brandy Bus gave us an 'Into the Wild' experience, as we got to spend a night inside this double-decker bus has been completely redone to accommodate adventurous travelers looking for a different kind of stay. At the Train Villa, they have set up a cafe inside this old train compartment and the rooms are offered in a station-like building, right next to the train.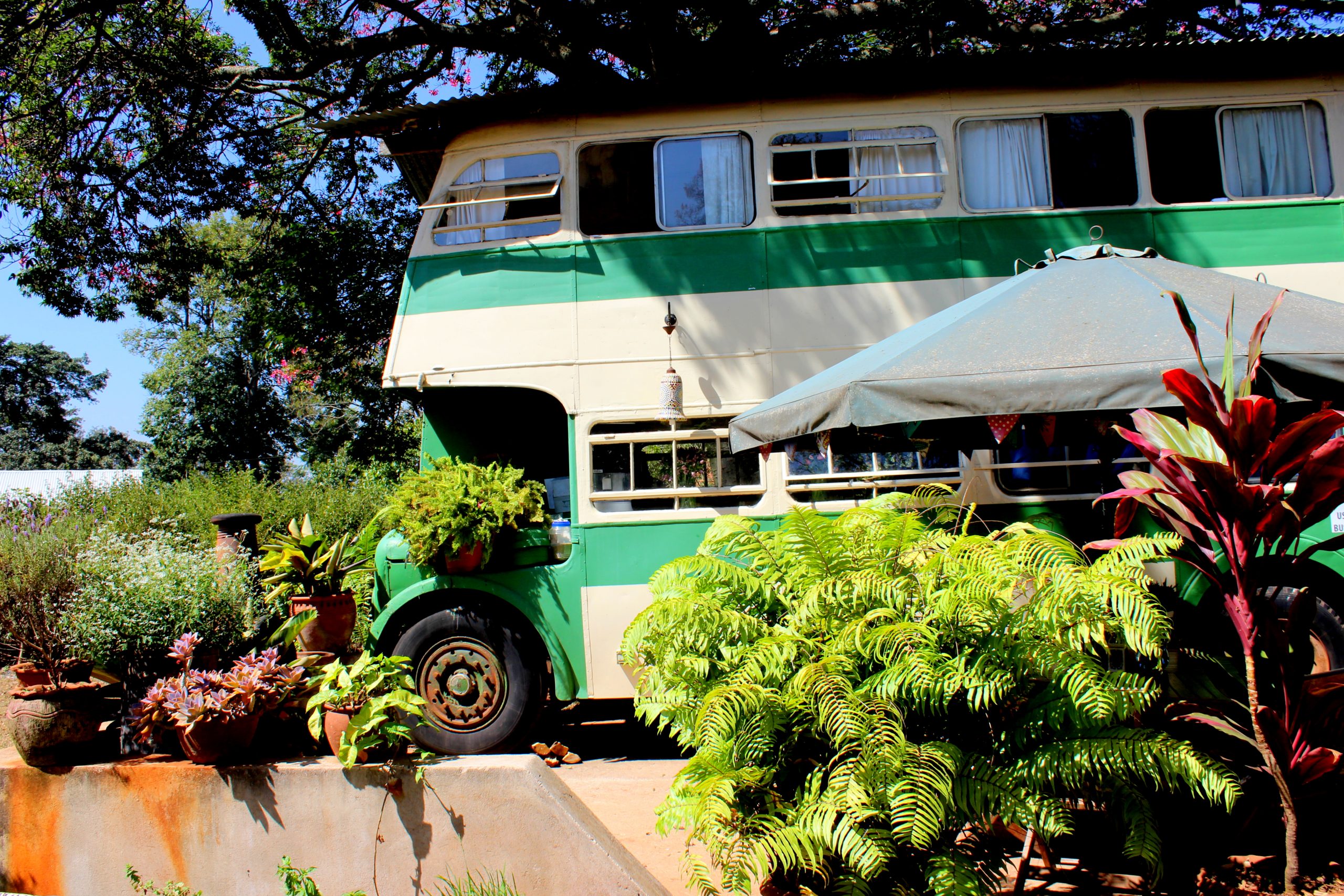 Apart from these major reasons why we prefer AirBnb accommodations, there are a few others like:
Freedom to choose shared accommodation or an entire place – In hotels, you'll have to book a room and mostly stay all by yourself. There's barely any scope of interaction with other travelers. But in an AirBnb, we always have the flexibility to choose a shared accommodation (where we can get to spend time with others) or an entire place (where we'll have our privacy, as needed).
Get to cook whenever needed – As mentioned earlier, AirBnb kitchens always give us an added advantage – whether it's a late-night coffee craving or just cooking some instant noodles early in the morning before heading out for a day trip! And we don't need to pay any extra for that!
One-on-one interaction with the host – While staying in an Airbnb, we get to have one-on-one communication with the host, from the time we book, until the time we leave (and sometimes, even after that!).
Chance to support the local economy – As responsible travelers, it's important that we support the locals by staying at their homestays and eventually boosting the economy, rather than fueling the 5-star hotel chains!
Reviews that can be trusted – This is what matters the most! Airbnb's review based, so before we stay anywhere, I make sure to look for the accommodations offered by 'Superhosts' and read every review. Thus, I feel secure with my booking decision.
Even after saying all this, we can't assure you that Airbnb doesn't have its drawbacks. We faced a problem when our host canceled the booking at the last minute, saying that he forgot to update the cost in the listing! There have been cases where our friends weren't allowed to have wine on the verandah at their host's place, due to a 'No Alcohol Policy', which wasn't clearly mentioned.
While it's always possible to run into a not-so-great Airbnb experience, we'd still often make it our first choice to stay at a new place for the sake of experiencing new things!
————————————————————————————————————————————–
Do you also prefer Airbnb accommodations over hotels? Let us know your reasons too! And if you've had any good/bad experiences while staying at someone's place, share that with us as well. I'd love to hear back from you!