The train journeys in Sri Lanka have been super hyped to be extremely scenic and 'Oh so surreal' – and in no way could I miss it while I was there! While the most popular route is from Kandy to Ella (which takes about 7 to 8 hours), I decided to opt for the shorter journey and was literally awed by the breathtaking views of lush green hills, pristine valleys, gorgeous waterfalls, postcard-perfect towns, numerous tunnels, and dense jungles.
The train ride from Nuwara Eliya to Ella powers down through Sri Lanka's southern hill country, crossing the tea plantations before it winds up and disappears into the clouds, weaving in and out of the many mountain tunnels as it finally descends to Ella.
It's indeed spectacular and definitely the most beautiful train ride in Sri Lanka, if not in the world!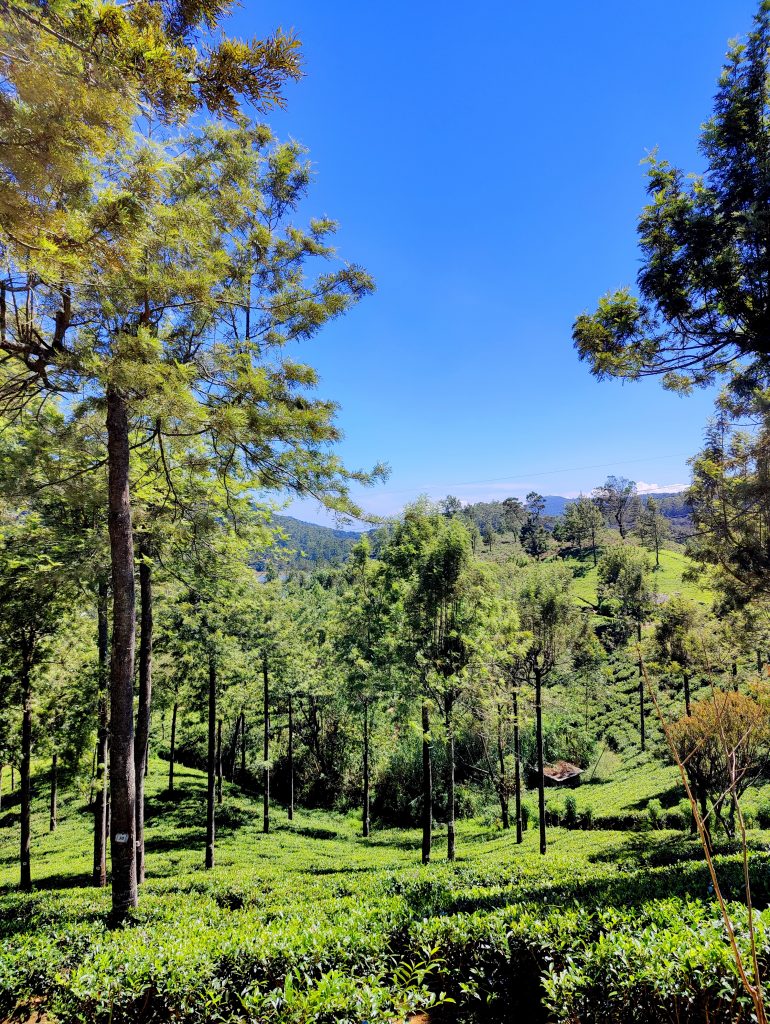 The Journey From Nuwara Eliya To Ella:
When I got on the train from Nanu Oya station (about 8 KM from Nuwara Eliya town), I was thrilled to experience what the ride had in store! Well, I soon figured out that it's a common mode of transport for the locals and it's surely the most perfect way to experience Sinhalese life closely. I stumbled upon smiling locals who were cherishing the ride as much as the foreigners! There were vendors who were selling spicy snacks, and then there were people who'd just wave as the train passed through their town.
Although I had a window seat for myself, I chose to stand by the doors to feel the breeze on my face and also, to click photographs. I ended up making some friends who were also keen on finding their space by the doors, to get some 'gram-worthy shots. It turned out to be quite a joyride, for sure!
How long is the train from Nuwara Eliya to Ella?
The total train journey from Nuwara Eliya to Ella takes around 3.5 to 4 hours. By comparison, it takes around 1.5 hours by car. The reason the train takes so much longer is that it has to cross over many mountain ranges. It also gives you a chance to soak in the mystic vibes, and cherish the beauty of slow travel.
How much is the train ride from Nuwara Eliya to Ella and what are the timings?
The train tickets in Sri Lanka are inexpensive. I opted for the First Class Coach (an air-conditioned compartment with reclining seats, ample luggage space, and huge windows to look around), which cost me around 2000 LKR. The Second Class tickets are for 1000 LKR and Third Class tickets are for 600 LKR. You can book the Third Class tickets at the station, before hopping into the train – but in order to enjoy the ride on a Second or First Class, you must reserve the tickets in advance.
There are several trains every day that go from Nuwara Eliya (Nanu Oya) to Ella. The main ones that have First Class reserved seating leave Nanu Oya train station daily at these hours: 09:30 AM, 12:45 PM, 03:00 PM, and 03:55 PM.
In most cases, the train runs a little late, so even if you're 5 minutes late to reach the station, don't worry!
Here are 7 things no one tells you about the Nuwara Eliya to Ella train journey:
1. It matters which side of the train you're sitting on! Yeah, because all the tea plantations, cascading waterfalls, and picturesque valleys are mostly on the left side as you travel towards Ella. I had my seat on the right side, and after a point, it's just the cliffs that I could see! So I mostly chose to spend my time by the left-side doors.
2. The doors are crowded, so be prepared to share that space! When I went to the door, a couple was already sitting there with their legs dangling out. However, they were really nice to let me stand and also offered a hand to click my photos. By the time the train crossed Haputale, there were about 7 of us around the door!
3. Make sure you have tickets for the express train – that takes approx 4 hours from Nanu Oya to Ella. There are some slow trains which take more time and stop at every station.
4. You don't need to turn up really early for the train! I had read a few articles that suggested you had to be at the station on time, but in reality, the train was delayed for about half an hour and even the locals traveling with me confirmed that usually there's a delay! Having said that, those who haven't booked a ticket in advance should reach about an hour in advance, to get the Third Class tickets.
5. There's a catch when you get the Second Class tickets! Second Class reserved and Second Class unreserved are of course different, as someone told me! You cannot buy a Second Class reserved seat at the train station on the day of travel. You must book in advance. The ticket you are buying in second class on the day of travel at the train station is second class unreserved. These tickets do not guarantee you a seat!
6. Getting 'Seat No 61' is a myth! I had read several articles where people mentioned that 'you'd get the best views from Seat 61' – but that's not the case. The route is so beautiful, that no matter where you sit, you'd end up enjoying the views! And as per my experience, people generally end up at the doorways – so your seat number won't even matter!
7. Carry some snacks if you aren't fond of spicy food! You'd feel like munching something on the way, and all I ended up having was Coke. From mangoes to samosas – everything sold by the vendors in the train was too spicy for my palate.
To be honest, I knew beforehand that train journeys in Sri Lanka are not worth missing – and surely, they live up to the hype! I couldn't stop myself from capturing every single moment that passed by, and that's exactly what you would want to do on the journey as well. The train ride from Nuwara Eliya to Ella was indeed a beautiful experience – one that I still can't get out of my head.
Apart from the beautiful scenery that you'd get to witness, the experience itself is one of a kind – something that you just can't trade for anything else. Hence, if you are planning a trip to Sri Lanka, make sure that you include this experience on your travel bucket list without fail!
Have you been on this ride and think I missed out on something? Tell me about it in the comments below and also follow me on Instagram for more stories from Sri Lanka.