This post is written by a guest contributor, Karan.
Author's Bio: Karan is a travel blogger and content writer who loves to explore the world and give the best possible content about his travel experiences.
So, after tossing and turning you have narrowed your next holiday down to Thailand or Bali, but now you are at a crossroads.  A trip to the " Land of Thousand Smiles"  with Thailand Packages is a traveler's dream comprising of beautiful beaches, tropical islands, bustling cities, and dense rainforests. The largest and the capital of Thailand, Bangkok is a metropolis well-known for its modern skyscrapers, vibrant street life, and ornate temples. It is a real mix of traditional culture and the 21st Century. Islands in south Thailand like Koh Samui, Krabi, and Phuket have postcard-worthy scenery, palm-fringed white sand beaches, statuesque limestone cliffs, and turquoise seas.
Lying in the north of Bangkok are mountainous landscapes, sacred temples, and traditional tribal communities around Chiang Mai, as it happens to be the largest city in Northern Thailand. Bali most certainly gives Thailand tough competition. Bali "Island of Gods" is a volcanic paradise in the waters of Indonesia. It is known for its stunning beaches, lush landscapes, spiritual traditions, and vibrant culture. With the pre-booked Bali Packages visit Kuta located to the south of Bali is a popular beach resort with an energetic atmosphere, lavish shopping experiences, and busy nightlife. As you go further inland you visit Ubud. It is the cultural heart of Bali offering serene hotel escapes amongst the rice terraces along with a chance to explore ancient temples and tropical jungles.
Tanah Lot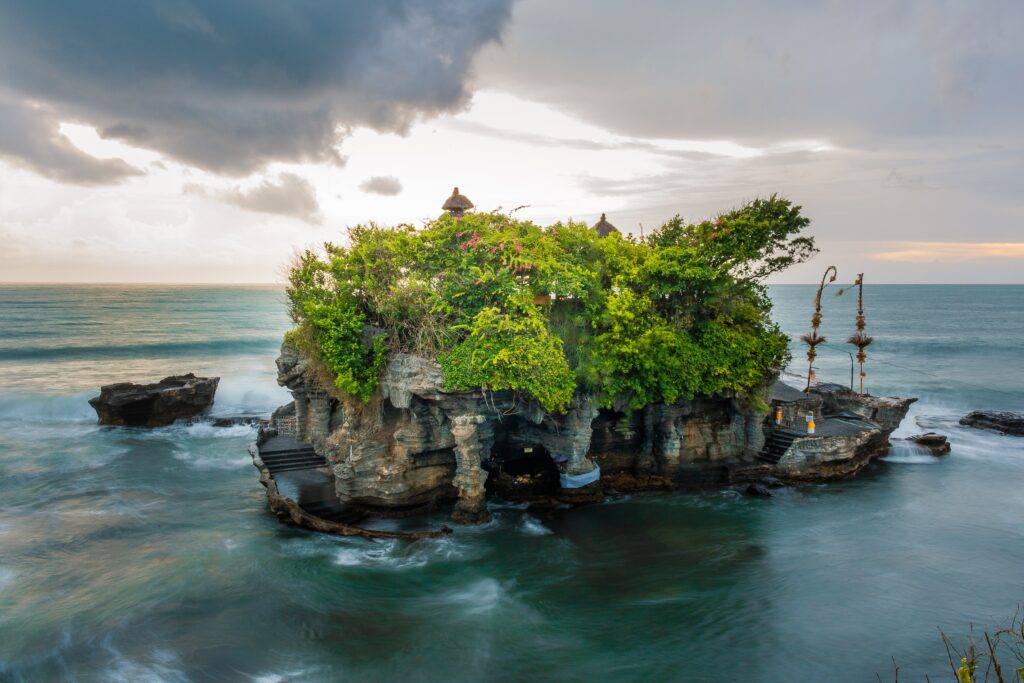 The spellbinding Bali Packages visit Tanah Lot stress-free. Around twenty km northwest of Kuta lies the Pura Tanah Lot ("Pura "means temple in Balinese). It is one of Bali's most prominent temples and has a spectacular seaside setting on a rocky islet enveloped by crashing waves which is a major enchanting factor. Pura Tanah Lot was built at the beginning of the 16th century and is believed to have been inspired by priest Nirartha.
Tanah Lot is an ancient Hindu temple dedicated to the gods of the sea. At high tide, the waves fill the causeways making it impossible to cross but at low tide, one may cross to view the base where the legendary "guardian" sea snake dwells around the Tirta Pabersihan fountain. Catching the sunset here is hugely popular as every evening the Kecak dance is held here and lasts for almost an hour.
Bangkok
Make sure you visit the "best city for backpackers" Bangkok with the Thailand Packages. Bangkok with the tagline" a city that never sleeps" is a mixed bag of contrasting faiths and cultures. In Bangkok, skyrocketing skyscrapers stand in harmony beside monasteries and temples. Grand Palace was once the official residence of the King of Thailand and is often mistaken for a single structure but it has a group of numerous buildings, pavilions, halls, lawns, and courtyard. Located immediately south of Grand Palace is the renowned Wat Pho temple.
The highlight of Wat Pho is the "Reclining Buddha", standing tall at 45m long and 15m high. The traditional Thai Medical and Massage School is also located here. The gem of markets in Bangkok is the Chatuchak Market as it is the world's largest weekend market. Also known as JJ Market it is divided into twenty-seven sections ranging from clothing, accessories, furniture, art, food, and antiques.
Mount Batur
Enjoy a unique predawn experience with the Bali Packages as hundreds begin the trek up the 1,700 m summit of Mount Batur also called " Gunung Batur". Once the trekkers reach the top, they can catch a glimpse of the sun rising above the lush mosaic of mountains and caldera below. This sacred active volcano lies in the Kintamani District in Bali's central highlands, an hour's drive from Ubud.
The hike with well-marked trails is relatively easy and takes about two to three hours to complete and it is recommended to start at 3:00 AM. The guided treks usually include a picnic breakfast, with eggs cooked by the steam from the active volcano. As the sun ascends the sky it turns into amazing shades of black to blue, then pink and orange.
Phuket
Next up on the itinerary of the well-tailored Thailand Packages is Phuket. It is the largest island in all of Thailand. It lies in southern Thailand on the Andaman Sea coastline. Several offshore islands, golden beaches, upbeat markets, and thrilling water sports are the unique experiences that describe Phuket. Phuket is one of the fastest-accessible beach destinations in Thailand.
Beaches like Kata and Surin are preferred by families whereas Patong Beach suits the taste of the eccentrics who are on the lookout for something crazy and loud. Be part of water activities like scuba diving, and snorkeling at serene and scenic locations like Phi Phi Islands and Similan Islands. Phuket is also the starting point for visiting many islands like James Bond Island. It is perfect for those who want to splurge big on their vacation and look good while doing it at high-end resorts, luxury shopping outlets, spas, and hotels.
Pura Luhur Uluwatu
Marvel the Pura Luhur Uluwatu a sacred place and the temple is regarded to be one of the six main temples in Bali. It is part of the" Sad" Kahayangan Jagad- "sad" derived from the Sanskrit word for six and "kahyangan" meaning Place of Gods. Locals believe that these temples are essential for the spiritual balance in Bali.
The area inside is divided into three main sections – outer sanctum, middle sanctum, and inner sanctum. A white-painted "candi bentar" (split gateway) marks the entry to the outer sanctum or "jaba pisan". As the temple is located about 1,200 m above sea level, the climb is not exactly an easy one. There are more than one thousand and five hundred steps to scale and as a hiking enthusiast, the climb through forest is guaranteed to be a unique experience. The "Gates of Heaven" is located in the very first temple and is a five-minute walk from the entry. From here get an incredible and panoramic view of Mount Agung and the forests surrounding the temple as they are believed to be the lings of the island.
Chiang Mai
Chiang Mai was earlier the seat of the Lanna Kingdom and is regarded as the northern capital of Thailand. It is opposite to the expectations of first-time visitors. Unlike its southern counterparts, it is renowned for its monasteries, numerous temples, crowded local markets, and natural and historical sites along with the lush greenery of the countryside. Chiang Mai is a treasure trove of backpacking activities like hiking, cycling, rafting, and a plethora of outdoor activities overtaking the supercharged nightlife of loud music and drinks. There are more than thirty temples from the ancient Lanna Kingdom with Wat Phra Doi Suthep and Wat Phra Singh being the most visited Buddhist temples in the region. Doi Inthanon National Park caters to hikers and trekkers as Chiang Mai Grand Canyon offers swimming and cliff jumping. If you want to experience more thrills then hike through the uncharted paths to go waterfall hopping. There are elephant farms like the Elephant Jungle Sanctuary and Patara Elephant Farm which offer tourists an enriching experience of interacting and feeding the gentle giants.
Conclusion:
South East Asia is a treasure trove of exotic destinations that offer a rich tapestry of culture, history, natural beauty, and adventure. From the lush jungles of Borneo to the ancient temples of Angkor Wat, and the pristine beaches of Bali, this region has something to offer every traveler. Whether you seek relaxation on palm-fringed shores, want to explore vibrant cityscapes, or immerse yourself in the traditions of diverse cultures, Southeast Asia has it all.