The moment you hear of Pondicherry, the first things that probably pop up in your mind are the gorgeous lanes with beautifully colored walls on both sides. Yeah, that's the heart of this erstwhile French colonial settlement – which has now turned into one of the most 'gram-worthy places in the country! In fact, you would be forgiven for mistaking this well-preserved Colonial Quarter for a slice of France! All the houses here are unique in their own ways, mostly portraying a beautiful amalgamation of Franco-Tamil architecture that's nowhere to be seen in India, other than in Pondicherry.
During my recent trip, I stumbled upon this postcard-perfect homestay – Shubham, which is tucked amidst a quaint neighborhood, surrounded by some of the popular fine dining restaurants and cafés of the town. While the cacophony is literally taking over the streets of Pondicherry, this boutique property promises to offer seclusion from the crowds with its limited number of rooms and huge open spaces.
An elegantly-designed homestay with large rooms and attached bathrooms, huge balconies, and an open terrace turned out to be my hideout for a couple of days while I was there. Waking up to a cup of freshly brewed coffee and the chirping of the birds seemed to be the best thing ever – and I was touched by the hospitality of the folks managing the property.
'Shubham' – A Perfect Home Away From Home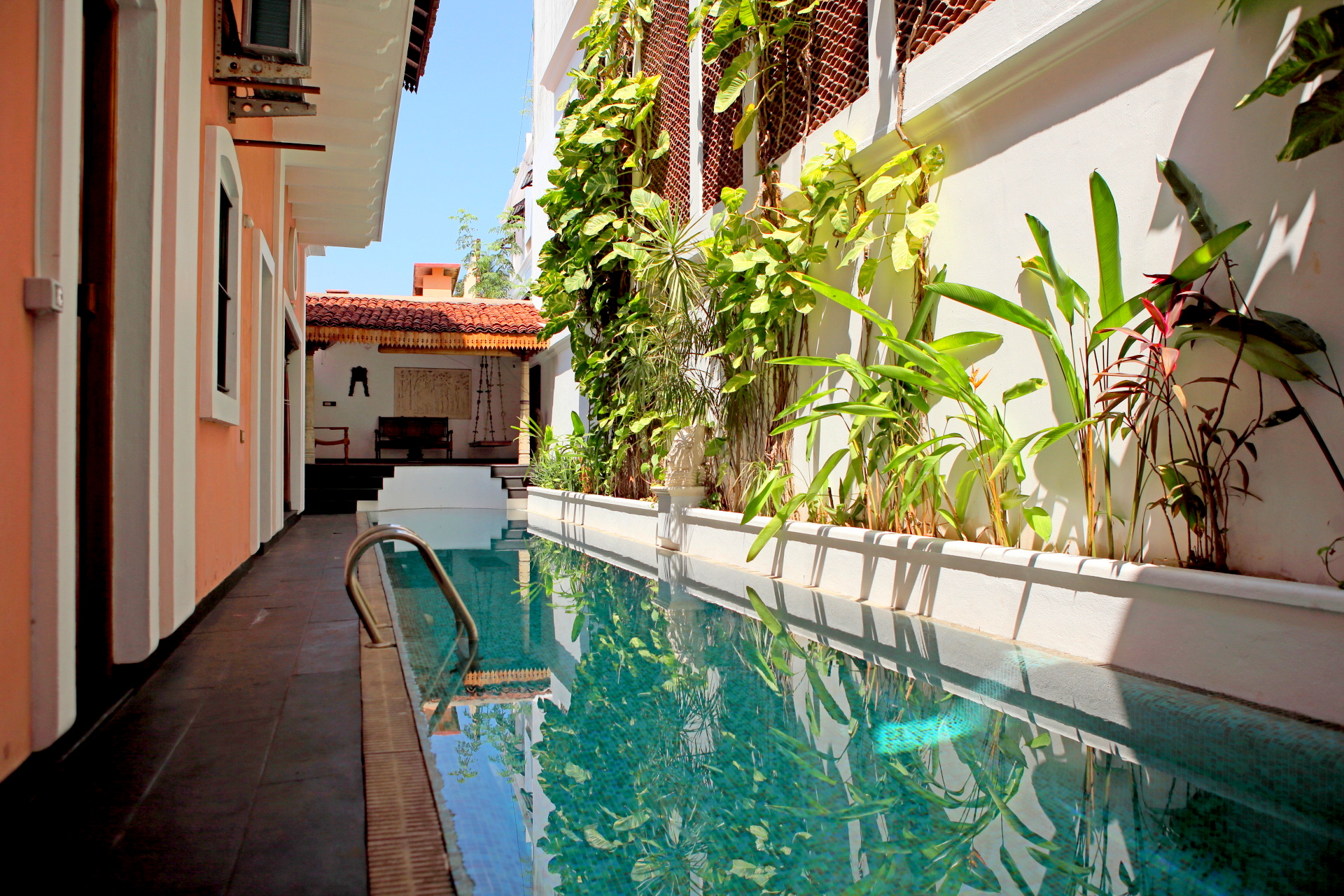 This heritage homestay has been built from scratch with love, and the decor speaks about the aesthetic sense of the hosts – who had lived in France for more than two decades before they shifted base to the East Coast of India. Each corner of the house echoes the rich architectural heritage of Pondicherry, along with antiques and artifacts gathered from various parts of the country. Undoubtedly, you can spend hours exploring the many facets of the interiors, soaking in the pristine vibes that linger here. 
Walking inside the property, you'll land up at this huge living space that serves as a common area. There's one double room on the ground floor that opens to the poolside and can easily accommodate four people. On the first floor, there are four rooms, each of which has exquisitely designed bathrooms. The rooms also have large beautiful windows, typically known as "fenêtre" in French – allowing ample sunlight to pour inside. The balcony and common area on the first floor can be accessed by everyone, and there's a mini-library too, for you to sit, read and relax. On the second floor lies the suite room – meant for families looking for a perfect place for a staycation in this beach town. The kitchenette is well stocked with all necessary utensils and tableware, that can be used by those who prefer to stay here for longer.
Rooms:
Each room has been thoughtfully designed and comes with a work desk as well as a high-speed internet connection so that people who are coming here on a workation can be comfortable, as they run through their daily chores. 
Shubham (Astu) – This room will greet you instantly with its light and warmth. As soon as you walk into this room, you'll be greeted by a unique selection of paintings and antique furniture. The soft afternoon light that seeps in through the window will disengage you from your routine life and place you into a realm of gentleness and beauty.
Shubham (Anubhav) – 'Anubhav' is the Sanskrit word for experience. Located on the 1st floor, there's a soothing oriental touch in Anubhav that is subtly accentuated in the paintings and furniture. As you look closely, at every corner a story unveils for you to gently stop and contemplate a moment before you pass.
There are 4 other rooms – named Shubham (Briddhi), Shubham (Anubhuti), Shubham (Bhumi), and the Suite Room that has terrace access!
The open terrace overlooks the neighborhood, and there's a covered area as well – that replicates the classic pillars of the traditional Chettinad homes. There's an elevator that connects the ground floor to the terrace, in case you wish to avoid running up and down the stairs!
Dive into the pool to beat the heat or for a swim, before you head out to explore the town! As mentioned earlier, some of the popular eateries are just around the corner – of which you must try Coromandel Cafe, Bread & Chocolate, Villa Shanthi, Café des Arts, Banana Cafe, etc. The beach is about a 5-minute walk from the property, and so is the Aurobindo Ashram. In case you plan to take a trip to Auroville, you can either rent a scooty (two-wheeler) or hire a cab.
How To Reach?
The best way to reach Pondicherry is to take a flight to Chennai, from where you can either take a bus or a cab, covering the distance of about 155 KM (approx) in 3 hours. Shubham Homestay is located at Victor Simonel Street in Pondicherry, which can be easily tracked on Google Maps, once you reach Pondy.
Best Time To Visit:
Well, you can just be there – any time of the year! It's a perfect place for a workation/ staycation as well as for a weekend getaway, especially if you're seeking some peace away from the chaos of urban life. However, November to March is the best time to travel to Pondicherry, as the weather is pleasant during this time, while the rest of the year is more or less hot & humid.
Booking details:
You can book this property through Airbnb, where rooms are starting at Rs 5,500/night for 2 people. This also includes an elaborate breakfast and endless cups of coffee! Gaurav, who'll be your primary point of contact, is a gentleman with a wide knowledge of various topics – from films and music to books and food – and he'll be your go-to person for anything you need during your stay. Mahindra, who's there 24*7 will cater to all your needs with a smile on his face.
Don't forget to bookmark this property and if you're planning a trip to Pondicherry anytime soon, you must check this place out!