Travel is restricted. Inspiration is not! While the world is still struggling to cope up with the deadly COVID-19 virus, the call of the hour is to maintain social distancing & self-isolation. But as we sit in our respective cozy corners, we can surely tickle our wanderlust bugs! Check out these 7 countries which you can visit in the post-corona era 🙂
Solo travel can be one of the most rewarding ways to explore the world, and while we mostly travel together – we also do make sure to take trips alone, indulging in some 'Me Time' and coming back to the other person with a bundle of stories to share. If you decide to travel solo for once, you will realize how wonderful it is, to be presented with daily opportunities to learn and grow, and you will become closer to yourself as a result.
But we are now at a time when the mantra is to 'Dream Now, Travel Later' – although the good news that some of the countries (which have dealt with the Corona crisis amazingly) will soon be opening their borders for travelers.
After checking the Worldwide Coronavirus Data and talking to friends who are living in different parts of the world, I have curated a list of 7 countries where you can travel without worrying much.
(Thanks to Kasia in Bolivia, Radha in Australia, Huế & Ben in Vietnam for sharing details of the present scenario in the respective countries ❤)
Iceland
Known for its stunning landscapes, views of the breathtaking Northern Lights, lava caves, and other vistas featured in shows like Game of Thrones – Iceland has been alluring travelers since forever!
If there's one destination, in particular, that might turn into an ideal getaway from Covid-19, then it's Iceland and you'd be glad to know that they're planning to welcome travelers from June 15, 2020. An outdoorsy person's dream destination, Iceland has ranked as the safest country in the world for several years running, and if you've been craving to escape solo – then maybe you can just start planning a trip without worrying much!
However, the trip might be a little heavy on your pockets – so maybe you can stay in hostels, travel using public transport, and do proper budgeting to make it worthwhile. After all, gazing at the Northern Lights would be a 'once in a lifetime' thing that none wants to miss out, right?
Vietnam
If given a choice to travel right away, I'd possibly pack my bags and head off to Vietnam – a country that has made me fall in love for not one reason, but many! And if you are contemplating to travel alone in the Post-Corona Era, then I must assure you that there can be no better place than this – a country that has stood out in winning the battle against COVID19, is none other than Vietnam. While it might look like a foregone conclusion that the coronavirus outbreak would ravage a developing country so close to that of China, Vietnam has instead stood out as a beacon of how to do more with less.
Whilst there are still plenty of places to explore off-the-beaten-track, Vietnam is known for its well-established tourist trail and when you're traveling solo, you can simply follow it without much thoughts!
Running from Hanoi in the north, the route takes you to Ha Long Bay, Hue, Da Nang, and Hoi An, before ending with the Mekong Delta and Saigon in the south. Following the trail takes the hassle out of planning your trip, as you already have the perfect itinerary that ticks off most of Vietnam's main sites. And with trains and buses running between each destination, you'll find it pretty easy to get around by yourself.
Thailand
"Bangkok, though, is a rejuvenating tonic; the people seem to have found the magic elixir. Life, a visitor feels, has not been wasted on the Thais." – Bernard Kalb.
With millions of backpackers heading to Southeast Asia, Bangkok surely can be termed as 'The Hub Of Solo Travelers', and Thailand, without any doubt, is one of the best solo travel destinations on Earth. The hustle & bustle of Bangkok, the quaint hippy vibes of Chiang Mai, the breathtaking beaches of Koh Tao, or the lush greenery of Pai – there's nothing in Thailand that won't excite you.
And to add to that, the insane nightlife, affordable accommodation options & world-class food makes everyone fall in love with this country!
I'd suggest you start your journey from Bangkok and spend a day or two there, before heading to the islands in the South or the hills in the North. You may feel a million miles from home when you touch down in this unique country, but nothing brings solo travelers together like a few cocktail buckets on Khaosan Road in Bangkok!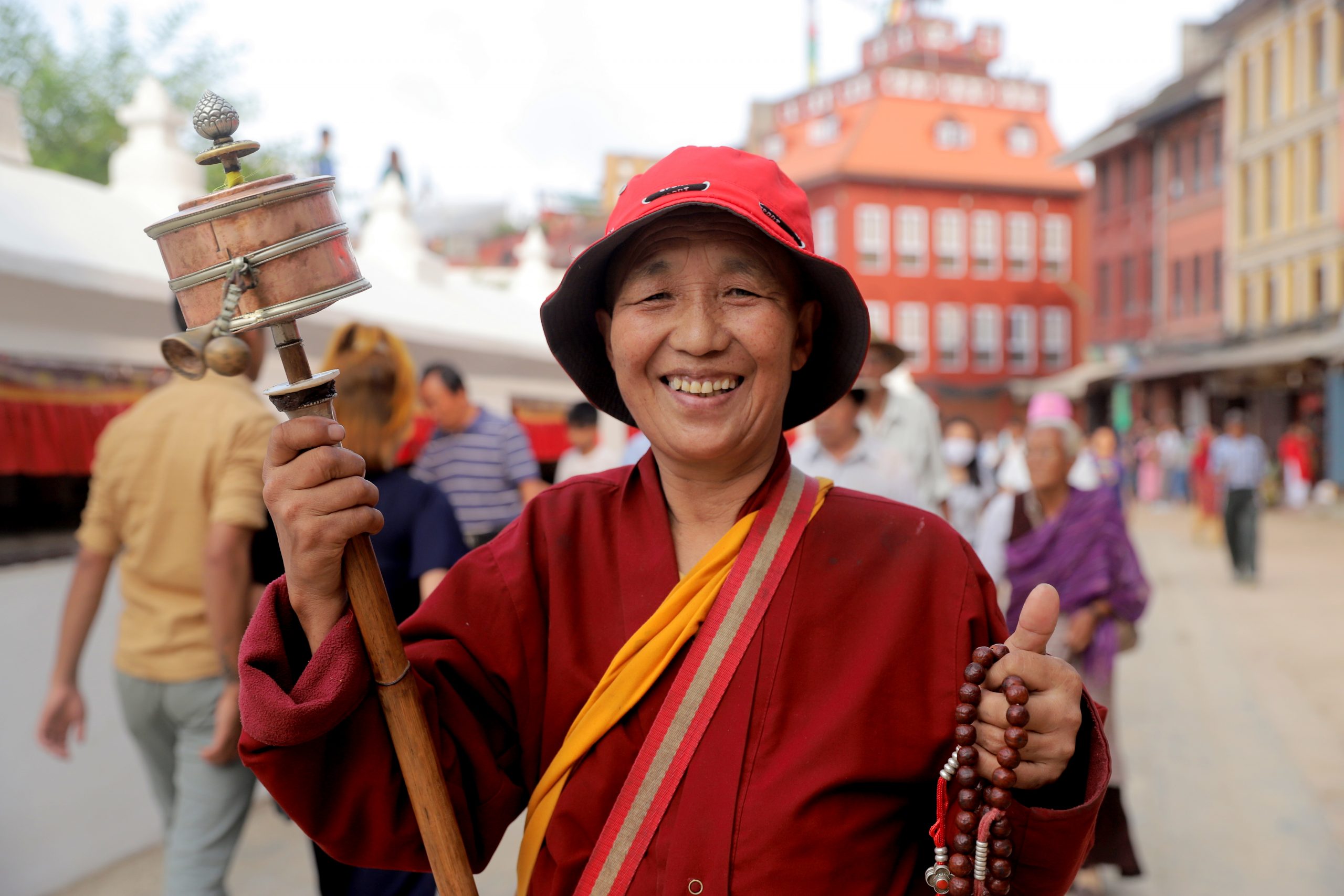 Nepal
"Heaven is a myth, Nepal is real."
Once the pandemic scare is over and we all embrace the 'new normal' while traveling abroad, we'd generally try and maintain social distancing, staying away from the crowd (I know it hurts, but I guess that's how things will be like for some years now!). And when you're in the mountains, social distancing happens automatically!
What can be better than setting out for an adventurous trip to explore the Himalayan abode of Nepal and absorb in the serenity, while gazing at the snow-clad peaks or hiking through nature's trails, filling your lungs with freshness?
Whether you wish to go for the Annapurna Circuit Trek or tick off Everest Base Camp from your bucket list, traveling solo to Nepal in the post-COVID days shouldn't bother you much. And if you're keen to meditate and find your inner peace, then sign up for a course and spend some days enjoying a retreat in the land where Buddha was born.
And in case you're keen to get involved in something more meaningful, then maybe you can sign up for a volunteering program and serve at a Childcare Center in Kathmandu or teach kids in Pokhara for a week or two 🙂
Botswana
Home to more elephants than any other African country (almost 1,300,00 according to the most recent statistics) and a hotspot for the swift packs of endangered, beautifully-mottled Painted Wolves, nearly 50% of Botswana remains dedicated to the wilderness. Whether you wish to explore the Kalahari desert in the south, or the Okavango Delta at its heart, there's a bonafide edge to Botswana's natural spaces that's hard to be ignored.
Not only is peaceful Botswana a joy to explore, but it's also the ideal destination for anyone's first solo safari in Africa. Although we haven't yet had a chance to travel to Botswana – we've heard of its beauty from fellow travelers we met in Kenya, and we definitely look forward to going for game drives through the muddy plains of Moremi Reserve & soak in the silence while glamping under the starry sky!
Needless to say, being one of the least affected countries by COVID-19, Botswana is surely looking forward to a boom in tourism once the scare of the pandemic dies out.
Bolivia
One of the safest, cheapest, and least explored South American nations, Bolivia is surely gonna be explored more in the Post-Corona Era. With its mind-blowing scenery, snow-capped mountains, active volcanoes, and moon-like valleys – it'll enchant you in no time and make you crave for more.
I've not yet been lucky enough to travel to that part of the world, but surely blessed enough to have a friend who moved to La Paz last year and kept updating me about all the gorgeous places she traveled to. Not only did she tell me stories of the blinding Uyuni Salt Flats and the Geiser Sol de la Manana that actually represents a steam pool of boiling mud frequently spouting muddy water – but she also shared gorgeous photographs of the carnival in Oruro, an indigenous festival that is one of the most spectacular events in Bolivia.
Well, to say the least, she's a solo female traveler and advocates the fact that it's definitely a perfect destination for solo travelers who wish to explore this nation, which is more like a hidden gem of Planet Earth!
Australia
Been there, done that. If you're thinking to head down South & take a solo trip to Oz, then you must surely hop along the east coast, which is a popular route with backpackers who typically travel overland in either direction between Melbourne and Cairns, covering Brisbane, Gold Coast, Sydney, etc. It's the gateway to the Great Barrier Reef, the Daintree Rainforest, some gorgeous beaches & the Great Ocean Road. You'd get to meet a lot of solo travelers, taking time to hang out in hippie retreats, surf towns, and national parks or indulging in the various adventure sports.
Coming in at 18th in the health pillar in the index, Australia has currently managed to keep the growth rate of cases to less than 5% – "well beyond our expectations", according to the Prime Minister in an address to the country on 7 April, 2020. It's safe to say Australia will continue to be one of the best places to travel alone, in the Post-Corona Era!
"As you move outside of your comfort zone, what was once the unknown and frightening becomes your new normal." – Robin S. Sharma, Author of 'The Monk Who Sold His Ferrari'.
To be honest, the thoughts of getting lost, or falling ill or maybe missing a flight can initially seem to be terrifying when you plan to travel solo, especially to a faraway country – however, it soon becomes apparent that you can be capable of much more than you ever imagined. Exploring a new destination alone will also let you explore your inner self. Having to come up with solutions entirely on your own will prompt you to use initiative and heighten your perceptions. You'll be forced to just "build a bridge and get over it" and, when everything works out, you'll emerge as a much stronger human being.
As we sit indoors, for now, let us know which country you'd want to travel to, once the pandemic comes under control & let's keep hoping that we all can soon step out to explore & wander!